Mortal Kombat Preview
Mortal Kombat is done messing around with its return to 2d gameplay.
After sitting in a line without moving for nearly an hour, I was about rip out some spines after getting inside the Mortal Kombat demo. Luckily, the game did all of that for me. The developer demoing the game showed us the brutal return to the franchise's roots, and its never looked better. The moves now feature a see through effect for when characters hit their opponents particularity hard. Showing bones breaking and muscles tearing through the skin, it really makes for some awesome presentation.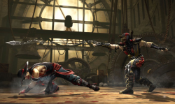 On the gameplay side, Mortal Kombat has returned to its two-dimensional style of fighting. Also, the developers showed us the new, Capcom inspired fighting systems that have been added to the game. Characters now have an energy bar that slowly charges over the match, which can be used for varying degrees of super power to be used. The super attacks were extremely brutal and I found them to be a welcome change to the franchise.
We were then shown the game's tag team mode. This setting was straight out of a Capcom Vs. game and it couldn't have looked cooler in Mortal Kombat. Characters could string combos and surprise enemies by sending out their tag team member to put a few hits in the fight. It looked great and I can't wait to try it myself when the demo comes out.