GoldenEye 007 Hands On Preview
An old classic returns… or does it?
Proximity mine battles or Man With the Golden Gun - for many classic gamers, these phrases can only correspond to one game, a game many have dubbed the greatest first person shooter of all time: Goldeneye 007 for the N64. During its time, this game set a very high standard for first person shooters that many developers have strived to reach, but have failed to meet.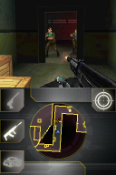 At the Nintendo press conference, it was announced that this classic game would finally be making a return for the Wii. The applause and cheers echoed throughout the concert hall. Like many, I was extremely excited, but quickly became skeptical. Remembering that there have been many 007 games on various platforms since Goldeneye, I wasn't very optimistic, especially because Rare, the original developer of Goldeneye, was not developing this new version. Yet, Nintendo was promising the return of a classic.
Getting to the show floor, I made a bee-line to the Goldeneye stand. The demo showcased the multiplayer aspect of the game, an obvious draw for many gamers considering the lack of multiplayer shooters available on the Wii platform. Excited to get a taste of game play, I finally got a controller in my hand and played a 1-on-1 multiplayer match. The match began and any remaining optimism left in my mind vanished. The only thing the original Goldeneye had in common with this newer version were the characters. Like every other Bond game, it missed the mark.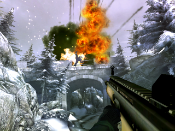 Game play strayed away from the classic N64 controls, and leaned more towards the newer generation of first person shooters. The health meter that we all loved so dearly has been replaced and substituted with a red fuzzy outline that covers the screen more and more as you receive damage. One redeeming quality was that, like the original, you can hold all the guns you come across. Overall, game play lacks the sheer authenticity that the original Goldeneye so easily captured.
Unfortunately, the demo only allowed for limited exploration of the multiplayer mode. Additionally, it did not provide a preview of single player mode. Maybe with more play time, this game could have the potential to be a decent first person shooter, but those opinions will have to wait until a full version is released.
Goldeneye 007 for the Wii is slated to be released this holiday season.