Rabbids Go Home Preview
Avoid playing this game commando.
Rabbids Go Home is Ubisoft's latest addition to the Rayman Raving Rabbids series. It follows the plight of the Rabbids as they search for wherever it is they came from. Without any concrete evidence of their origin, they agree that the moon is their home and the only way to get there is by creating an enormous pile of garbage in order to reach it. The Wii version has the player control a pair of Rabbids with a shopping cart as they collect as much junk as they can.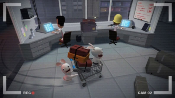 Along the way, they must get past Verminators (?), dogs, and high precipices. The Verminators and dogs are taken care of by yelling at them, which makes them either deflate or run away like puppies. When the Verminators deflate, they reveal that inside their enormous green suits are skinny humans in their underoos. In fact, the Rabbids can yell at or scare any human, stripping them out of their street clothes and into their skivvies. As one can even tell from some videos, underwear is a common theme.
However, the point of the game is not undergarments, its garbage. Collect as much garbage as possible, then make it to the end of the level, flush it down a toilet, and hope its enough to make it to the moon. There are also toilet checkpoints throughout the levels where the Rabbids can drop off and save their collections in case they die before the end of the level.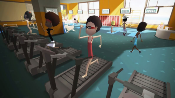 Ubisoft added a deeper sense of humor to an already hilarious concept. While we were at the Ubisoft booth at E3 2009, we were shown a product that a producer told us they had created to go beyond the Wii Motion Plus a camera inside of the Wii Remote. Our attendant selected the option from the menu, revealing the Rabbid hidden inside. Any shaking or movement of the Wii Remote affected the Rabbid just the same, as with any button pushing. While this is purely a distraction, it's a riot to play with and was really cool to see the producer be so excited about it. This is also where Rabbids can be customized with accessories (including an underwear hat), as well as distorted by using things like an air pump to inflate their eyes or ears. This does have a cosmetic bearing on gameplay since the Rabbids you play as in the game will reflect how you customize them in this option.
Rabbids Go Home is currently set for a November 3 release.

#Rayman
#Rabbids