Rayman Origins Review
RECOMMENDATION:

For everyone who owns a Vita. This is one of the best 2D platformers money can buy.

Stunning animations and gorgeous art design make this 2D platformer a must see for all gamers. The visuals aren't the only trick up up Ubisoft's sleeve though. The game's top-notch controls and level design will assure you that the flashy visuals are merely the icing on a gameplay-focused cake.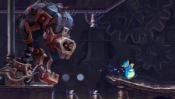 This all should sound familiar if you played Rayman Origins last year. That is because this port looks and plays identically to the 2011 releases. No sacrifices were made to the controls or graphics. Though Rayman Origins doesn't push any technical limits, the fact that the handheld version of the game is just as good as its Wii and HD counterparts is a sign of the Vita's hardware prowess.
As a matter of fact, the Vita version is so similar to the other versions that our verdict of the Vita port is unchanged from last year's release. Instead of duplicating our thoughts, we ask you to read our initial Rayman Origins review that Nick DiMola wrote last year.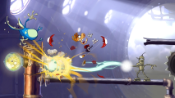 The only portion of the Vita port that has changed is an omission of multiplayer. The 2011 release included 4-player local multiplayer, but this was easily the weakest aspect of the game. Levels were clearly designed as a single player experience and the co-op gameplay felt tacked on. There was no extra incentive to play with friends and the extra people on screen equated to more frustration and difficulty. With that said, leaving multiplayer out of the Vita port does not hurt the experience at all.
Rayman Origins is every inch as fun on the Vita and works as a great game to play in quick spurts on a handheld thanks to its short level based structure. It is one of the best 2D platformers on the market. You should own it on the Vita if you don't already own it on another platform.