Omega Strike Review
RECOMMENDATION:

For all fans of Metroidvanias.

As I'm coming to realize, I have a weakness for games classified as Metroidvanias. Between the layered progression and backtracking and the feeling of getting progressively more powerful, with some great boss fights sprinkled throughout, there's always something to help continuously pull me through these experiences. Omega Strike, clocking in at five hours, is no exception to this rule and is further bolstered by its clear Metal Slug influence.
Unlike Iconoclasts, that was very heavy on the exposition and story, Omega Strike is a fairly straightforward adventure. There's an evil guy (Doctor Omega) doing evil things (turning everyone into mutants) and you've gotta stop him before he takes over the world, or whatever. In order to achieve your goal, you've been given access to an instant teleporter, which turns out to be a necessity to get your team of three through all the impediments lined up by Doctor Omega.You'll be able to swap between Sarge, Dex, and Bear on-the-fly to overcome every impediment Omega Strike throws at you.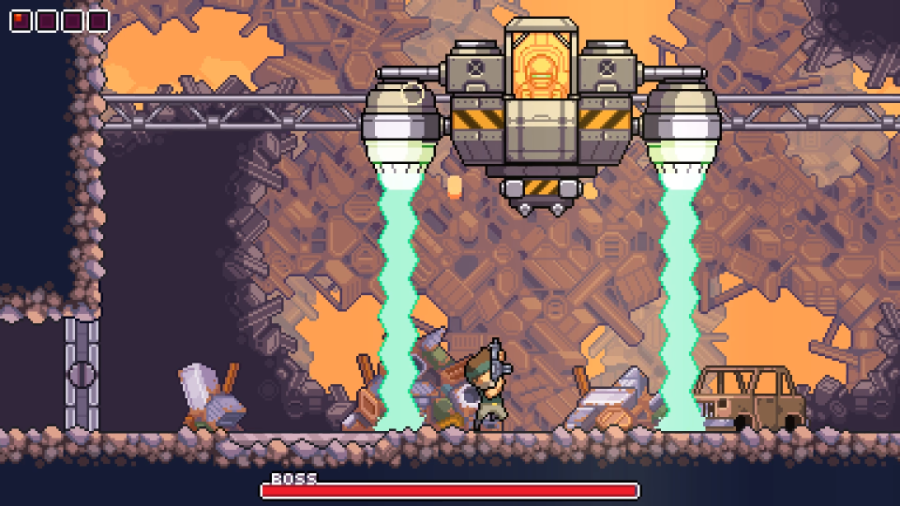 Sarge has a machine gun and can grab onto rails to cross chasms, Dex has a shotgun with shorter range, but can double jump, and Bear has a grenade launcher and can move heavy objects. In theory, this mechanic is really interesting, but in practice it turns out to be less so. 90% of the time you'll end up using Dex because he's more mobile and his shotgun blast does heavy damage to up close enemies. It left me wishing I could just swap weapons with a button press and not sacrifice my double jump in switching to one of the other team members.
That said, having a wide variety of capabilities is nice, even if it can be a hassle at times to leverage them all. As you progress, each character will gain more abilities, which will grant access to new areas and shortcuts through the world, as is typical of this style of game. Trekking through the world, you'll also find a wide variety of secrets, all of which offer bits of life. Finding four will allow you to cash in back in the town, adding a full block to your health. Enemies drop coins when you kill them, which can be cashed in for upgrades and supplies, notably improvement of range and power for each of your characters' weapons.
The world is split into a set of five main areas, each of which can be explored a bit at a time. While having these unique areas gives the game a bit of personality, backtracking through them can be quite a chore. Though you'll find a variety of save points through the areas, you can't warp between them, which would completely alleviate the monotony of passing back through areas you've already explored. Keeping an eye out for secrets is the best way to make it less boring and gain some benefit out of the travel.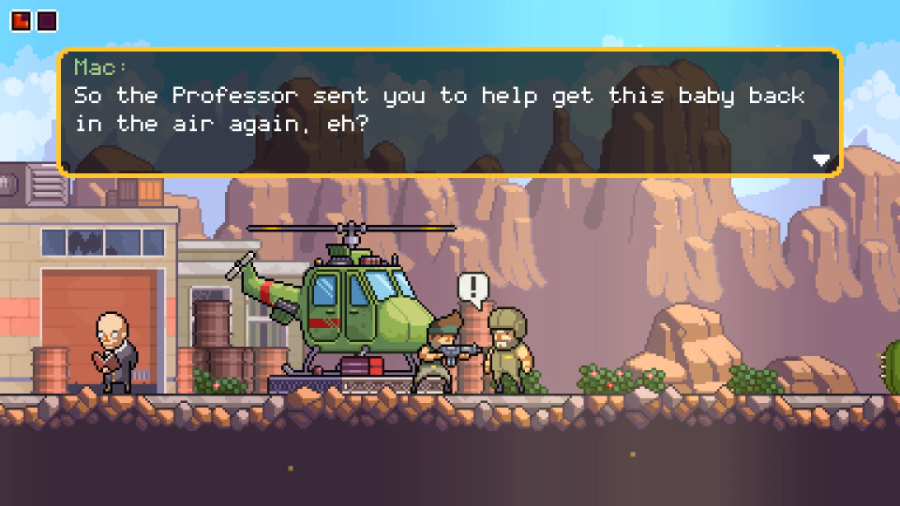 The bosses, while not particularly difficult, are pretty inventive and fun and can be quite rewarding to complete as you master their patterns. They also seem to show up just as you're growing tired of dispensing with the usual mutant fodder distributed throughout the worlds.
In general, there's nothing particularly challenging about Omega Strike. With the ability to stock up on healing items and the means of upgrading your health and power as you progress, you'll always feel slightly ahead of the curve. Going through the motions is satisfying though and just as the adventure begins to wear thin, it wraps up.
If you're also a Metroidvania addict like me, Omega Strike is an easy recommendation. Though there may be nothing remarkable about the experience, the controls feel good and it's just the right length and level of difficulty that you'll enjoy the ride and pass through it quickly.