Alex Kidd in Miracle World Review Rewind
RECOMMENDATION:

A platformer that does many things well except the actual platforming.

Let's take a minute to go back in time to 1986. Nintendo was basking in the success of their NES console with hits like Super Mario Bros., Excitebike, and The Legend of Zelda. Meanwhile, Sega wanted to prove that the Master System was the better entertainment medium of choice. Attempting to go toe to toe with Mario, they created Alex Kidd in Miracle World. For Master System fans, the release of this game was a day to remember. According to them, it was the dawn of a new era. According to some, Mario had met his match, and Nintendo would soon crumble under Sega's mighty fist. But reality had other plans.
The game takes place on the planet Aeris, home to Alex Kidd- the royal prince of Radaxian. His twin brother has been kidnapped by Janken the Great- an evil emperor who wants to usurp Alex and rule his kingdom. Armed with his rock-smashing fighting techniques, Alex journeys off to rescue his brother and put an end to Jaken's plans.

From the start of the game, it's quite clear that Alex Kidd in Miracle World was intended to be the antithesis to Super Mario Bros. First off, it begins with Alex moving vertically downward instead of from left to right. As you make your way down, you end up taking a dip in the water below to make your way to the next section. That in itself was vastly opposite of the way Nintendo's Italian mascot went about doing things in his first outing.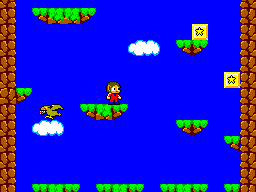 While Alex does run and jump on various platforms, he doesn't jump to hit bricks and coin boxes from below; neither does he hop on enemies for a quick victory. No, the answer to the majority of his problems is the almighty fist of fury. That's right-- instead of getting vertical on his foes, Alex can punch them in the face and be done with it. Star bricks are the primary source of coinage in-game, which can be used later in the shops to buy accessories and power-ups.
The "?" boxes can be a little tricky. You might be awarded a bracelet that fires shock waves, or perhaps it might yield an extra life. It can also release a ghost that will chase you down if you aren't careful. You never quite know what you'll be getting. I guess that's what makes it fun for some folks. I could have done without the ghost booby trap. It contributed to the game feeling cheap in some sections. The fact that Alex is a "one-hit wonder" doesn't help the situation either. It only takes one hit from any enemy or hazard, and it's lights out for the hero.

Running, jumping, punching, and swimming your way through the opposition is only half the action. Every so often, you will have to do battle with one of Janken's underlings-- Parplin, Chokkinna, and Gooseka. In a fun twist, the only way to get past them is by winning various rounds of rock, paper, scissors. I love that their character models are literal interpretations of the rock hand, paper hand, or scissors hand. It was a unique take on boss battles that helped give the game its own identity.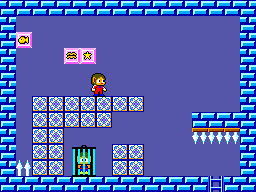 Alex also has several unique items and vehicles at his disposal by either finding them as you travel along in each area or by visiting the shops at the beginning of particular locations. The shops usually have most of what you'll need for that specific section. If you've got the cash, you can buy useful items like a motorcycle, a helicopter equipped with missiles, or an extra life. Of all the things available, I enjoyed the helicopter the most. It's fun to use once you learn to fly it without bumping into overhead boulders. One of the most valuable items in the game is the telepathy ball. It makes the rock, paper, scissors battles a cinch.
As a concept, Miracle World was abundant with variety. However, where it falters for me is with the feel of controls weren't quite up to par. Jumping from one platform to another can be an exercise in frustration thanks to the floaty nature of Alex's leap. Such mechanics often worked against me when many parts of the game required me to hop to a narrow ledge. It usually resulted in accidentally landing in chasms, on spikes, or other hazards. I also resented scenarios where I had to take a running jump and smash a block to get to the other side. Successfully pulling off a simple move like that feels trickier than it should be.
The graphics in this game are gorgeous. Each scene is bursting with beautiful, sharp colors that complement the action very well. There's always something new to see whether you're strolling through the woods, swimming in lakes, or traveling through a mountainside. There is also a decent cast of enemy and friendly characters to round out your adventure.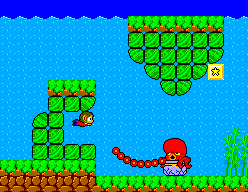 In addition to the many birds, scorpions, and frogs you'll be fighting, you also get to do battle with some truly oddball rouges. I didn't expect to fight a rampaging ox or a sword-wielding grizzly bear. Even so, odd or not, the enemy lineup is quite diverse and does an admirable job of making the game come alive with its quirks that weren't often seen in many platforming games at the time.

The musical score in the game is very upbeat and fits the cutesy nature of Miracle World. The tunes are reasonably memorable once you listen to it enough. The most enjoyable songs in this game for me were the underwater and helicopter themes. It makes me envision being on a Caribbean beach relaxing somewhere.

The Sega Master System wasn't known for having the best platformers around, but Alex Kidd in Miracle World represented Sega's best effort at the time. The game was a foregleam into the competition that Nintendo would be up against once Sega gained ground with the 16-bit Genesis system. While the game never reached the same level of name recognition as Mario and other Nintendo mascots, one could argue that he did pave the way for a certain blue hedgehog to steal the show years later. And for that, we salute you, Kidd.