Sonic Lost World Hands On Preview
Sonic's latest is taking the series in a new direction.
Sonic has been going through a lot lately, as Sega has been desperately trying to revitalize the franchise to its former grace. The critical reception of those titles has been mixed, but in an effort to change up the formula Sega has come up with Sonic: Lost World. What I played was solid and manages to be charming and fun, yet some changes might have hindered what I enjoy about Sonic as a whole.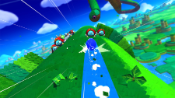 Rather than Sonic moving fast all the time, there are three different levels of speed that he can run at. This was done in order to make the platforming more bearable and in that regard the change is good. Sonic's default speed makes jumping and getting around the environment much easier than in the past. In order to run faster, you press the ZR button on the Wii U gamepad which speeds him up to a degree. His biggest burst of speed is with the Spin Dash, which is done by pressing the ZL button. This provides a more traditional sense of speed, though it is much more difficult to control. The different levels of speed allowed me to do maneuvers like wall runs and precision platforming. I found the changes to be pretty nice, but at the same time I realize that some will take issue with the changes.
Sonic: Lost World didn't blow me away, but it is definitely an interesting direction for the franchise. I'm curious to see how the gameplay develops, as it seems they are taking influences from past games (like the Color powers from Sonic Colors) yet changing up the level designs and player controls. Sonic: Lost World releases on Nintendo 3DS and Wii U on October 29.