Snoopy's Magic Show Review Rewind
RECOMMENDATION:

Unless you like the antagonistic gameplay elements, steer clear of this one.

There is nary a soul out there who hasn't seen or heard of Snoopy- that lovable beagle in the Peanuts comic dating back to the 1950s. Having existed across various forms of media, it was only a matter of time before Snoopy and friends would end up on a Nintendo system or two. Such was the case in 1990 when Kemco released Snoopy's Magic Show on the Game Boy. A few years later, one of my sister's school friends let my brother borrow this game, which I eventually played and completed. Returning to this game as an adult, I have no idea how kid me finished it without a broken spirit.
Snoopy's pal, Woodstock, is accidentally multiplied into a staggering number of copies after the dog attempted a magic ball trick gone haywire. Your goal is to rescue four Woodstocks in each room before the timer bordering the screen runs out. Much of this involves pushings blocks, destroying barriers, and using warp zones to teleport to remote areas of the room. Some puzzles have additional obstacles like one-way tiles that move you along a specific path and barriers that appear and disappear at various intervals. If the game's mechanics had stopped there, it would have had a shred of dignity as a middle-of-the-road block puzzle game at the very least.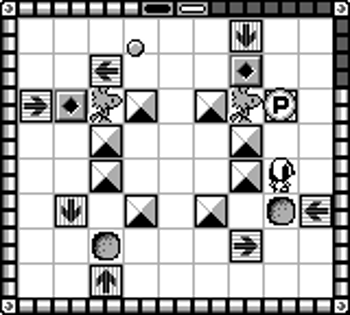 The primary antagonist is a ball (or two in some levels) that bounces around the room and kills you on contact. Like Captain America's shield, that thing does not obey the laws of physics. It constantly changes course at will with little consistency to its movements. The ball actively pursues you and does everything possible to cross your path. Initially, I assumed that it was merely the frustration of dying repeatedly and restarting the same room getting to me. But I eventually noticed that the ball always seems to quickly find its way into my area despite the room being full of obstacles that should make such occurrences a rare event.
Attempting to devise any semblance of strategy is rendered pointless since the enemy constantly adapts to your movements no matter what. Worse yet, it continually ricochets at a 45-degree angle, making it extremely difficult to avoid when in close quarters since Snoopy can only move in the four cardinal directions. These gameplay elements add an unwelcome layer of tension in rooms that require interaction with other objects. For instance, movable bricks can only be pushed in one direction. Still, the only way of knowing which bricks can be moved in that particular direction is through trial and error while that infernal ball is constantly gunning for you.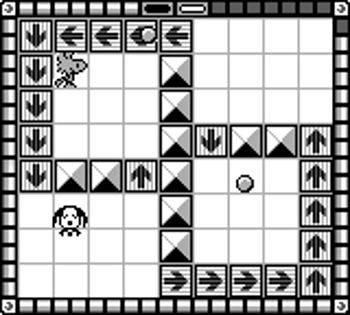 Trying to solve each puzzle while avoiding hazards becomes highly frustrating and feels claustrophobic in the worst way. The same goes for any rooms with warp zones. Teleporting is, at best, a risky endeavor since the killer ball can also teleport if it touches the warp zone. Some warp zones are concealed behind moveable blocks and instantly teleport you to a random part of the room. This results in many occasions where a mistimed warp will send you directly into the path of the hazard.
And don't make the mistake of stepping on a warp zone at the same time as the enemy, because- you guessed it- you'll die. It's particularly misleading that the character sprites blink momentarily while teleporting. In most video games, that usually means you can safely pass through an enemy without being penalized. But this game eschews such logic in favor of instant death.
The game purports to have over 100 levels, but that's not entirely true. After reaching level 60, the puzzles repeat from the first room with an added twist. In addition to avoiding the bouncing balls, you now need also to avoid Spike- Snoopy's brother. Spike roams the floor and repeatedly spams narrow areas you need to pass. He also moves faster and can push blocks around, making matters all the more difficult for poor Snoopy. By this point, it feels like the game is trolling the player, daring you to continue to the next level. It's a game of cat & mouse that feels wholly unnecessary and soul-crushing.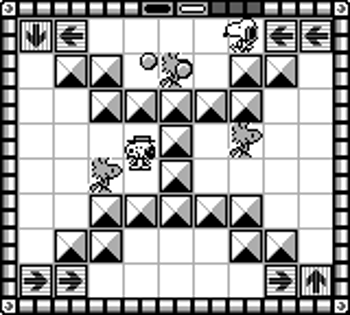 On a more positive note, there are a couple of items in most rooms that can assist you briefly. Touching a clock icon freezes the enemies in the room. Collecting a "P" icon will make Snoopy invincible for a short time. It also allows him to destroy any enemy on contact. But true to the game's antagonistic antics, both power-ups are always hidden behind bricks, which again requires trial and error. And if you're fortunate enough to find them, the effects last for barely five seconds, giving you little protection from the bombardment of enemies stalking you. To put it simply, the power-ups are virtually useless.
Strategic thinking and the resulting victory are fundamental principles of the action puzzle genre, but this game completely misses the mark. The enemies are programmed in such a way that your success depends more on chance than it should. Meanwhile, you're still required to plan around moving blocks, teleporting to other areas in the room, and finishing before time runs out. The flawed implementation of hazards hounding you in each room turns Snoopy's Magic Show into an exercise in frustration.