Sonic & Sega All-Stars Racing Review
RECOMMENDATION:

For fans of Mario Kart or the kart racing genre who want something new, as well as those looking for a great starting point.

Sonic and Sega All-Stars Racing formula is nothing particularly new, but Sumo Digital definitely took one step closer towards perfection of the genre with this game. Racing is a relatively straightforward venture, eight drivers compete in 24 zany Sega-based locales. Players will see areas based on the Sonic, House of the Dead, Billy Hatcher, Super Monkey Ball, Jet Set Radio, and Samba De Amigo series. During each race players will also need to fire projectile weapons, lay mines, and boost toward an all-out war for first place. There's no doubt Sonic and Sega All-Stars has some of the most solid gameplay available in the Kart Racing genre, though finicky videophiles should note that the game also carries a staggering or jumpy framerate. While it's not clear why the framerate is so eratic, most players will become accustomed to it, making it no more than a minor distraction in this excellent racing title.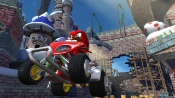 Sonic and Sega All-Stars Racing maintains high sense of speed through out the entire race. To the player, tracks feel very large, and most curves or turns provide a bit of notice, allowing plenty of time for turning given the game's loose control. In a few stages, there are troubling turns, for example, there's a Super Monkey Ball stage which characteristically has about five "U-turns" in a row. At first the stage feels difficult, but once the player learns how to handle a U-turn, piloting a kart through that part of the stage is a breeze, shockingly enough. Overall, the controls are great, albeit looser than Mario Kart, due to each race's speed.
Variety is the spice of Sega's game, and it is in no short supply. With at least 20 characters in all versions of the game, the full range of small, nimble characters all the way to large, heavy racers with high top speeds is represented thoroughly. While switching from one small character to one slightly larger provides a negligible difference in gameplay, in most cases, the differences between the two ends of the spectrum is vast, encouraging drivers to choose a character that best fits his or her racing style. Representatives hail mostly from Sonic, but there's also nearly a character for every major Sega franchise, even more obscure ones, like Bonanza Bros, Chu-Chu-Rocket, Alex Kidd, and Fantasy Zone, inviting comparisons to the style of Smash Bros.'s line-up in their roster, and for most Sega fans, this comparison won't disappoint.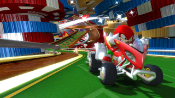 While Sonic and Sega All-Stars racing does have the typical item staples Mario Kart has solidified, like projectiles, mines, and boosts, Sumo Digital has thrown in a few twists. The confusion star is a great example as it flips the screen upside-down if it happens to hit a competitor. No one item seems to break the experience, though there is one powerful item available for racers who may be lagging behind: a rocket which travels the track, spinning out any driver it may hit, and exploding upon a second press of the item button.
In addition, each racer has his or her own All-Star Weapon, which also tends to appear for players at the back of the pack. The All-Star weapons are often very powerful, boosting the speed of the player for a brief period while allowing the user to attack his or her foe, as well. For instance, Sonic and Shadow transform into their Super forms, and actually glide across the track and into enemies with much more ease than normal. For other characters, though, obtaining the All-Star weapon provides a much more exciting experience: The Bonanza Bros. actually cede control of the car temporarily, so the player can aim a barrage of bombs at following racers. Amigo's car gains a short trail behind it, and if he catches any other racer in this trail, they form a conga line, before being tossed aside as his All-Star attack ends. Fortunately, the All-Star weapons as well as the large rocket tend to affect players evenly, so no one player faces the brunt of consequence from the items leaving racing outcome to skill, rather than luck.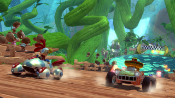 As one would expect, there's no lack of gameplay modes in Sonic and Sega All-Stars racing. A Grand-Prix mode is the traditional, straight-forward option for anyone interested in racing against seven CPU controlled characters through four tracks, gaining points based on finishing positions, but beyond that, those interested in single player gaming will find a time-trial option and a strong offering a challenge missions. For players who game with friends or enemies, there's several options, from a battle royal mode to king of the hill and capture the flag. Groups of players can also partake in individual races, and are given access to a "Last Man Standing" style mode, where the last place racer is booted out of the race, one-by-one, until only the first place racer remains. Unfortunately, at least in the Wii version, many special effects, as well as stage hazards are disappointingly removed from split-screen multiplayer. For gamers looking for a little more, there's also 64 missions, mixing up mini Grands-Prix, item collection, All-Star move utilizations, and single-player twists to the modes otherwise limited to split-screen multiplayer.
Playing online is a mixed experience. Most importantly, once a race has begun, the gameplay flows just as well as it does playing any single-player race. I experienced no "Ghosting," where a player appeared in one place, then teleported to a different location, and AI competitors flawlessly can fill any open spots available to create a complete complement of competitors. The drawback is that only the host can choose which stage to play and what rules to play by, including the types of items and whether or not AI racers should participate. In the Wii version, there's no option to choose which in-progress game to join when playing with strangers, so it's very possible to be forced to literally play by someone else's rules.
I'd have to say, Sonic and Sega All-Stars Racing is everything anyone would expect it to be, and perhaps a little bit more. There's several new tracks, online play, varied multiplayer opportunities, and many options for the single player. Each race offers a sense of speed unparalleled by any other current kart racer. The drivers, the tracks, the modes, and the options in-between will offer hours of fun for anyone who enjoys competition, challenges, and racing, and it should be said that the AI, on its highest difficulty, is certainly no slouch. Pick this game up if you like Mario Kart, or are interested in the kart racing genre, and you certainly won't be disappointed.