Korg DS-10 Plus Review
RECOMMENDATION:

For musicians looking for a cheap sythesizer to use for simpler track creation.

It was my original intention to skip the formality of a written review and showcase just what the KORG DS-10+ can do in video form. As it turns out, this is not as easy as it seems, and some technical difficulties have held up the production. Regardless, it needs to be mentioned just how great this handheld sythesizer is, and just how beginner friendly it can be.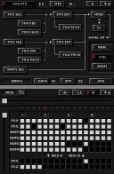 I'm somewhat of a music enthusiast. I wouldn't say that I love all types of music, but for years now I have been deeply invested in both enjoying a wide variety of bands, and playing guitar when I have the time. Though techno has never really been my gig, I've always had a love for gaming music, particularly old 8 and 16-bit sounds. The KORG DS-10+ appears to be the perfect apparatus for budding musicians like myself to both create and arrange fairly complex and interesting tracks.
The synthesizer has been around for many years at this point, gaining the most traction during the late '70s and '80s. It enabled bands and musicians alike to create complex sound patterns using a fairly simple device. Since then, most musicians have adapted the device less for creation of popular music, and moreso for a variety of other types of music. The DS-10+ is an emulation of the KORG MS-10 Synthesizer, as well as a combination of a variety of devices, including a Drum Machine and a KAOSS Pad. Additionally, the DS-10+ is an upgrade to the original title, the DS-10, allowing players to mix together two separate tracks simultaneously, thanks to the upgraded memory of the DSi.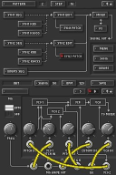 At first sight, the DS-10+ is an extremely daunting piece of software. There are many options, little explanation, and a whole lot of nothing to go off of. Those who have little understanding of the core purpose will undoubtedly have a hard time deciphering each tool's purpose, and may require some deep reading in the very thick included manual. I, myself, had a rudimentary understanding of what the game was intending to do, as well as how I should generally take use of it.
As I started poking around, each of the various functions began to develop meaning. Before long, I was setting up looping verses and arranging them into tracks. Though initially overwhelming, the staggering number of options begin to look quite inviting. Each option allows for users to build increasingly complex tracks. To start any track, it was easiest to always set up my drum beat, choose my beats per minute and swing, and then start with a simplified verse. Each progressive verse would build in complexity until the song hit full stride. Before I knew it, I was arranging my verses into a coherent track and cutting certain parts of each verse based on the measure I was in.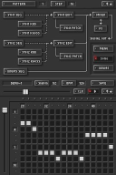 The tool is extremely easy to use after an hour or so of poking around and making music. It's an impressive feat to build such a complex tool into an interface like the DS. Amazingly, each and every part of the synthesizing experience has been built in, including patching to other modules and after effects.
Aside from the large learning curve, the game suffers from a few other issues if you are trying to make full-fledged songs. The beats per minute apply to the entire track, meaning that players can't vary their beats across measures, and thus increase the complexity of their tracks. Other functions, like the effects, can be built into certain time sections of the track, but are hard to reverse when applied. Undoing anything is impossible, which can be frustrating when creating the type of music encouraged by the synth.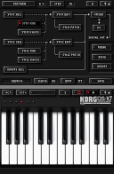 My biggest gripe is the lack of ability to export songs from the DS card to either your DSi memory or an SD card. Immortalizing your songs becomes an annoying process wherein players must connect their sound output to the input of their computer and edit out any extra data on that medium. A webfront would've also been a nice feature, allowing KORG users to share their musical creations, which in turn allows players to learn new styles and techniques to make new and better music.
Though not without its flaws, the KORG DS-10+ Synthesizer is a fantastic tool that musicians will undoubtedly appreciate. It may not be the easiest piece of software to use, but it's amazingly good at what it intends to do and can be quite fun to mess around with even if you aren't making a full-fledged song.