Disney Epic Mickey Review
RECOMMENDATION:

For Disney fans who play videos games as a means to pass time. All other gamers interested in Disney Epic Mickey would do well to find YouTube clips of the boss fights and cutscenes and forget purchasing the actual game.

Ladies and Gentlemen, Disney Epic Mickey in a nutshell:

Picture this: Upon arriving at Disneyland (or Disney World,) you buy your ticket, walk up to the turnstile, present the ticket and walk in. You see Main Street, USA, filled with people, Mickey Mouse balloons, characters, a fire truck that ferries people to Cinderella's castle, horse-drawn carriages, and essentially, you realize you're at the entrance of what many would consider a magical place. Excitedly, you hurry to the nearest Disney cast member, and ask where you should go first! Then, the cast member, Jenny, says she lost her shoe, and was wondering if you could get it from Bobby, a cast member down the street. After navigating your way through a crowd, you retrieve the shoe and bring it back to Jenny. She gives you a MacGuffin, and then, in order to ride the very first ride, you realize four more MacGuffins are needed.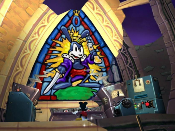 If the point isn't clear, Disney Epic Mickey is full of fetch quests. While the game essentially has three types of areas, you'll spend the most of your time in the town-like areas running back and forth from town member to town member, even across several town areas, just to advance to the more traditional areas. Quests can range from "Go paint in all the plants in town" to "Defeat some troublesome enemies."
To traverse WasteLand, players must enter video projectors containing 2D stages based on famous Mickey (and sometimes Oswald) cartoons. Most unfortunately, these 2D segments contain uninspired platforming elements that mostly require making Mickey wait for an opportunity to jump on some cartoon animal or object in order to progress to an exit projector. Alone, the 2D stages represent dull, repetitive gameplay. When factoring the quests that begin in the town areas above, these stages become dull barriers to lengthen the amount of time a quest can take.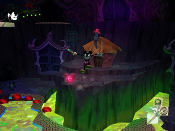 Allow me to illustrate a particularly lengthy quest sequence. A character in the game needs three objects to complete a town's centerpiece. Mickey's tasked with tracking down the three characters that have these three pieces. The first wants three items of his own, hidden all around town. The second is more brief - he wants an item out of a house. The third wants to give a gift to someone else. Successful completion requires Mickey to find out what gift the person wants, then head through a 2D stage, head through another 2D stage, find a character who could help create the gift, then set out to find the three parts of the gift. These parts are spread out amongst two towns, so Mickey has to head back through the 2D stage to find a piece of the item, then head back through the same 2D stage for a third time, to deliver the three items to the person who can make the gift. After that, Mickey makes a return trip through the 2D stage a fourth time, goes through the first 2D stage again, and finally delivers the gift to the character who wanted to give the gift. Oh, also, you needed fifteen MacGuffins to open the door to the town in which this quest occurs, most of which require similar, albeit shorter quests to obtain.
Based on the amalgamation and degradation of Disney theme park attractions and films, action/adventure stages round out the trio of the in-game areas. Since everything in Wasteland is a relatively colorless take on popular Disneyland attractions, the stages, themselves, pale in comparison to the real thing. It's a Small World becomes the generic Asian Boat Ride and European Boat Ride. Pirates of the Caribbean becomes Pirate Boat Ride. The lack of "Disney Charm" in the themed stages presents a stark contrast to other areas, like Mickeyjunk Mountain, a land filled with Mickey Mouse memorabilia, presenting detailed textures and heaps of nostalgia-filled platforms and decorations.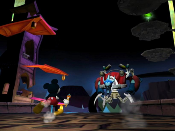 Worse than the lack of Disney Charm? The stage design. Most stages contain broken "rides." By rides, characters often mean something as underwhelming as a missing platform. Mickey typically has to hit a gear, find a trapped Gremlin, or even complete more quests to activate these rides and advance through a stage, which is nearly as dull and uninspired as the random backtracking quests mentioned above. Still, Disney Epic Mickey does achieve one goal: Nearly every destination has two pathways to reach it. Unfortunately, the secondary options are often ill-defined. Most of the time, Mickey can either hit a few switches or rescue a gremlin to hit the switches for him. There were many times I found an accidental or unintended pathway forward through an area, disappointingly halting my intended method to progress. Sporadically, exits aren't indicated very well. Since Mickey can't backtrack in adventure stages, this can result in leaving unfinished business behind.
Disney Epic Mickey is meant to be a game of choices and consequences. Annoyingly, it was often unclear which choices had moral meaning. Is saving a gremlin who bypasses a handful of switches a "better" act than turning off the switches that are bothering an area's resident? Is there any benefit to doing both? Does either choice make a difference? These questions are often unanswered. Other moral choices are a bit too bland. A few of the game's bosses are simply defeated morally by spraying blue paint while vulnerable to attack, and defeated immorally by spraying green thinner at the same opportunity. Still, about half the bosses can be defeated morally and immorally in much more creative and enjoyable ways. Perhaps what's most disappointing is that, until the end of the game, consequences of Mickey's choices aren't overt aside from a handful of dialog alterations. Most quests are the same, as are most stage routes. The consequences of being a good or bad Mickey Mouse are relatively insignificant until the game reaches its conclusion.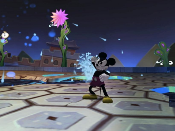 Paint and thinner, itself, is a mechanic that wears thin. Some in-world objects are scripted to move when painted, and some are scripted to fall when things around them are thinned, but largely, painting is used to paint in platforms to proceed on, cover enemies to convert them to allies, or fill in items to block unfriendly attacks. Likewise, thinner is used to create pathways through walls, kill enemies, or thin unfriendly obstacles. Painting is considered "good" in most cases, and thinning "bad," but often, a quest to help a townsperson will blur the lines. In effect, this means that some areas are hidden by a cartoon wall, while other areas are tough to reach without painted-in platforms. Frustratingly, Mickey's paintbrush isn't quite as versatile as I hoped. When aiming, Mickey points the brush in the direction of the paint/thinner stream, forcing Mickey to be on the very edge of a platform to paint anything below. Otherwise, the bottom of whatever Mickey is standing on will block the paint stream. Mickey also struggles to tell the depth of the Wii Remote's pointer. I'd want to paint in the foreground, only to see Mickey aim far, far away. I'd try to paint something near the back of the screen, and Mickey would aim at the camera. These don't sound like major issues, I'm aware, but they occur far too often to go unmentioned. Overall, paint and thinner don't add much color Epic Mickey's exploration or platforming-based gameplay.
The camera is broken and obtrusive, often removing itself from the player's control, obscuring Mickey's platforming destination. While some would say Epic Mickey's camera could be considered the game's worst enemy, regular enemies cause annoyance, as well. There are ten total underlings at my count. For a general 3D platforming title, ten isn't a bad number, but in Epic Mickey, it's just too few. Far too often, there's a room where Mickey has to defeat all the enemies or stop a machine that generates enemies. Hadn't Epic Mickey contained these combat areas, the small variety of enemies would be a non-issue. By the end of the game, I found myself wishing to see something different, something more unique than the same "Blotter" enemy wearing a themed costume matching the area.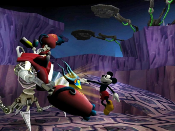 Incredibly odd, Epic Mickey gets everything else just about as perfect as possible. The cutscenes are warm and endearing, and the music reminiscent of classic Disney songs and noises. Even while areas and stages aren't as reminiscent of classic Disney locales, their textures are very detailed, and models, themselves, are smooth. The game's story can be heartwarming or heartbreaking at points, and that alone, is very compelling. Characters are cleverly developed on the cast of past Disney cartoons. In terms of presentation, Disney Epic Mickey could serve as a role model for following licensed titles in virtually every area of game presentation. There are even two unlockable cartoons, one featuring Mickey, the other Oswald.
Disney Epic Mickey, sadly, is a title that gets nearly everything except for the "game" part right. The quests are dull and repetitive, the choice system unrewarding, and the main stages just feel uninspired. The platforming mechanics are dull and uninventive, and even the oft praised paint mechanic grows stale quickly. I'm unsure who would enjoy a game like Epic Mickey – it's a platforming-adventure combo with dull platforming and cumbersome adventure mechanics. Those who look for sheer title length or story might enjoy it, as might some Disney maniacs, as in one portion of the game, the sheer volume of Mickey Memorablia is incredible. Still, I can't say the title deserves any praise as a video game. Regrettably, Disney Epic Mickey isn't a fun title to play.