Phineas and Ferb: Across the Second Dimension Review
RECOMMENDATION:

A great pick-up for kids, especially those who are fans of the show.

At first blush, it's easy to see a bit of Ratchet & Clank in the latest Phineas and Ferb adventure, which is based around the most recent movie Across the 2nd Dimension. This is due in part to the past experience of developer High Impact Games, which is comprised of ex-Insomniac Games and ex-Naughty Dog members. Despite offering a taste of the beloved Sony series, the game stops short of completely aping it to provide a more family-friendly experience that captures the own charm of the Phineas and Ferb series. While it's not going to reach the Ratchet and Clank crowd, it's still a great game for the target demographic of the show.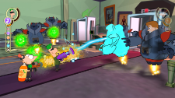 The game maintains an even pacing while avoiding the problems that faced the DS version. Platforming makes up the bulk of the experience, but this is tempered by a healthy dose of on-rails shooting segments that prove to be both satisfying and challenging.
Throughout the platforming segments players will acquire and use a variety of weaponry to dispense with foes. High Impact could've opted to keep the experience as simple as possible, but instead they included creative threats which force you to explore your arsenal. Furthermore, weaponry can be upgraded by collecting computer chips and spending a portion of them at one of the workbenches you encounter in the levels. These touches of detail elevate the game above the typical drivel that kids are provided within licensed titles.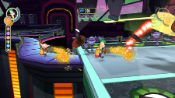 Puzzle solving also helps break up the platforming segments, allowing players to do a bit of exploration in the mostly linear levels. Whether it's collecting parts to assemble into a new invention or taking on an environmental puzzle to unlock a path forward, these diversions help give levels some form and memorable moments.
Of course, these breaks are accompanied by bits of voice acting and interaction with other characters from the show. While I can't say I know anything at all about Phineas & Ferb, these segments were well- done and fairly intriguing. There's little chance I'm going to start tuning in when the show is on, but perhaps down the line when my son is a bit older, it'll be something he'll enjoy. It doesn't hurt that the PlayStation 3 game comes with a few episodes to help transition into the show, or act as a nice bonus for established fans.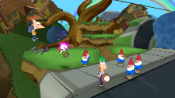 Boss battles also offer a bit of puzzle solving, tasking players with either finding the proper weapon/technique to succeed or learning how to use the environment in order to gain an advantage. It helps if a second person occupies the other character, since they're always on screen anyway. Though the game is far from a challenge, given the target demographic, a bit of help and teamwork go a long way in making the experience more special.
The game falters mostly in being a bit repetitive and shallow. For seasoned gamers the experience will quickly run thin, but I can only imagine that kids and fans of the show will have a high tolerance for the repetition.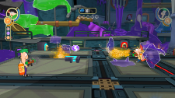 The only genuinely bad portion of the game comes between the core levels. There are two mini-games available that are both uninteresting and uninspired. Like New Super Mario Bros, players pick up big coins (up to five) in each level, which are then used to play a claw game and skee ball. Both are extremely repetitive and the claw game is obnoxiously slow, forcing players to sit through all of the animations. It's also frustrating that starting up a second round can't be done within the confines of the mini-game; instead the game will take you back to the launch menu, and force you to reload the mini-game. While both mini-games are decent for what they are, they also take far too long to play and never change. It doesn't help that the tickets you earn from playing can only be redeemed for bonuses that aren't helpful or necessary. I didn't realize this at first and wasted a good portion of time using all of my coins to try and earn as many tickets as possible.
It's definitely not the pinnacle of gaming experiences, but it's still a good game to pick up for your youngster who enjoys the show and characters. There's no question in my mind that this game will be a hit with kids. Even if they're a bit too young to take on such a game, with the ability to play co-op, you can join in and help them along the way - it'll be a bonding experience.