Kinect Disneyland Adventures Review
RECOMMENDATION:

A worthy purchase for those who already have a Kinect and patient children in love with Disney.

Without ever having been to Disneyland, I can only assume that Frontier has done a spectacular job recreating the iconic park. The virtual representation of the park seems to have everything covered, straight down to themed garbage cans, benches, and vending carts. Despite all the effort, it's held back at every turn by the peripheral that should be immersing you. The fact of the matter is, the Kinect controls are cumbersome and unnecessary and often just don't work right.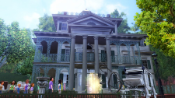 It's unfortunate really – the park is chock full of things to discover and find and there's a surprising amount of stuff to collect and do in general. Sure, nearly everything in the game boils down to a fetch quest, but what else could you expect from a game that's built around exploring a theme park?
If you're not collecting stuff, you're likely doing exactly what any kid wants to do when they get to the park – meet all of the characters, collect their signatures, and take pictures with them. Oh, and who could forget the rides? But we'll get to that in a minute…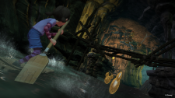 Ask yourself this: if you wanted to walk around in third person in a 3D space in a video game, what would be your optimal control choice? You're likely thinking analog or joystick, maybe even keyboard and mouse – heck, even a D-Pad would suffice. If there's one choice I'm sure you didn't make, it's the Kinect. After all, how could it even work?
Shoddily, but here's the gist of it – hold your hand out to move your character forward, then to the left or the right to get him to turn, circularly. Yes, like a tank, except you can't back up. Best I can tell, the further you hold your hand out, the faster you move forward, so you'll constantly be moving your arm around to futilely gain control of your on screen avatar. It's awkward, unintuitive, and it rarely works without issue.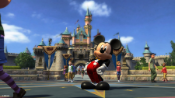 This is only made more complicated when you have to interact with something, which is done universally by waving. You'll have to bring your character to a stop to do this and then hope you don't activate the walking command while trying to wave. Taking pictures and utilizing the other tools your character has at your disposal is thankfully done with your left arm, so this can't interfere with the movement controls.
Now imagine using this control method to navigate the entire park – pretty terrible, no? It gets tiresome, especially since you're standing up the whole time too. If I want to stand up and walk around all day, I'll go to a park. I'd much rather enjoy virtual Disneyland from my couch, with a controller.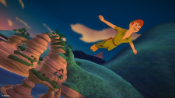 Kinect controls only further limit the other interactive portion of the game, the rides. These whimsically created adventures are all themed after the rides they supplant, but mostly boil down to a few simple tasks. Typically you'll be leaning in various directions as if your body is one giant joystick, such that your character will move the correct direction at the right time, much like bobsledding down a mountain (which you do at Matterhorn). There are other mini-games that are a bit more interesting for the proper audience, like dancing with Belle, but these aren't nearly as frequent as the typical leaning fare.
The problem here is that the controls are spotty, never seeming to work quite right. They're either too sensitive or not sensitive enough. They never work just as you'd expect. For me, the mini-games presented in place of the rides felt like a missed opportunity, due completely to Frontier's inability to squeeze anything more out of the limited functionality of the Kinect.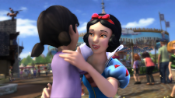 Kinect Disneyland Adventures frustrates me, to say the least. I WANT to explore Disneyland – it's a pretty awesome place. I WANT to talk to all of the goofy characters and collect their signatures. I WANT to find all of the hidden Mickey symbols throughout the park. But I CAN'T tolerate doing it. The controls so drastically hinder the experience. The quick voice commands make it far too easy to warp around the park to accomplish tasks, allowing me to avoid walking as much as possible. Shamefully, warping around defeats the whole purpose of the game.
Despite my complaints, the game is well-suited for the intended audience. The magic of Disney extends directly into this experience. Even though I fought with the controls to get around and struggled in the mini-games, the Disney magic is undeniable. The digital recreation of the park is so detailed, bright, and colorful; it does an amazing job of capturing what makes a Disney theme park so special. Kids will revel in meeting the perfectly recreated characters, giving them a virtual hug, taking their picture, and getting their signature. They'll enjoy trekking around for hours on end, even if the tasks are menial, because exploring the park often makes it worth the hassle. And really, that's all that matters.
The Disneyland Park is fun, whimsical, alive, and incredibly detailed. Even as I write this, I want to escape back into that world, but the Kinect controls stymie that desire. Kids will undoubtedly see things differently; the controls will be an annoying distraction at worst, but it's not likely to slow them down. If you already have a Kinect and kids of the appropriate age that are patient and willing to tolerate some of the game's shortcomings, you won't go wrong with Kinect Disneyland Adventures.