Zack Zero Review
RECOMMENDATION:

Only for the masochistic.

Zack Zero is the most aptly titled game I have played in recent memory. You play as the titular hero, Zack, who is a real zero. That may sound harsh, but 'zero' is quite fitting and describes much more than the game's forgettable hero. The word is also applicable to the amount of new ideas this game has, the effectiveness of the controls and is precisely the amount of fun I had while playing.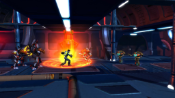 Zack shares many similarities with a certain famous space mercenary named Samas Aran. Both Zack and Samus seek to protect the galaxy from space pirates. Neither of them has a voice (Other M aside). And they both have upgradable suits that conveniently lose practically all functionality just after the beginning of the game – requiring you to rediscover them as you progress. Though Zack Zero may borrow these elements it doesn't do anything really worthwhile with them.
In the beginning you find yourself on an alien planet, blasting away at the local animal life with no real explanation. You have some sort of "assistant" that is only too happy to offer up advice on how to play the game in the form of non-transparent text boxes that pop up without warning and have a nasty habit of covering the portions of the screen hosting the action or platforming elements. Zack has all the moves you'd expect from an action platformer – he runs, he jumps, he shoots flying Frisbees of death.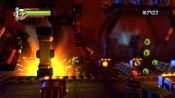 His suit gives him additional powers that correspond to an element. He has fire techniques that allow him to slide through the air and blast enemies with waves of fire, his earth based powers allow him to destroy certain barriers and move heavy objects and his ice based powers give him the ability to freeze enemies and slow down time. Each power drains the suit's energy, so using these different abilities is limited, which would add a strategic element if using the standard "Death Frisbee" attack wasn't much more effective against enemies. The only time I switched powers was to accomplish some crucial, menial task that required the use of that particular power.
As you kill enemies you will gain experience points and level up. When this happens, the gameplay is interrupted in order to display a screen that shows all of your powers and levels in them. Initially you'll think that you'll be asked to assign your points to the desired power, but Zack Zero doesn't want you to worry about such things. The game will automatically assign your points and only brings this screen out to proudly display what it did for you. Allowing you to assign points would give the player a degree of freedom which Zack Zero cannot allow. Every player must suffer exactly the same way others have, which I suppose is quite fair.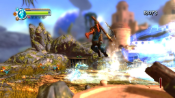 The design of the levels is very cut-and-paste formulaic. Combat zones are interspersed between platforming elements to give the game a decent balance and pacing. But it isn't the pacing that's the issue, it's everything else. Levels are entirely too long to be played casually. This is a game that's demanding of your time, taking about 20-30 minutes to complete each level; if you can't commit, Zack Zero doesn't want you playing.
The basic mechanics are infuriating. Sometimes when you press a button it will do exactly what you want it to. Other times, not so much. The double jump feature, represented via backpack, is especially inconsistent. If not pressed at the exact apex of his jump the jump pack will fail, causing you to likely careen down into a canyon on other bottomless pit. This leads me to believe that this jump pack requires a certain amount of altitude to work correctly. It's like push starting a Volkswagen bus, only not as fun.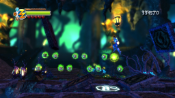 Combat is flat-out boring. Enemies don't have any sense of self-preservation and just come at you in small, very manageable waves; boss battles are an exercise in tedious pattern recognition that don't change much even in multi-tiered battles. The tricky party of combat is when enemies appear on any sort of elevation. The player doesn't have any control of Zack's aim, so the game takes the liberty to decide if you should aim upwards towards the immediate threat or if you should instead blast away at a small rock formation in front of you. This will often result in having to place yourself in precarious situations to take out certain enemies. This doesn't mean that the game is challenging, it means that it fails at the most basic of tasks.
After the first level is completed you'll find out the real reason for Zack's seemingly flippant decision to kill everything on this alien planet: his girlfriend was kidnapped. Yup, Zack Zero's main plot is as old as time itself. I get the feeling that the developers wanted to approach the subject in a more tongue-in-cheek sort of way, but the awful production values destroy any and all attempts at humor. None of the characters are voiced except the obnoxious narrator who attempts to fill in the audience on the entire plot in between levels. Not only would the game have been better served with a more subtle and natural method of storytelling through the gameplay, but the dialogue and delivery is reminiscent of the worst kind of community theater.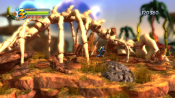 I can't help but wonder if this game would have been better if it centered on the kidnapped girlfriend. Sure, she doesn't do anything except get captured, imprisoned and possibly tortured, but at least the game would have been honest.
As you can tell, Zack Zero hasn't exactly endeared itself to me, but what really sets it back is a game breaking glitch that the developers are actually well aware of. If you are signed into the PSN when you start the game up, it is quite likely that your game will freeze about two minutes in. This happened to me personally about 75% of the time. The only way to be sure to avoid this hang-up is to start the game signed out of the PSN and then sign in once the game has loaded.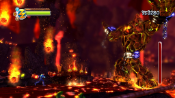 While it's great there is a work-around, it is downright unacceptable for a game to be put out with such a massive bug, especially when the asking price is $12.99 – an already unreasonable price considering the quality of the product.
Zack Zero is a game that likely looked good on paper, but the myriad control issues, uninteresting story, and a massive game-breaking glitch make sure that this game stays true to its title.