Tekken 3D Prime Edition Review
RECOMMENDATION:

Only for those who have friends to battle locally. With the broken online mode and the stripped down single player, there's little to enjoy for anyone else.

Tekken 3D Prime Edition broke my heart. Over the past five or six days, I had the opportunity to really get to know Tekken and I've come to understand and enjoy its brand of fighting. Past efforts proved fruitless; but something clicked this time. At its core, Tekken 3D Prime Edition is really just a stripped down port of Tekken 6, complete with the full (enormous) roster unlocked from the get-go. Sounds great, no? Well, it was… until I took it online. Here the ugly monster within sprung free – just like Tekken 6, the online mode is broken; a shot through my love-struck heart.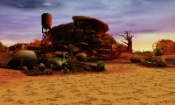 Playing offline, Tekken 3D Prime Edition checks all of the boxes for a great fighter. Running at 60 frames per second, even with the 3D on, it looks great and plays silky smooth. The addition of customizable, easy to use touch screen buttons only helps make the fighter more accessible. With forty characters, the roster offers a huge variety of fighting styles to choose from, making it very easy to find a character that fits you well.
Carrying the traditions of the series, Prime offers a fighting experience that's focused on constant defense and attacking with devastating combos at the right moment. Because of this, every move you make is of consequence – a poor timely attack can result in sustaining a combo onslaught and ultimately a loss, even if your opponent has only a sliver of life left. Fights can be exhilarating or unbelievably frustrating, but they're always sure to be interesting. The most devastating losses typically provide the greatest opportunity to learn how to better defend against big combos.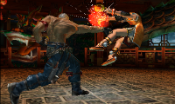 While the core fighting engine is great, players have very few modes to exercise their skill sets. Surprisingly, there's no traditional Arcade or one-off match mode, nor one of Tekken's typically wacky single player quests. From the menu, players have a total of four choices: Survival Battle, Quick Match, Versus, and Practice.
Quick Match acts as the more traditional Arcade Mode, but you'll find no story interspersed, nor an epic final boss fight, just a string of matches with increasingly challenging foes. Survival Mode is your typical Gauntlet mode, allowing players to face off against a selected number of enemies back to back with small life replenishment after each one.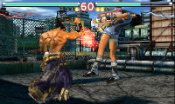 With such meager offline offerings, it was my distinct impression that Namco was expecting players to spend most of their time online. It took the game releasing for me to finally give it a go, but my experience thus far has been extremely disappointing. Awkwardly constructed, players must set up a profile offline with a default character in order to play online. Rather than getting an option of which character you'd like to fight with online, you must always man the one attached to your profile. Throw away all notions of being able to run through a gauntlet of fights with friends using a wide variety of fighters.
While annoying, this alone won't prevent you from at least having some fun with friends, especially after you have an idea of your favorite character. What does kill the fun is the stuttering and laggy gameplay. Every match I played seemed to crawl along, often slowing down to the point that it was impossible to execute a well-constructed combo at the right time. Even in matches without stuttering, the frame rate had taken a dip, throwing off my timing and flow of the matches .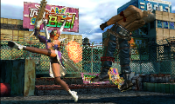 Worse, there seems to be some definite balance issues as every match I played was against Law. It's hard to say right now if the tiers mimic those in Tekken 6, but with Law as a top tier character there, it seems to be the same case here.
If you choose to forgo the online play and opt for local play with friends, you will each need the game, further decreasing the accessibility of what should be the main attraction of the game.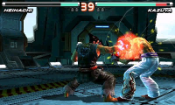 While mostly inconsequential, it's worth mentioning the Tekken Cards, as they are the only new inclusion in this release. Wins in the Survival mode will net you a few cards, each displaying a still image of something in the Tekken. With over 700 to acquire, players have something to work through while building their fighting skills. Those who don't want to grind through Survival can take use of the StreetPass functionality to acquire more.
I find Tekken 3D Prime Edition to be exceedingly disappointing because it's clear they got the basics down perfectly. The fighting engine runs fast and smooth and it looks great, but being a port of Tekken 6, it seems to have carried along all of its issues as well, namely the broken online mode and the unbalanced roster.