New Super Mario Bros. Wii Review
RECOMMENDATION:

BUY THIS GAME NOW!

Since New Super Mario Bros. released on the DS in 2006, it has managed to sell an unprecedented number of copies - around 19 million. Given the clear popularity of the title and its mass appeal, Nintendo has created a sequel to the title. Rather than keep the course, New Super Mario Bros. Wii shakes up the formula creating a familiar but unique experience. Players will have a variety of new items to experience as well as some new enemies and worlds. Most importantly, players can now enjoy the game with up-to-three friends, an addition that significantly alters the mechanics and play styles of the game.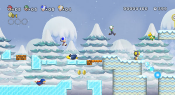 Players who grew up with both Super Mario Bros. 3 and Super Mario World will immediately feel at home with New Super Mario Bros. Wii, as will those who started on New Super Mario Bros. DS. The game offers many familiar foes and locales, but a completely new set of power-ups and techniques. In addition to the stand-bys - the Fire Flower and Mushroom - the game offers a Propeller Suit, a Penguin Suit, and the Ice Flower. Players will also find that Yoshi makes a triumphant return. Yoshi carries his own set of new techniques as well, including the Flutter Jump, the Ground Pound, and the ability to lick up enemies and even fireballs which he can spit back out.
While all of the new techniques and power-ups are a blast, the game's true beauty is the multiplayer functionality. Never before have players engaged in such a co-operative/counter-operative experience. Throughout each of the levels, players will have to be mindful of their fellow friends. If players move upwards too quickly, eventually the bottom of the screen will become a death trap. If players make a big jump too hastily, they can leave the other players stranded with no choice but death. The unbelievable part is how well the game does in convincing players when it's ok to play as if you are at odds, and when co-operation is absolutely critical. Many of the game's big coins (as seen in NSMB DS) require at least a second player to reach. Because players are able to get a boost up by jumping off a friend's head, they can reach heights that are typically inaccessible without some sort of power-up.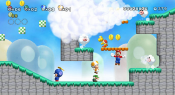 The multiplayer mode also adds a new level of challenge to the game, because you can't just blast your way through a level. You must be careful of your friends, for both their sake and yours. Of course, death is not as impactful here as it is in past Mario games. All players must die relatively simultaneously in order to have to either restart the level, or return to the mid-level checkpoint. As such, players typically build up many 1ups so that they can die numerous times within a single level.
Another great feature of the game is the Super Guide. Though it has caught much flak, it excels in its purpose. When a player dies eight times in a single level, a green box appears, which players must jump and hit in order to activate the Super Guide. This will take over control for the player, allowing them to pass a particularly challenging spot. For someone like my Grandmother who often asked me for help in the DS version, this ability is a godsend. Rather than having to wait until the next time she saw me so that I could progress her, now she can just hit the little box and move on, continuing to enjoy her experience. Because the option is not available unless you die a number of times, most advanced players will never even realize it exists.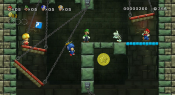 It's hard to describe how unbelievably fun this new multiplayer Mario experience is. It's unlike anything players will have experienced before. Chessa and I conquered the game together and at times it felt amazing to perfectly orchestrate a set of moves to reach a challenging big coin. At other times it was frustrating to fail... especially when she would purposely kill me! However, it's all a part of the fun, and it's all encouraged by the game's design. It seems as if Nintendo went through each level and designed it with the intention that at particular points players would be at odds, and at others co-operation would be necessary.
All of what has been described applies directly to the game's story mode. The game also offers two other modes - Free Mode and Coin Battle, both of which do more to encourage competition. Both modes rank all of the players participating at the end of a level. In Free Mode, all metrics are considered in the ranking, including lives, coins, enemy kills and score, whereas in Coin Battle, only the number of coins collected is relevant. With such a dog-eat-dog attitude, these modes encourage cutthroat play where only the strongest, fastest, and smartest survive. They are great for a party environment and with such a different dynamic, make the game feel completely fresh and different from the Story Mode.
It should go without saying, but New Super Mario Bros. Wii is absolutely fantastic. It offers players a one-of-a-kind experience that will continue to be a blast long after this generation ends. Though it's a little disappointing that with such a strong multiplayer focus it doesn't offer online play, it can easily be overlooked when a group of four sits down and enjoys the game together in one room. It's far more challenging than the original New Super Mario Bros. title and more feature rich. Do not hesitate in purchasing this game for anyone, it's a guaranteed hit.