Ridge Racer (2012) Review
RECOMMENDATION:

Not Recommended

Upon booting Ridge Racer for the first time, I was a little confused and annoyed. After entering the "Gold Pass" included in the box I found myself waiting on a 550MB DLC download, which was subsequently followed by a day one patch. This however, was only a minor frustration; after all, the Gold Pass was unlocking three tracks and a few vehicles, so the benefits were apparent. It wasn't until I actually got into the game that the true annoyance set in. As it turns out, the content contained within this Gold Pass was just as substantial as the content on the game's cartridge. Yes, that's right, out of the box Ridge Racer on the Vita offers a mere three tracks. Three. THREE!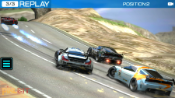 "Where did all the content go?" I wondered to myself. Apparently someone at Namco thought it would be for the best to just omit it and sell us the game with micro-transactions after release. This seemingly ignores the core issue where nobody is going to be willing to buy the game without any content to speak of.
Even worse, it's devoid of any sort of real single player quest. You can Spot Race or jump into a Time Trial, but neither is a particularly engaging option. AI controlled racers seem to always have the jump on you, forcing you to fight your way to the front over the course of a race. Don't get me wrong, the core racing mechanics are completely intact and are as solid as ever, allowing you to drift around corners effortlessly building up nitro then slipstream to victory. But racing across six tracks gets old pretty damn fast no matter how great the mechanics or the designs of said tracks.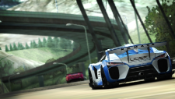 Signing online, you'll be able to partake in races with some better balance. Since the game is able to match you up with racers of equal skill level, you won't often feel as if you're out of your league. As you play through the few tracks available you'll slowly earn credits that can be used to upgrade your vehicles and compete with better racers. This does put a pretty awful skew on the leaderboards, however, as the racers at the top are working with much better equipment than you likely are. You can eventually compete, but you'll have to be ok with grinding through the same tracks over and over until you reach their level.
Despite my leaderboards complaint, the online experience proved smooth most of the time, though I did encounter some issues getting into races. I'm not sure if this was due to a small player pool or a greater issue with the online matchmaking.
Sadly, I'm not sure there's much more that can be said of Ridge Racer – it's devoid of notable content. After just a few hours I was sick of the tracks available, and it didn't help knowing that I could just boot up my 3DS and take the superior Ridge Racer 3D for a spin. While the core mechanics are solid and the gameplay is as great as ever, you need tracks to race in, especially if the game features an element of RPG progression. Avoid this product; it's an affront to gamers and undeserving of your hard earned cash.