Tales of Graces f Review
RECOMMENDATION:

For JRPG fans, or Anime fans.

Japanese RPGs haven't had the easiest time this generation. The good ones are few and far between and Japan has taken notice to the downshift in popularity. Many games, such as Tales of Graces f have a hard time being localized for English speaking audiences. Thankfully, after much fan demand, the game has finally seen a release on U.S. shores and while it doesn't stray far from the formula, it provides an experience that will satisfy many starving JRPG fans.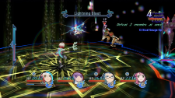 Tales of Graces f tells the story of Nobleman Asbel Lhant and his quest for redemption in the eyes of his friends and his home nation of Lhant. The tale begins seven years prior to the main story, wherein the player controls a 13 year old Asbel, his younger brother Hubert, and his close friends. This introduction serves the purpose of fleshing out the main characters and while it definitely succeeds in that goal, it does so at a cost.
The childhood story arc suffers from pacing issues and before long, the player will be dying for the story to pick up. Learning about Asbel's troubled relationship with his father is great, but enduring childhood antics such as exploring a mountain slows the pace. On top of that, playing as young versions of the protagonists is fun for a while, but becomes annoying after the first hour or so. The average gamer will probably not have the patience to endure three hours of buildup; however those that press on will be rewarded. Once players get into the meat of the story, they come to find that the earlier exposition was to establish a cast of likeable characters that you care about. From the hyperactive personality of a character like Pascal, to the serious, yet vulnerable Hubert, players will likely find themselves emotionally invested in at least a few of the game's unique and interesting characters.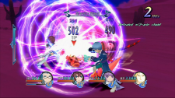 The likability of the cast is enhanced by the great voice work. If anything, the game does suffer from some odd localization issues. That said, overall the sound design is done well. The game still features "skits," which are small, voiced scenes that break up the gameplay in order to flesh out the characters. In battle, attack sounds pack a punch and the music is grand in scale. Overworlds are brought to life with pieces done by series composer Motoi Sakuraba. The soundtrack stands out and while it's not the best in the series, it holds its own in the grand scheme of things.
Tales of Graces f takes the series in a few new directions, while at its core it remains familiar. The seamlessly traversable overworld is a welcome addition to the series, yet with this comes with some minor setbacks. Areas that you aren't supposed to go to yet are now blocked off by a "we can't go here yet" style of message. While this ensures that you stay on task, it may annoy some players looking to explore before they continue on the main journey. In addition to that, your objective is always readily available through the press of a button. This is a pretty handy addition, since in past games you had to rely on the synopsis if you happened to forget the immediate task at hand. While there are tons of different areas and locales to explore, the lack of freedom is a bit of a letdown, but during the later parts of the game, the world opens up letting you go where you please.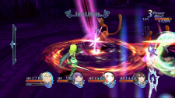 The Tales series has a traditional fighting system known as LMBS (Linear Motion Battle System). This means that characters are locked in line with a targeted enemy and can move toward, away and in the case of Graces, around enemies. The free-run mechanic that has been present in the latest few Tales iterations makes a return, but is best used in dire situations as opposed to the frequency that you use it in games like Tales of the Abyss or Vesperia. This is because free-run uses up Chain Capacity points.
Chain Capacity (CC) is how this game manages the actions you perform in battle. In past games, characters had TP that determined how many Artes (special moves) you could use in a fight. Now, CC determines this. A-Artes, which are the game's basic attacks and are presented in a directional Arte tree, and B-Artes, which are mapped to the Circle button similar to Artes from the past games; come with a CC cost. Some actions like dashing, side-stepping and free-running also have a small CC cost attached to them.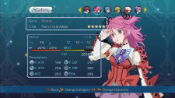 Battles are a bit less about building massive combo's and more about being tactful. Now, you have to pay closer attention to weaknesses, auras, and attack patterns as you plan your attacks because enemies (and more specifically bosses) are very unforgiving. Fighting recklessly will likely lead to unsuccessful results. At first this threw me off, but when I started taking my time, guarding and managing my CC, battles became a lot more fun and efficient. The pace is still pretty fast and the battles end up being one of the best parts about the game.
The problems with Tales of Graces f lie in its tradition. While the game does change up the pace in some ways, it still suffers from the same things that past games in the JRPG genre suffer from. The story, while well done, is very anime-esque. Players who aren't fans of Japanese anime probably won't be too fond of the story and characters who embody the anime style that they are based off of. Players will constantly be slammed over the head with recurring themes of friendship and betrayal. Some will like it, and others won't. This niche is part of what makes the JRPG genre unique, but is also what alienates it to other gamers. That said, there is still plenty to love.
Tales of Graces f doesn't reinvent the wheel - it shines it up a little and adds a little flourish to it. Fans of JRPGs will fall in love with the battle system and characters. Others will probably pass on the title, which is unfortunate. Underneath the cliches of the genre is a great game full of themes that any player can relate to. I believe that anybody interested in the genre should give Tales of Graces f a shot. It provides a great wealth of value, with a campaign that will last about 60 hours, and call backs and references to past games in the series. In short, this is one Tale that you should take your time to enjoy.