99Seconds Review
RECOMMENDATION:

Only for those with a classic game passion and two bucks they don't know what to do with.

The trend of retro style games the last several years is something I can normally support, at least when game makers actually figure out how to capture what made old games so great. 99Seconds tries to harness the magic that kept early gamers rolling quarters into cabinets, constantly vying to get their name in the top ten. Although 99Seconds appears to be on to something at first, spending time with the game reveals that there is no real hook and it fails to instill the desire to wear your thumb raw for the sake of a high score.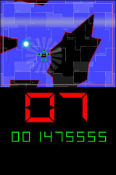 There is some silly story behind 99Seconds, but it doesn't matter. The game involves moving a rudimentary avatar around the screen and dodging blocky intrusions that enter from every side of the screen. The different encroaching shapes move and spin in set patterns trying to bump into your highlighted hitbox. Getting hit by one of these protuberances will bring your movement to a halt as the time ticks away from your 99 second clock. This matters, because your score ratchets up the longer you are moving around at full speed and snagging score and time boosts that pop up here and there.
To ease your survival, there is a time mechanism that lets you slow the encroaching black shapes while you maneuver from harm's way. If you find yourself in a sticky spot, a tap of any button will put the brakes on the surrounding motion as you deftly move out of danger. This time-tinkering slows your score accumulation, but is also the key to surviving longer and longer which can in turn allow you to earn more points. Once your timer rolls to zero, the game is not over, but a single hit at that point will end it all – different from when there is still time left and you and your point tallying is simply slowed.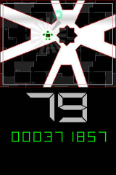 If all of that is baffling to you, it's probably OK. Basically, you dodge stuff. It's actually pretty tough to tell how to improve your score besides not getting hit. Even then, the difference in your point total is difficult to discern. This is where 99Seconds is a letdown. It doesn't pull you along, trying to get you to pump up your points, because it's hard to tell when you're having a "good game" and getting a big score.
The absence of a hook is also caused by the different waves of intrusions coming in a different order most of the time – this keeps you from memorizing what's next, which could be good, but instead it just makes it impossible to predict what's coming and how you're doing. The other problem with the encroaching shapes is that there is no steady increase in difficulty along the way – it's all over the place due to the randomized patterns.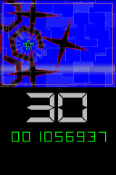 So, the game doesn't have that retro magic, although don't be fooled – plenty of old games were no fun either. 99Seconds' touted throwback graphics sort of capture a vector monitor vibe, but there's enough textured background and other fill colors to keep it from really adopting the look. This makes the visual style come off as pretty generic and far from kitschy-cool. The simple sound design is notable, though with a deep accented voice issuing a "warning" before particularly difficult waves arrive, and congratulating you when you grab extra points or seconds. So, although simple, the audio feels unique and notable unlike the bland graphics.
Simple, yet compelling: this is what made great classic games so compelling. As an old dude, I have no problem with companies trying to regain that early arcade fun with a few small modern tweaks. Problem is, it's not easy to do and 99Seconds proves that. There's nothing particularly bad here, but when a game has a minimalist design, no story, and a leaderboard, there has to be something that makes you want to climb to that number one spot on the high score table. 99Seconds registers a big miss in this critical area and makes it feel pretty much like a browser flash game you played during lunch in 2001 and never thought about again. The same will happen here when only the rarest of gamer will be able to remember their time spent playing 99Seconds.

#Retro
#Two bucks