Brave: The Video Game Review
RECOMMENDATION:

For young kids who can't get enough of the movie, Brave.

Disney-Pixar's Brave was a charming movie. It tells the story of a strong minded princess who would rather go on adventures than worry about her womanly duties. Tied into this story is one about family, bravery, and defining one's own fate. The movie hit the marks it needed to, and for me at least, left no desire for expansion. That fact comes across pretty loudly when playing the movie tie-in game, also titled Brave. While it executes well as a (very) basic game, it ultimately comes off as a boring, and pointless adventure.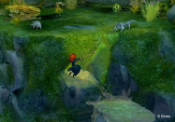 One thing that rubbed me the wrong way once I started playing was its introduction. If I had not seen Brave before playing the game, it would have immediately spoiled one of the main plot points of the movie. I advise that players watch the movie first before playing the game to avoid ruining the plot.
As I got into the gameplay, I did realize that it wasn't necessarily a bad gameplay experience. Merida can use ranged bow attacks as well as a sword for close encounters. As you travel, enemies will spawn for you to do battle with. These enemies are pretty easily dispatched, with the main difficulty coming in quantity of enemies rather than an actual challenge. Mashing the bow attack button will probably get most players through the game with ease, as it doesn't require much skill to do away with enemies.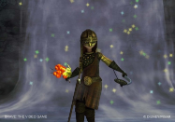 One thing Brave attempts to add into the mix is an elemental system. Added in obviously to diversify gameplay, Merida is granted magical powers that endow her weapons with Earth, Fire, Air and Ice elements. These elements encase your sword and bow attacks with these elements and give you the edge over certain enemy types. Enemies will display a weakness over their head, and it's up to the player to change to the appropriate element to down their foe. The game's stages often have environmental obstacles too. For example, a river will have no solid pathway for you to cross, so switching to your ice arrows and shooting the marked spots in the water will create platforms for you to cross. Unfortunately, it doesn't get more complex than that. Traveling through levels has you switching your elements often to adjust to your situation, but that's about it.
The developers did attempt to add some basic variety to the gameplay experience. Almost every level contains a puzzle that you have to solve where you take control of Merida's brothers. During these sections, players must switch between the triplets to pull levers and activate switches to ultimately open a door for Merida. While these do break up the gameplay, they get old really fast and aren't even very challenging. Only young children might get a challenge out of those sequences. Their second attempt at gameplay diversity lies in sections where you take control of Merida's mom in bear form. She usually appears in an area where Merida gets surrounded by enemies. She basically appears out of nowhere and players have to smash and pound the stuffing out of the enemies that surround her. Once they are done away with, she leaves and you continue on as Merida. The first time you do it it's sort of fun, but like the rest of the gameplay it gets old way too quick.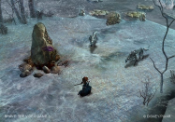 Brave places some depth in its combat, with a basic upgrade system and unlockable weapons and costumes. That said, it's a pretty basic experience the whole time you play. Every one of the levels plays very similarly and follows the same flow. The game doesn't even really do a good job of telling the movie's story so players looking for a movie substitute will be disappointed. Not to mention some gamebreaking bugs.; one of them had me frozen in place and even after being killed, I was still stuck there and had to turn off my system to get it to run. The second glitch pretty much froze the game at one point, also forcing me to restart my PS3.
The movie Brave was extremely enjoyable. I wish I could say the same about the game, but ultimately it only exists to entertain young kids who want to beat things up as Merida. It barely touches the spirit of the movie, save for some of the music and voice acting. Not even the final encounter was as epic as I imagined and I wasn't even imagining anything unreasonable.
Overall, Brave is a game that not many should play. Young kids may be somewhat entertained, but I can't recommend it to anyone who desires deep gameplay or a good story.