Dyad Review
RECOMMENDATION:

If trippy games like Rez and Space Giraffe excite you, go ahead and add a star to my score and check it out. If you read my review and find yourself nodding your head in agreement with me, you would do well to skip this one.

A few weeks ago, I was watching Adult Swim pretty late at night when I came across a psychedelic piece of animation. What I saw felt like some sort of fever dream. I assumed that the swirling colors and morphing images were part of the station identification bumps, but it just kept going and I was transfixed, unable to change the channel. I eventually realized that this was an actual animated short and when it was over I blinked a couple times and decided that I didn't get what I had just seen, though I could understand why it might rock the socks off of someone else. This is exactly how I feel about Dyad, a game that I can appreciate as something unique and artistic, and yet something that is simply not my cup of tea.
Dyad shares some very clear design elements from some of Jeff Minter's other games such as Tempest and Space Giraffe, and in this I have to commend the game. It's rare that you can look at a title and know instantly that it was designed by a particular individual. It's just a shame for Dyad that I've never been a fan of Minter's work. It's a surreal and otherworldly work akin to Salvador Dali, while I'm partial to the realistic and relatable work of someone like Chuck Close.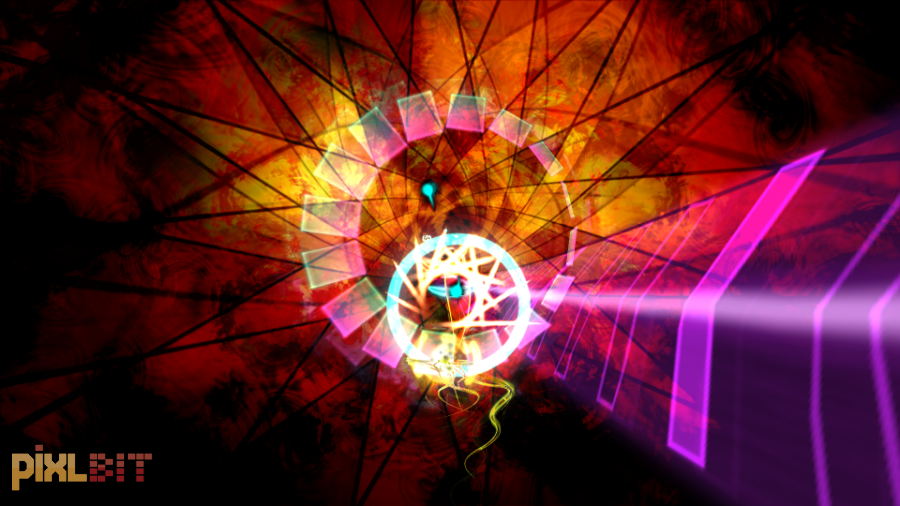 You control an avatar that resembles plankton or similar microorganisms as it moves down a tunnel. "Enemies" come down the channel, represented as glowing orbs. By pressing the X button your avatar "hooks" the enemies and pulls itself forward. The most basic goal of Dyad is to get to the end of the level as quickly and efficiently as possible. Normally there is no real penalty for running into the enemies—the game simply rewinds a beat and you can avoid the same mistake.
That's Dyad in its most elementary form, but the most laudable element of the game is the way that it introduces new game mechanics into each stage. At first, all you have to do is hook your way to the end. Next you'll learn that by hooking pairs of like-colored enemies you get a speed boost. Then you'll have to use this knowledge in a race setting where the clock is running against you. After that, you'll learn how to "graze" hooked enemies, passing just to the right or the left of them without actually hitting the dangerous middle area. Doing this charges your lance energy. Pressing the square button sends your avatar racing forward, destroying most anything in its path. This gives you a major speed boost, and the more enemies you connect with, the longer your lance effect lasts, which in turn charges another round. If you're skilled enough it's possible to keep a lance going for large portions of the level.
Unfortunately, I never felt skilled enough with Dyad. It's a game that seems to be waiting for me to "get it," but I never really did. In some levels I'd be moving along at a nice clip only to fail the level. Other times I felt like I was doing simply dreadful but completed the stage with a decent rating. In either extreme scenario I couldn't tell you why the outcome was what it was. I even went back and replayed the levels I had completed for better scores or times, but my results were almost identical to my first run, leading me to believe that I wasn't improving at all. No, Dyad and I just didn't click.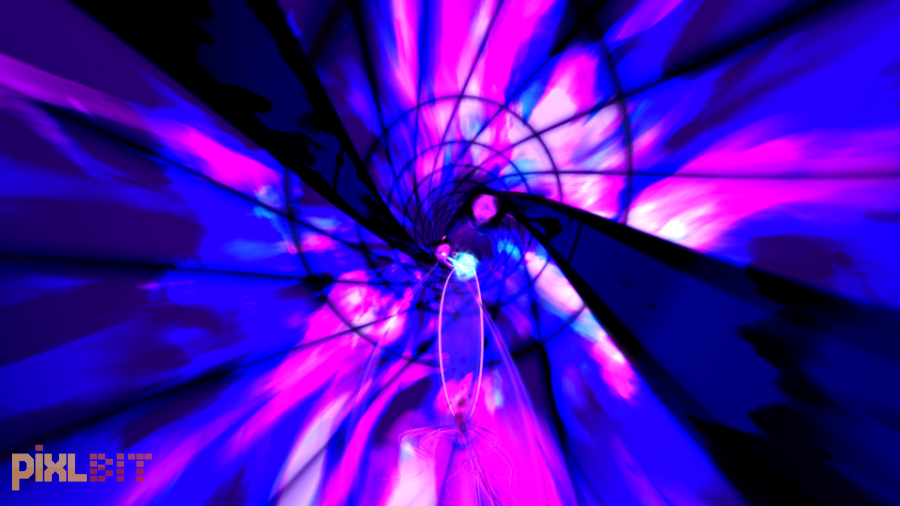 That's partially a fault of the game, as I feel it didn't do a great job of communicating what I was doing wrong. While some levels make it clear that you're taking damage from hitting enemies, others simply end with a huge "failure" message, leaving me dumbfounded and frustrated.
Part of the fault I will freely admit rests with me. Dyad wants you to let go and just go with the flow, feeling the game as much as playing it. I was never able to do that, and instead found myself overthinking the game. Many of the levels I played felt like they dragged on forever, and I just knew that there was a crucial piece to the puzzle I was missing—that if I was playing in a certain way the game would just flow in an interesting and awesome way. But it was very rare that I felt that flow. When I did manage to get into the groove Dyad became a different game, thrilling and satisfying in the way that a great rhythm game is. But these moments were the exception as opposed to the rule for me.
It doesn't help that the big hook of the game—kaleidoscopic visuals and pulse pounding trance music—was simply lost on me. As with Minter's other games the graphics and music blended into a cacophony of stuff, assaulting my senses in all the wrong ways. I don't mean to sound like the cranky old man that doesn't understand the young people and wants them to turn down the racket, but there were times playing Dyad that I was gritting my teeth because the audio was so grating. For a game that seems designed around finding a zen-like state, zoning out, and playing for long marathon sessions, I could only tolerate Dyad in short bursts.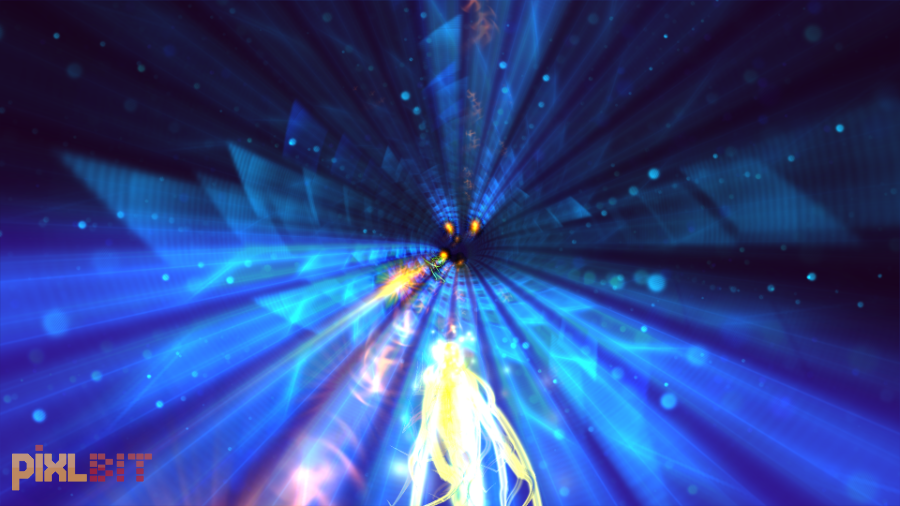 As with a lot of modern and experimental art, I can look at Dyad and appreciate what it's trying to accomplish. For some people, the Technicolor dreamcoatesque visuals, droning music, and twitchy gameplay come together to make something otherworldly. For me, it's just a bunch of noise attacking my ears and my eyes.