New Super Mario Bros. 2 Review
RECOMMENDATION:

For everyone… after a price drop.

The Mario series can do no wrong – even when they're bad, they're still pretty good. While good, New Super Mario Bros 2 doesn't rank high in the extremely inventive series. It borrows nearly everything from its predecessor and omits the challenge presented in New Super Mario Bros Wii. If not for the addition of the tanooki tail and the gold fire flower, it wouldn't have a single thing about it that's original, interesting, or particularly memorable.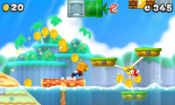 If you've tuned into the PR hype, New Super Mario Bros 2 is all about collecting buckets of coins. Apparently Mario caught the Wario bug and needs to fill his coffers to the brim. It's too bad though, because this new mechanic serves absolutely no purpose. Sure you could bounce around collecting hundreds of coins in each level, but you won't. Given that there's no pay-off from the collection and no leaderboards to share your high scores, there isn't any incentive to focus on gold gluttony. Instead you'll proceed on as you have in the past, searching out gold coins and secret exits, attempting to save the princess in every world.
As expected, this is just as fun as you remember it being in New Super Mario Bros; however, it's perhaps even easier this time around. The levels are mostly straight forward, merely placing you in precarious positions to collect the max number of coins, not to complete the actual objectives of the levels.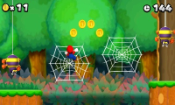 The uninspired level construction is easily the biggest detriment to the experience. Instead of the incredibly unique and amazing levels we've seen in the past, we see a group of levels that could've been plucked right out of the original DS title. What's worse is the lack of verticality given the addition of the tanooki tail.
When Super Mario Bros 3 came out, and Super Mario World for that matter, part of what made the experience great was exploring the world above the level. There was always something hidden, something that was worth making the trip for. Whether it was lives, coins, or just an easy way around the madness below, the vertical space was valuable and interesting. Traversals to the world above in New Super Mario Bros 2 are few and far between and always well exposed thanks to a trail of coins.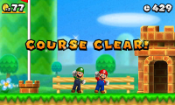 There are a few bright spots though. The gold fire flower proves to be an extremely fun power-up. Sure, it merely turns blocks and enemies into coins, but there's something so satisfying about using it – similar in many ways to the mega mushroom. Just like the mega mushroom, it's a power-up that doesn't frequently make an appearance, which is unfortunate.
Cannon levels have also been vastly improved. Instead of automatically transporting you to a future world, a true level is now in its place. Operating like the chest levels in Rayman Origins, Mario is forced forward, pushing players to jump at the right moments with the right force to land on the platforms and avoid the enemies. Like many of the other elements that are unique to this entry, they are sparse and underutilized.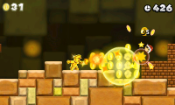 Coin Rush represents another element that's unique to New Super Mario Bros 2, but it's not entirely interesting. Assembling a random selection of three levels, players must collect as many coins as possible in a restricted time limit. Again, the coin collecting focus falls flat. The mode might've been more desirable if you were challenging someone head to head, but alone, there's little here to enjoy.
Cooperative multiplayer is also featured for the first time on the portable platform for the Mario series, but it requires both members to have a copy of the game and only local play is available. While I've not had the opportunity to try the mode for myself due to these restrictions, the implementation looks to leave something to be desired because the camera only seems to focus on one player at a time.
It may sound hypocritical, but New Super Mario Bros 2 is still a great game. It fails to set itself apart from its predecessor(s), but more of a good thing is still a good thing. You will have fun navigating Mario through the game's many levels, collecting big coins, and scouring every inch of the game for secrets. Though it's a title that every 3DS owner should eventually get, you're not missing much if you decide to wait for a price drop.