Dead Island Riptide Review
RECOMMENDATION:

Fallout and Far Cry fans that are really desperate for something to do until a new Fallout or Far Cry game comes out.

I'm not sure who the target demographic is for Dead Island: Riptide. It's more than an expansion but far less than a sequel, so it provides more of what the first game had with few enhancements. With that said, I'm probably Deep Silver's dream audience. I didn't play the first game, but even less than glowing reviews didn't stop me from being interested in it. Now that I've played Riptide, I can't help but scratch my head and wonder what went on behind the scenes that resulted in this, another full-priced Dead Island game that seems to offer very little to set it apart from the 2011 original.
The premise for this game is almost laughably bad. The four survivors from the first game escaped the island of Banoi in a military helicopter. Upon landing on a freighter the survivors are taken into custody so that their zombie virus immunity can be studied. Chaos ensues when a zombie outbreak occurs on the freighter and our "heroes" end up marooned on the island of Palanai. I can see the movie tagline in my mind: "Yo, we gotta escape a zombie island again, dawg!"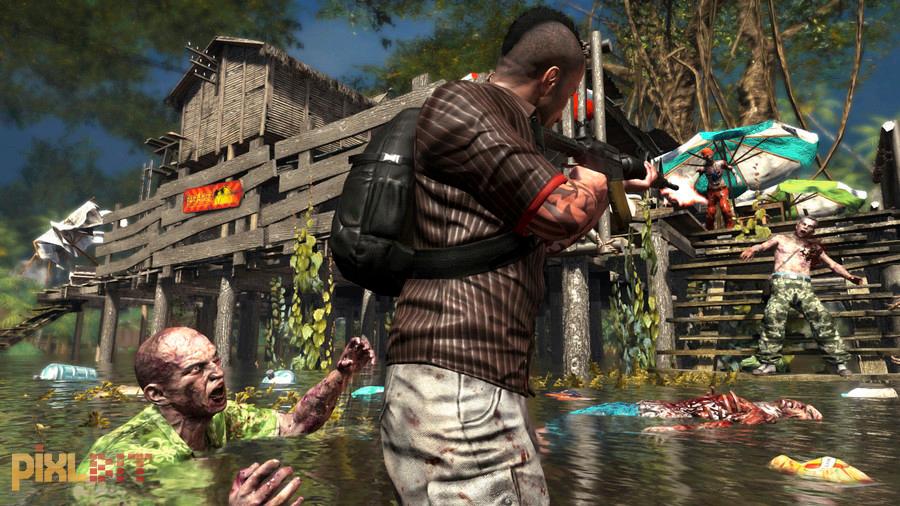 From the second I took control of this game, I could sense a disturbance in the Force. My selected character (who starts at level 15, a sure sign of expansion pack-it is) moved like she was drunk. I thought it was a storyline element from her having been knocked out and drugged, but no; this is how she moves normally. I never got used to this odd feeling; I expect a certain speed and precision in the way my character moves in a first person game, and the walking is sluggish and unresponsive in Dead Island Riptide.
The combat, at least, evolved over my time with the game. Initially, I wasn't a fan of the action at all. Dead Island is melee-centric (it was hours before I found a gun), which usually suits me just fine. Hit detection always seems just a bit off, and in the opening of the game, the weapon degradation was a problem for my blade-wielding character. As I leveled up this became less of a problem; I found sturdier weapons, and I was putting points into combat almost exclusively, resulting in a beast of a DPS character. As an RPG mark I get excited when I see damage numbers flying out of enemies, and seeing those numbers go up over time will always keep me invested in a game, even if the actual combat isn't stellar.
As much as I enjoyed leveling up and getting to the point that I could one-shot most enemies, I never felt like I needed to employ any tactics. By and large, the zombies just make a mad dash for the player, but this bum-rush technique is completely negated by the most broken attack in the game—the kick. Yes friends, why bother with upgrading your purple Venom Bolo Machete when a swift kick will knock a zombie to the ground, leaving it open for a merciless pounding? The only "challenge" I experienced from Riptide came from points where zombies would spawn endlessly, or boss zombies that would get a crit and one-shot me, leading to that ever-present respawn timer.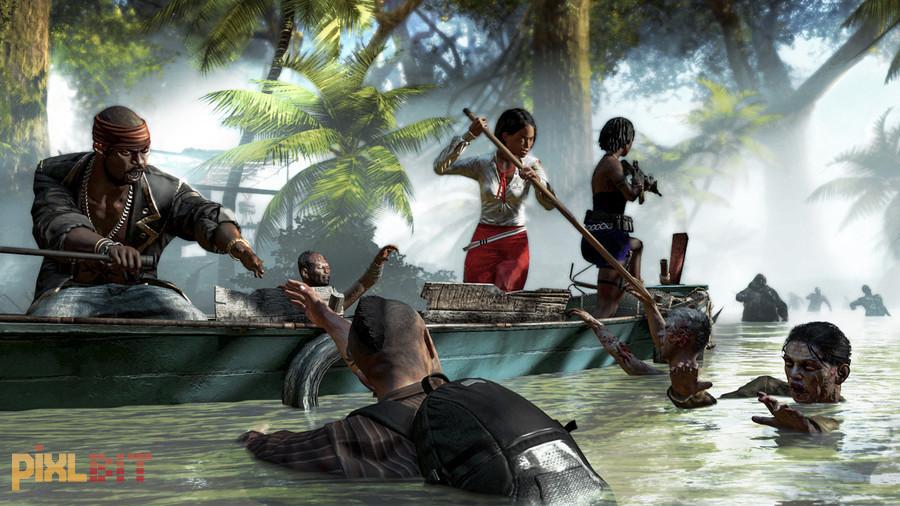 Let's talk about that for bit, shall we? I don't play well with others, so any game that tries to ram co-op down my throat isn't doing itself any favors. Dead Island: Riptide is set to allow drop in, drop out co-op by default, and it's really insistent about it. I had to set my game to private on multiple occasions, and even then, the game is set up like it's a multiplayer match. This means when you die there's a 7 second respawn timer. Just long enough to make me consider turning off the game, actually. Sure, I can see how playing this game with four players could be fun, but considering all of the looting and inventory management found inside there's no way I'd join a multiplayer game with a bunch of people just looking to run and gun.
Riptide also takes a huge misstep with its quest structure. Like any RPG-style game, various NPCs will assign quests, either to move the plot forward or to provide additional tasks. The problem is, most of these missions crisscross the island, so any player that wants to take on all of the content on the disc will have to contend with hours of uneventful walking all over the place. You can't track multiple quests at once on the mini-map, and I quickly grew tired of schlepping back and forth for piddly rewards. I mean that quite literally, too—Dead Island: Riptide put me to sleep on three separate occasions. I don't know how an action/RPG with hordes of zombies could be this boring, but it is.
I don't like to spend a lot of time comparing games in my reviews, but it's really difficult to look at Riptide in a post-Far Cry 3 world. Dead Island may have looked impressive in 2011, but after my time exploring the lush wilderness of Far Cry 3 it comes up short. Human character models tend to look creepier and more disturbing than the zombies, and even though the island offers up some impressive vistas, things still come across as lifeless and uninspired.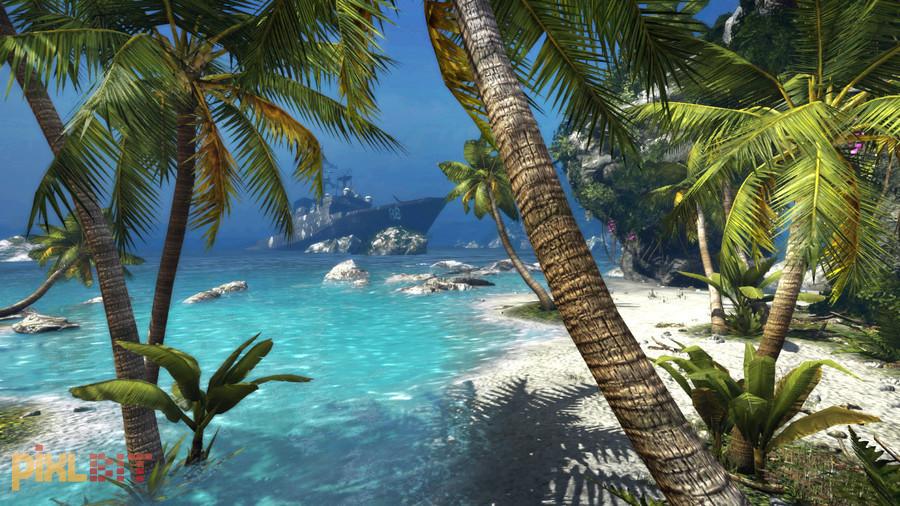 I feel like I need to address the elephant in the room as I close this out. Our own Jesse Miller gave the original game 2 stars. I think I like this game better than he did, because once I got my character leveled up I began to derive some enjoyment from laying waste to the more aggressive zombie hordes. With that said, I agree with a lot of his problems with Dead Island, and they don't seem to have been addressed here. I also found myself bored with large sections of this game on multiple occasions, and in full disclosure I couldn't bring myself to finish it. Completing 40% of the story was more time on Palanai than I could handle.