Deadpool Review
RECOMMENDATION:

Anyone who loves crazy humor, ridiculous explosions, and chimichangas.

When I first started Deadpool, I didn't really expect to like it. I knew it wasn't going to be a grand masterpiece, and I just thought it would be mildly entertaining. I love Deadpool as a character, and enjoyed the comics, but I wasn't sure how it would all come together in the game.
It was awesome. But not because of the interworkings...just because you're Deadpool, and the game reflects that.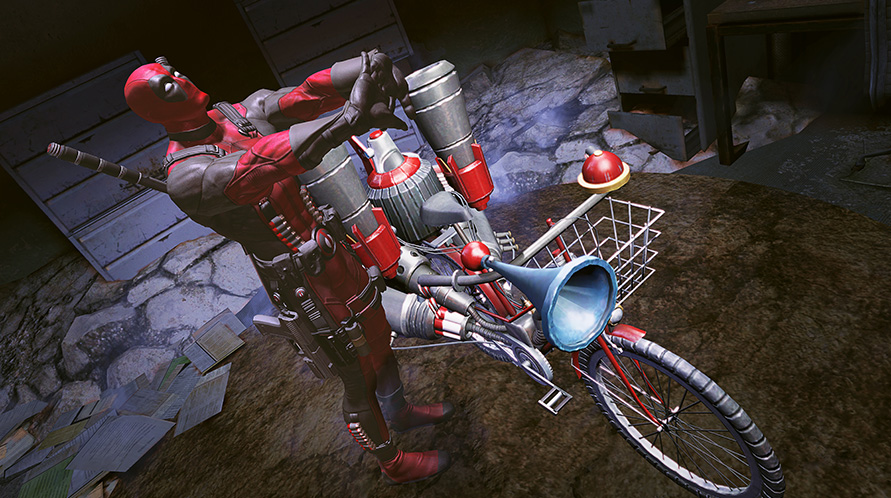 Right from the beginning, I was already having fun, even though I was just wandering around Deadpool's apartment, listening to voice-mails from High Moon Studios. This is, after all, Deadpool's video game, and he wants it to be filled with large, busty women, huge guns, and over-the-top explosions. Once he finds out he has to follow a script, he (and his other two personalities) basically give up on High Moon and start forging their own path into destruction, mayhem, and crude humor. This game breaks the 4th wall on a regular basis, and Deadpool frequently insults you and offers advice along the way.
Deadpool probably isn't going to win any awards, and the gameplay is decent at best. It lags a lot, especially towards the end of the game when all hell constantly breaks loose. The combat is basic hack-and-slash, and the mini boss fights are repetitive and unimpressive. There's a run-of-the-mill point collection and upgrade system, and it really doesn't introduce anything new to the gaming world.
Really, in light of that description, why even bother picking this up?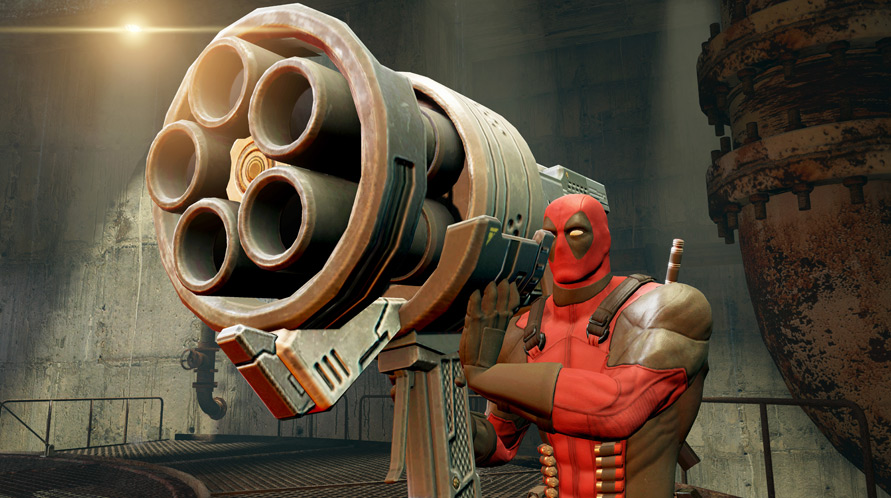 Because this is the most fun I've had in a long time. It's completely mindless and schizophrenic, just like our wonderful protagonist. Deadpool is incredibly entertaining, and the random activities thrown into the levels break up the repetitiveness enough for a break. There's an 8-bit dungeon sequence, a mission set up like a classic side-scroller (for which he professes his love), and the self-awareness that just adds to the fun.
The combat, though simplistic, is easy enough to where you can just fly through, guns blazing or swords whirling. Unfortunately, the bad guy is Mr. Sinister, who has a big penchant for cloning, so everyone looks alike and has the same powers. That is easy to ignore though, as most of the time you don't see them under the blood spray. There is also the fun evade ability in the form of teleportation, which is very reminiscent of Nightcrawler. The button for teleporting is the same button to counter-attack, so you have to be careful while fighting, otherwise you'll kind of...poof right behind the enemy. That isn't hard to come back from though, as it's very free-flowing.
Of course, there are multiple downsides.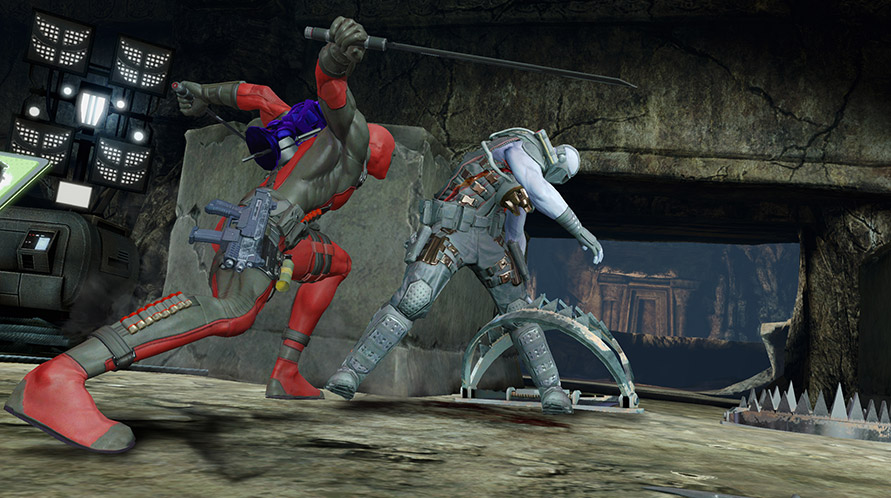 The gun control and targeting system almost never works, making it extremely annoying when trying to shoot down flying enemies. Half the time, you end up disrupting the target lock whenever you step sideways. The interact command doesn't always read on the first try, so you have to keep mashing the button until Deadpool finally reacts. This is especially irritating once you acquire the upgraded teleport skill. This game knows that it's rage-inducing, and even offers tips on how to avoid rage quitting, such as taking a walk to cool down. The fights aren't really challenging enough, and it becomes a matter of Deadpool slicing (and shooting) swarms of baddies. The larger and more powerful enemies are annoying more than half the time, as they just continuously follow you and blast you with one or two easily predictable attacks. There might have been hope for some more interesting battles with bosses, but they are few and far between.
A really big downside is that there aren't any collectibles to speak of - something that you would almost expect from a game that parodies superheroes and video games. There's the challenge mode area, but those are just set in the same levels from the story, so there isn't anything really new to keep you coming back. I played through it once, and that was satisfying enough for me. A lot of the achievements are for performing odd tasks; things that are fitting for Deadpool, such as making 1,000 pancakes, collecting tacos, or mingling with all the ladies at a party. Make sure to slap Wolverine until Deadpool gets bored, just to hear all the dialogue from our lovely hero.
To be honest, I enjoyed this game. Not for the mechanics or the visual aspects, but because it was a lot of fun. It's quite comical, and you can tell that everyone had a good time making it - from the developers to Nolan North and his voice work. In reality this is a mediocre game, with nothing except for the main character separating it from the rest of the genre. It lags and glitches frequently, and the story is sub par. But that's okay! After all, it's all about Deadpool and his creation, and when the credits roll, you'll notice he had a part in everything. It exaggerates, it's mildly inappropriate, and it's wildly entertaining. It may be very juvenile, but at its core, Deadpool is the perfect setup for easy, thoughtless gaming, with awesome commentary from the crass anti-hero and the voices in his head.