SoulCalibur II HD Online Review
RECOMMENDATION:

For fans looking to experience Soul Calibur II Online, or those who really loved the original.

I spent a lot of time playing SoulCalibur II on the GameCube during that era. It looked pretty, played well, and featured guest characters that were appealing – especially Link. SoulCalibur II HD Online pays a nice homage to its original port, and it stands up quite well. The fighting remains tight, and the game remains visually pleasing. Unfortunately, the slim online offering makes this one a tough sell especially if you still own the original.
SoulCalibur II HD Online is very much what you would expect. Every feature and character from the initial release is included. Even guest characters Spawn and Heihachi are included for the first time in the same game. However, Nintendo fans might be upset to know that there isn't a Wii U version that includes fan favorite Link.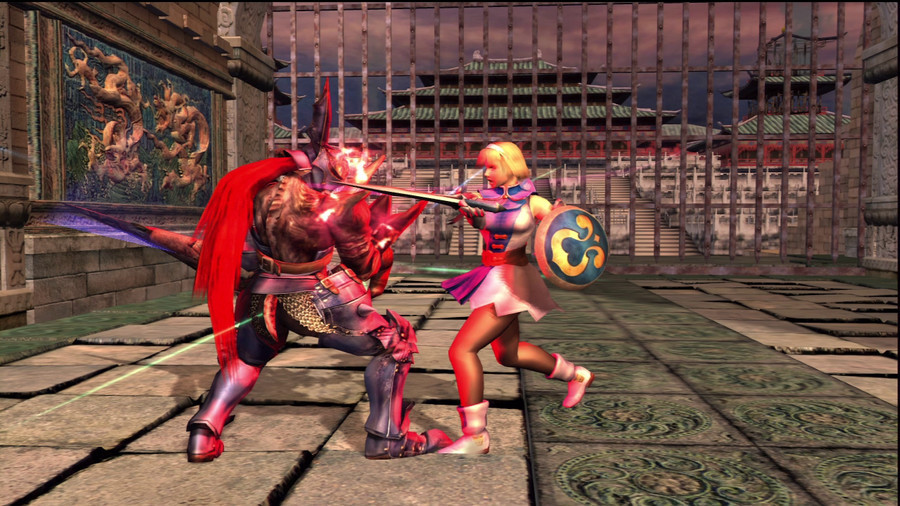 Weapon Master Mode is this game's big single player offering. In it, you are given tidbits of background and story that lead to battles that usually have some type of stipulation. For example, one battle might require you to guard a certain amount of times in battle, or another will require a ring-out kill. These matches are often frustrating but satisfying upon completion. Those who have endured this mode might groan at the thought of re-doing the more troublesome challenges. That said, the incentive is unlockable weapons and costumes.
One of SoulCalibur II's more interesting features is the "Extra" battle mode, which allows you to use the more powerful weapons available in Weapon Master Mode. This adds a very fun twist to combat, especially when you unlock the weapons that have unique abilities, like healing.
The HD upgrade is nice, but overall doesn't do too much to imrove the game, probably because it looked great to begin with. I popped in SoulCalibur II on the GameCube again to compare the two, and visually, the original still looked great. HD definitely has the upper hand in this area, but it's not enough to warrant buying it just for the graphics.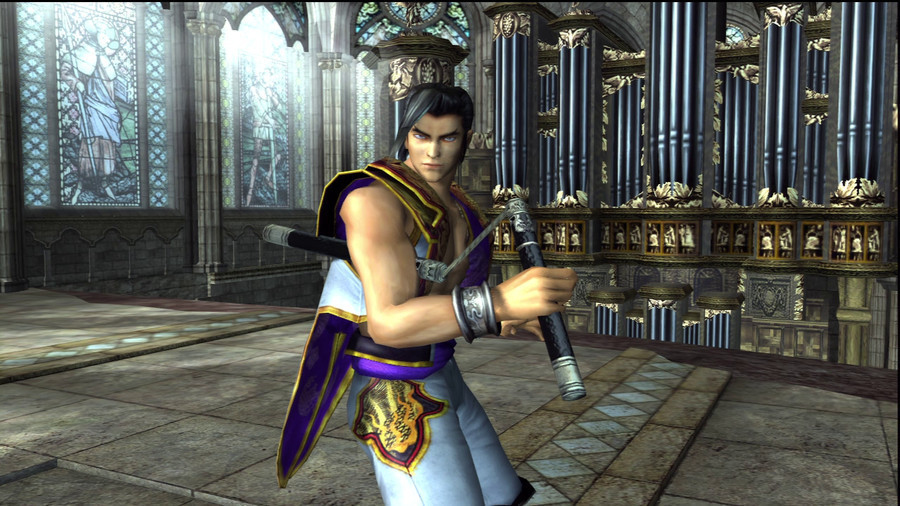 The other major inclusion here is online play. While serviceable, there is a vast lack of options available. SoulCalibur V had a wealth of options available to the player that are completely absent here. All you have is ranked battle and free battle, and both act as you would expect. Lag is an issue as well, and while it doesn't destroy the matches, I had many cases of matches freezing on both players' ends, forcing one of us to quit out of the game and take a loss on our records.
The optimal way to play, and where the game shines, is in couch competition. Playing against my friends was not only a blast from the past, but it was insanely fun. The fundamentals of the game hold up extremely well, and the game still feels as it should. Some characters do feel a bit overpowered, but I always felt that there was a counter to every move, no matter how devastating. Powerful characters like Astaroth and Nightmare always could be taken on by smaller, more nimble characters like Talim and Taki as long as you use the right techniques. The well-balanced move set is the primary reason why this game holds up after all this time.
The biggest problem for me was that playing SoulCalibur II HD Online just made me want to go back and play my old GameCube copy, where I had everything unlocked and access to my best character – Link. The upgraded visuals didn't do much for me, and the online is fun for a short time, but it's not as deep as I would like it to be. Overall, this HD port serves its purpose by bringing this game to current platforms, but does little to keep you interested. That is unless you're looking for a blast of nostalgia and don't have your old disc lying around.