Assassin's Creed Liberation HD Review
RECOMMENDATION:

For anyone who is a fan of the Assassin's Creed games, and is looking for an interesting plot.

After 2012's disappointing Assassin's Creed III, I was beginning to get burned out on the franchise. The idea of Assassin's Creed III: Liberation on the PlayStation Vita seemed interesting as it decided to tell the story of a French-African heroine named Aveline, but the draw wasn't enough to get me to invest in a Vita solely for that game. However, with tales of Assassin's Creed IV restoring faith to much of the series' fan base, I grew curious once more. In an attempt to rediscover my interest in the Assassin's Creed franchise, I went into Assassin's Creed: Liberation HD – an HD port of 2012's Vita adventure – with some optimism. Thankfully, I wasn't disappointed.
With Aveline de Grandpre as the series' first female protagonist, I felt that she was easily able to hold her own among the likes of previous leads. Aveline's back story, as a girl raised by a wealthy French merchant who had an affair with a slave named Jeanne, intrigued me from the get go. The majority of the game surrounds her quest to stop the slave trade in the late 1700's New Orleans, as well as put an end to the Templar known as "the Company Man". Her relationships with many of the characters are intriguing, like her quarrels with her mentor Agate, and her subtle romantic interactions with her partner and confidant Gerald. One of the later sequences where you encounter Connor Kenway of Assassin's Creed III fame was satisfying as well.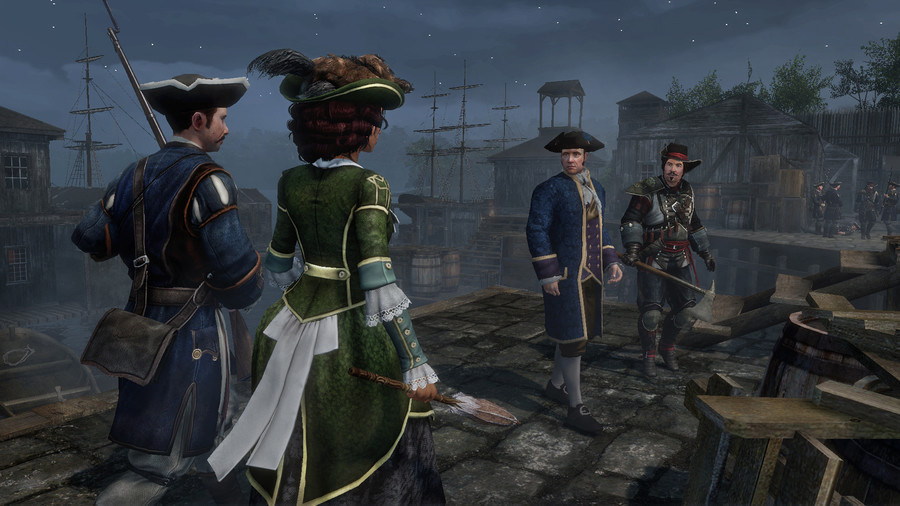 I found Aveline's tale to be particularly engaging because of the lack of a present day story to pull me away from it. While there surely is connection to the present day in some subtle and interesting ways (specifically dealing with the ending), it didn't overwhelm me with an overly complicated plot. There were enough twists and intrigue to keep me playing, regardless of the present day story.
One of the interesting things about Liberation was the liberties they decided to take with gameplay, although the basics are largely the same as previous games, with stealth and melee combat being the centerpieces. I found combat in particular to be more responsive than in Assassin's Creed III, but only to a small degree. Frankly, most of the issues that the combat has had throughout the series still plague this entry, with clunky mechanics and idiotic enemy AI. There are still some interesting things they do with the combat, like an auto-kill skill that accumulates after building up a small meter. This allows Aveline to immediately kill anyone marked with the skill. Problem is, I couldn't always get it to work when and where I wanted it to. It was much easier to just counter and kill enemies myself than to use the skill, though it did come in handy in a few spots.
One of the standout features is the persona system. With this, Aveline can dress up in a fancy dress with the Lady Persona, dress up like a slave in the Slave Persona, or stick with her traditional Assassin garb in the Assassin Persona. The different personas allow for Aveline to traverse certain areas undetected, or get around other areas easier. For example, the Lady Persona is great for keeping a low profile, but you're exploration and combat abilities are extremely limited. Conversely, the Slave Persona is good for sneaking onto plantations, but doing anything out of the "norm" for a slave (like climbing on buildings) instantly garners some attention. Using these personas to your advantage is pretty clever, and encourages different types of approaches to missions. I still felt the coolest walking around as the traditional assassin, but I appreciated the change.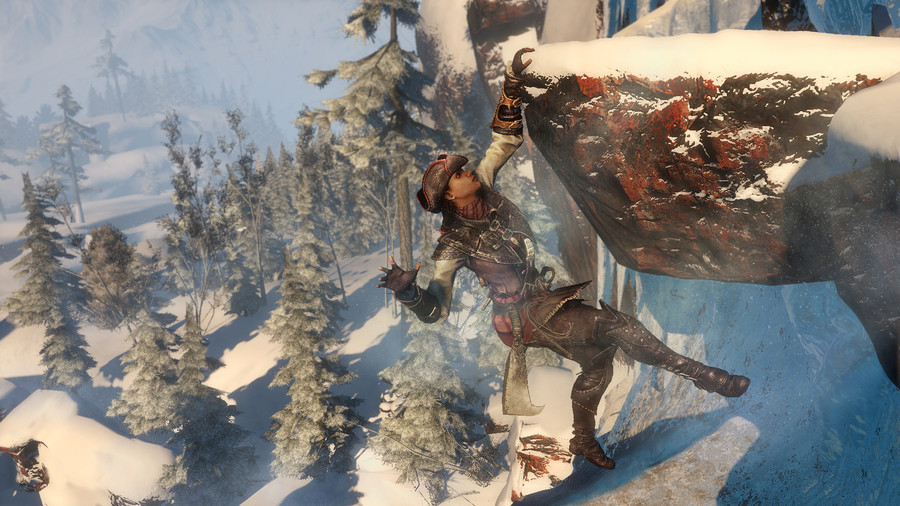 Even though it's an upgrade of a PlayStation Vita game, I was still impressed with some of the areas and locales in this game. Visually it's far from amazing, but there were still many areas that captured my attention as opposed to Assassin's Creed III, where most of the locales blended in with each other. Liberation is a much more concise game that tells an interesting story with new mechanics and doesn't get too far ahead of itself.
Even though there are plenty of issues, ranging from game bugs to clipping and frame-rate drops, I still really enjoyed my time with Assassin's Creed: Liberation HD. There are collision detection problems as well, and there are far too many times I had to spend extra time trying to find that one small spot that allows me to climb a tree. Still, the story was satisfying enough to keep me going, and after finishing the game, I became more interested in the series than I have been in quite some time. Liberation may not convert every jaded Assassin's Creed fan, but I was definitely pleased.