Danganronpa: Trigger Happy Havoc Review
RECOMMENDATION:

A must-have for all fans of Zero Escape, Phoenix Wright, Persona, or visual novels.

If there's one thing that Spike Chunsoft has proven, it's that they know how to make a damn good visual novel. Danganronpa: Trigger Happy Havoc is their latest title to be localized to America and it stands up to the high standards set by their Zero Escape series. While similar in premise, Danganronpa eschews the puzzle-based design and offers up a unique gameplay style that blends Ace Attorney, Persona Social Links, and a touch of Rhythm Heaven. It all comes together to form a gripping and zany experience that doesn't let up till the credits roll.
Danganronpa opens with a stunned Makoto Naegi who's shocked to learn that he's been invited to Hope's Peak Academy. You see, he's a completely average Joe and completely average Joes don't get to go to the prestigious Hope's Peak. Each year's class is extremely small, including only fifteen students to be exact, and each student is exceptional in some way. Whether they're the Ultimate Gambler, the Ultimate Martial Artist, or the Ultimate Affluent Progeny, they all have something that makes them special; all of them except Makoto Naegi, of course. As his acceptance letter comes to state, he's only been accepted to Hope's Peak because he's the Ultimate Lucky Student – a mere stroke of luck.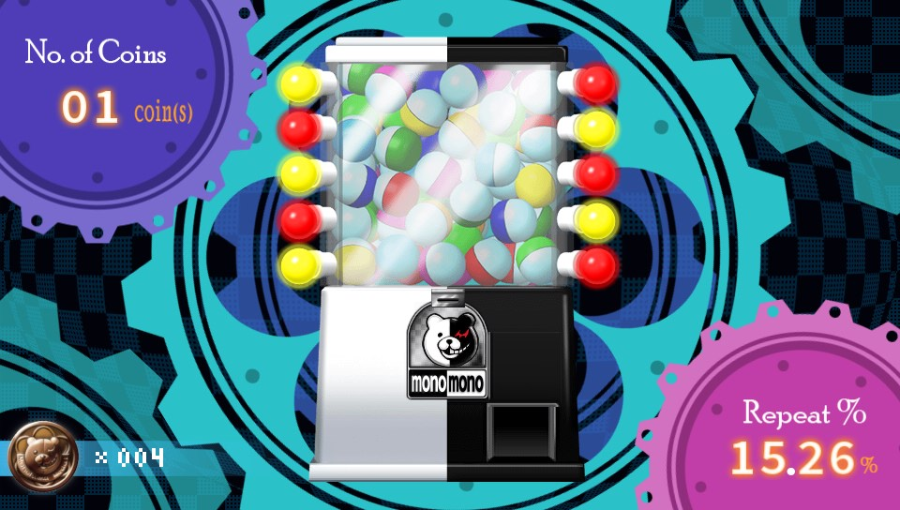 Upon arriving at Hope's Peak, it quickly becomes clear that he might not be quite as lucky as the letter makes him out to be. Along with the fourteen other Ultimate students, he's been barricaded within the walls of the school by a strange mechanical teddy bear named Monokuma who's instituted a killing game of sorts. In order to "graduate" from their new school, a student must kill another and get away with it; otherwise they will be locked in the school indefinitely. As the game proceeds, students are subjected to more rules, new motives, and crazier twists to keep the bizarre plot moving forward.
Of course, the initial rules serve as enough motive to put everyone on edge at the start, fearing that their future assailant or murderer might be standing right next to them. Naturally, this culminates in a murder, which is where Danganronpa really takes a note out of the Ace Attorney book. You'll need to search the crime scene and various spots around the school in order to gather evidence for the impending class trial. As a group, the students must identify the "blackened" among them so they may face "punishment" (AKA death) for disturbing the peace.
Thanks to the user interface, it's very easy to search for clues in the environment. A tap of a button will illuminate all of the hot spots in the room that require a look. Unfortunately, these hot spots don't disappear or change color as you investigate them, but at least knowing where to look is a huge help. There's also a quick warp around the school via the map, and exclamation point indicators showing you what rooms or people you need to link up with during the investigation.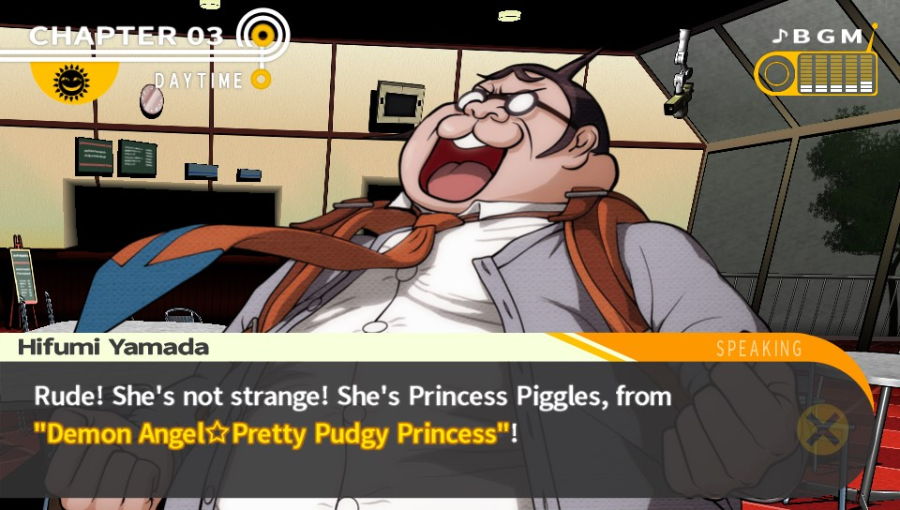 However, things aren't quite as smooth when you hit the trial. Here, you need to use the evidence you collected as "truth bullets" to shoot down comments made by classmates that are contradictory to your known facts. As the trial progresses, the details of the murder come into greater clarity, thanks to information other students collected in the field. It's all scripted, of course, but it's great fun trying to figure out whodunit before the trial spells it out for you.
If you play on the harder setting, each trial that passes makes the truth bullet system more and more complicated, which became quite frustrating at times. Despite the fact that you might know exactly what's up, it can be tough to pick the right phrase to shoot down with the right truth bullet. The class trials are also extremely long, especially later in the game, so it might be best to play on the easier setting to avoid these frustrations.
Once you've reached a point where you've got the suspect on the ropes, the trial switches into a rhythm-based mini-game that has you shooting down their phrases and lowering their health bar. Once it hits zero, you shoot one final truth bullet to incriminate them. After some short dialog, you'll assemble a comic strip that lays out the entire sequence of events, putting a close to the trial. This too can be a bit annoying at times because it's not always clear from the small pictures, exactly what the designers were trying to represent. That being said, there's no real penalties for messing up along the way, allowing you infinite retries if you mess it up.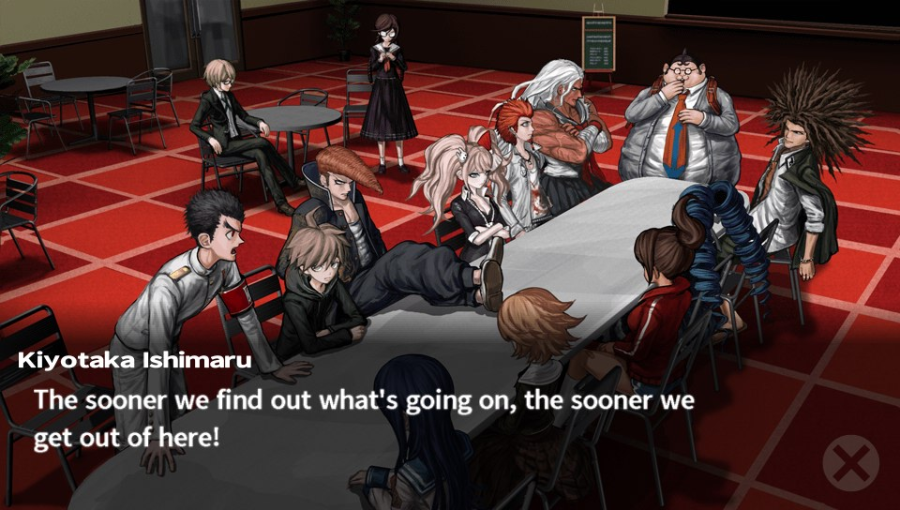 Due to the nature of the game, it's hard to say much about the fantastic story that undercuts it or the various twists and turns that make it so loveable. At the start of the game, you're overwhelmed with all of the new characters, their patently Japanese names, and their quirky personalities. As time goes on, you become attached to this ragtag crew, thanks in part to the Persona-esque social linking you do in your spare time. You'll learn more about them and even have the opportunity to give them a present, which if gifted properly, will unlock skills to make the trials easier.
With all of the story progression and relationship building, you really start to feel like you know these characters, which makes it all the more devastating when they show up dead or are convicted. It's truly a testament to the strong writing (and localization) of Danganronpa.
If you like the Zero Escape games and have a Vita at the ready, I can't recommend Danganronpa enough. It's a phenomenal experience that had me hooked from beginning to end. Even when I wasn't playing it, I was thinking about it, and it's not often that a game can do that. With a lengthy story and copious post-game content, you can't go wrong with Danganronpa: Trigger Happy Havoc.