Shovel Knight Review
RECOMMENDATION:

A must-buy for everyone.

When you think of side-scrolling platformers, it's hard not to recall old-school classics like Donkey Kong, Super Mario Brothers, and Mega Man. Shovel Knight, a modern day 8-bit 2D side-scrolling platformer, feels like a blast from the past. After an incredibly successful Kickstarter campaign, Yacht Club Games' first release is a grand slam.
This quirky game follows Shovel Knight in his quest to free his comrade, Shield Knight, from the Tower of Fate. In a previous quest, a cursed amulet sealed Shield Knight in the Tower of Fate, causing Shovel Knight to spiral into depression. Consequently, The Enchantress and her Order of No Quarter conquered the land. Throughout his journey, Shovel Knight must battle the various members of the Order of No Quarter, climb the Tower of Fate, defeat the evil Enchantress and rescue Shield Knight from the sealed Tower of Fate.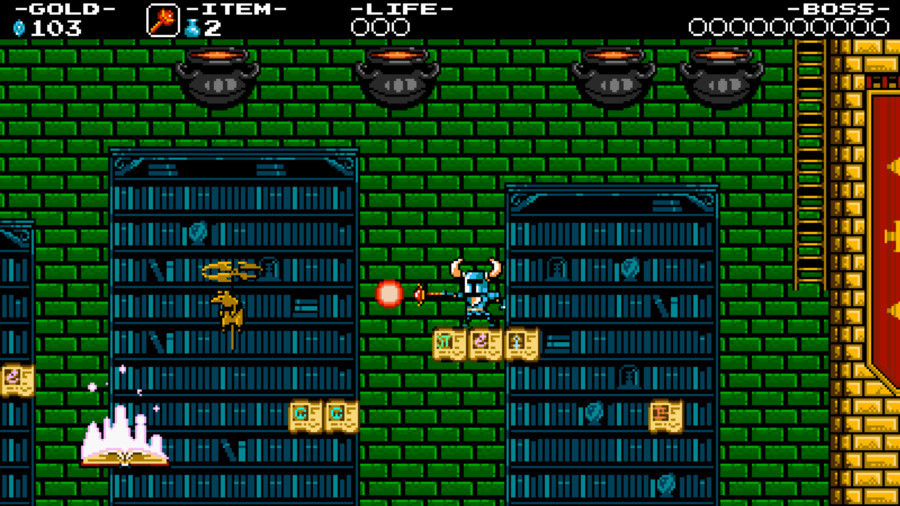 The level of difficulty of this game actually surprised me. Just like old-school platformers, there are some frustrating obstacles that take a few deaths to figure out. Some of the bosses were quite challenging and the levels required a little bit of puzzle solving. The controls are extremely responsive and easy to use, although there are times when you must quickly switch between your sword and your "relics" in order to progress through the level. The default controls felt a little backwards, but they can be changed in the game options menu.
The other aspects of the game are also spectacular. The art and design is beautiful. The bosses and other characters are creative. The 3DS version utilizes the 3D functionality by making the game world pop out from the backdrop. The dialogue is quirky and a little outlandish, but adds an additional layer of fun to the story.
Shovel Knight's primary weapon of choice is his trusty shovel which can be used to either slash enemies or jump on top of them. In addition, he has various relics that can be used to assist him in overcoming the obstacles in his path. For example, a Flare Wand can be used to shoot fireballs at enemies, the Propeller Dagger can help Shovel Knight fly short distances, and the Dust Knuckles can be used to punch through multiple sand blocks. These relics are either collected throughout the various levels from special blue treasure chests or purchased from town merchants with gems collected from each level. In addition to relics, magic, health, armor and weapon upgrades are also available for purchase.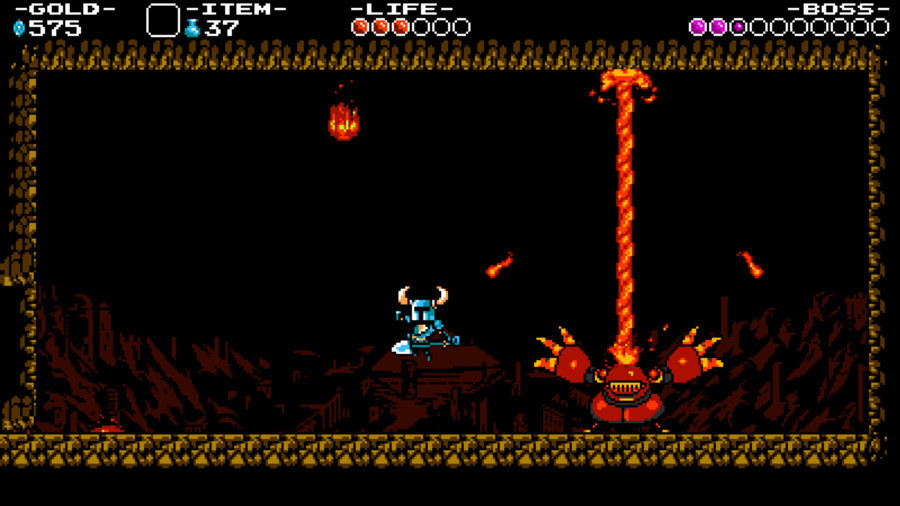 It's a highly addictive experience and perfect for any gamer looking for a quick gaming fix. Each level consists of various check points, a mini boss and a boss and takes about 15 minutes to complete (depending on how often you die). When you die, you'll lose a percentage of your treasure, but any lost loot appears in floating bags at the location which you died, making it possible to recollect it all. One frustrating part about this is that the bags are not always obtainable. For super competitive people who don't like losing their hard earned cash, this leads to frequent games resets.
Aside from the regular levels in each area, there are special bonus levels which require certain relics to complete. Additionally, similar to Super Mario Bros. 3, various enemies or bonus blocks appear and move about the map after you complete a level.