Valiant Hearts: The Great War Review
RECOMMENDATION:

For those looking for more than just fun, but also looking to have some fun too.

Valiant Hearts is about one of the more horrendous moments in 20th century history, a moment seldom portrayed in movies, TV, games, or other media -- probably because it is not pleasant to relive. While World War II can be fun, despite its carnage, in pretending to do battle against a true, villainous evil – the first World War lacks such black and white delineations, and for lack of a better word, was simply insane.
Developed by Ubisoft in their newly heralded "Ubi Art" engine (which is also used for Child of Light) is both poignant and fun. That's something I haven't experienced often, a mixture providing a deep satisfaction rarely found in the overwrought drama of passive media or simple yet sincerely fun games. It's a journey, filled with action, clever puzzles, emotional highs and lows, and tremendous beauty.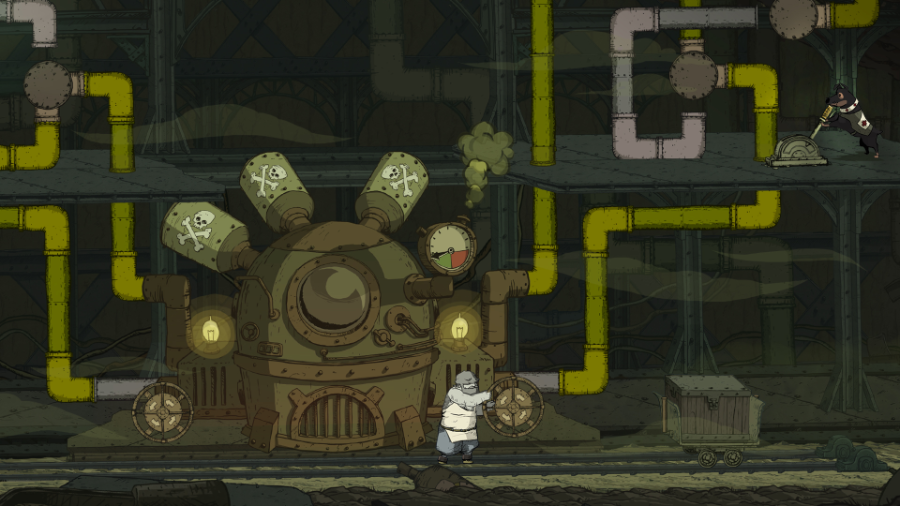 That being said, it's not without its occasional frustrations, and is certainly not for everybody. Those who prefer their war gritty yet heroic will not find such here. In addition, the game is mostly about puzzles, and the action set pieces are not the focus.
Valiant Hearts is centered on a small group of characters that you will switch between throughout the game. Added to this is a lovable dog you can command. While painted in broad strokes, these characters will touch your heart if you let them, and their stories come to both happy and sad endings. None of them are happy to be in a war, and most of them flee it as best they can -- but that doesn't mean they don't meet combat honorably. These embattled protagonists also encounter the legendary insurrections of the war with deep resolve.
The game a 2D affair, and is mostly made up of puzzles of the point and click variety, but streamlined for consoles with a limited inventory (you can carry one object).This helps it from becoming complicated with too many options, but also never feels too simple. You will have to help fellow soldiers acquire goods at camps, or rescue civilians from burning buildings, or crawl through trenches poisoned with chemical weapons.Someone might, for instance, required a bandage before he gives you an item, and you have to scour about for another item that will lead you to that one. Levels are usually basic, though they increase in size and complexity as the game progresses. In addition to this, there are certain "action" scenes, where you might dodge bombs, or drive a car while being pursued, or even a section where you operate a tank and blow lots of stuff up.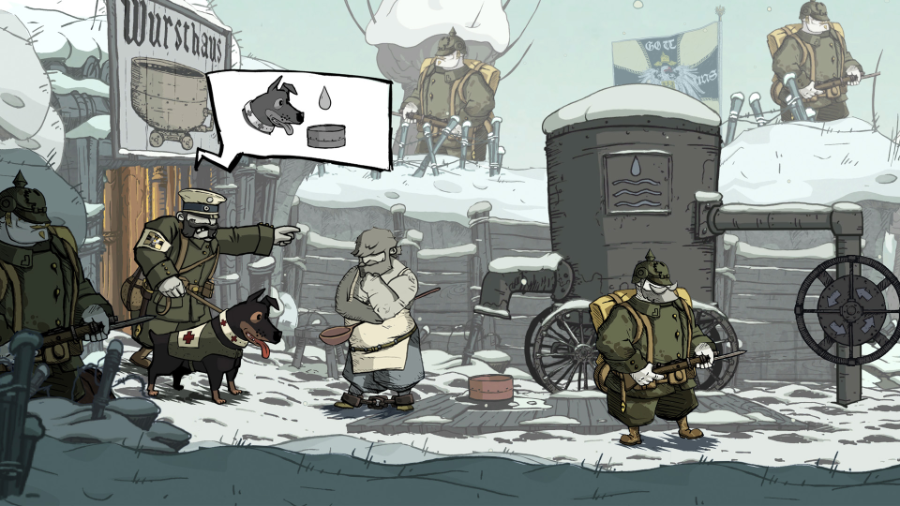 The puzzles are usually simple, sometimes clever, and occasionally diabolical. With a little thought they can usually be solved methodically, and they are rarely nonsensical. Player will find themselves acquiring and changing into uniforms to get past barricades, or pulling levers and rotating switches to operate machinery, in addition to more mundane things like washing a dirty old sock for a fellow soldier.
In addition to picking things up and combining them with other objects, you can also throw items, which leads to various instances both simple and hectic. A player might throw arock to dislodge another item from a tree, or throw a grenade to blow up a machinegun nest, but there are also parts where you need to cast bombs into a moving tank within a certain time limit, which can be a little harrowing.There are also a few physics puzzles, as well as some obstacles that will take a little observation to get past.
The action scenes are seldom too difficult, but some can be challenging and require basic memorization of patterns for the player to survive. This involves dodging air strikes, timing movement to avoid gunfire, and shooting down airplanes with a tank. There are also moments involving repairing and shooting large cannons while someone on the radio describes the location of the target, and digging through trenches while avoiding unexploded bombs.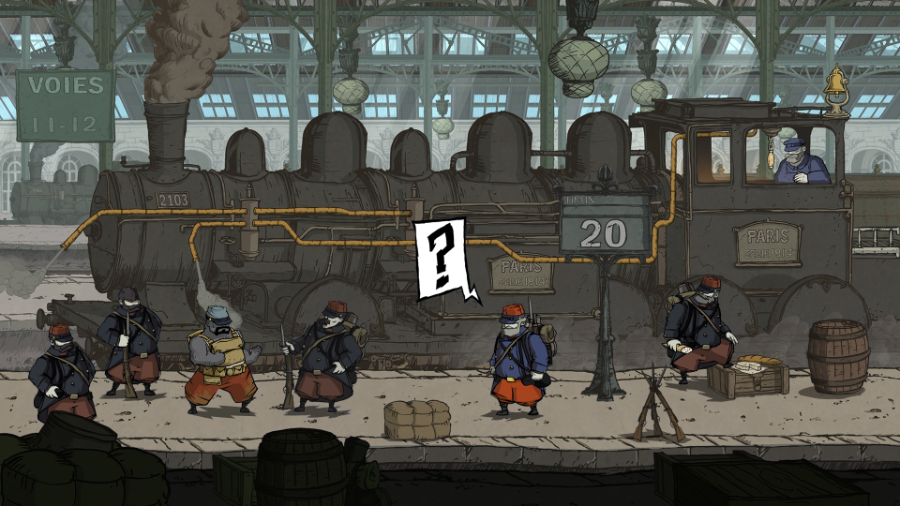 While most of these challenges can be surmounted easily, a few can be quite difficult, and the player might start pulling his or her hair out before finally succeeding. The relief that accompanies this accomplishment is quite nice though, as in any good video game.
The thing about Valiant Hearts is that it tells a heart-wrenching story of a terrible time in history with loveable characters and interesting set pieces that really go a long way in conveying the nature of the war, despite the cartoonish nature of the game. While the childlike design might seem out of place for such content, it also goes a long way in making the story more easily digestible, and avoids being too gritty and unbearably realistic for what could have been an overly serious game. World War I was overwhelming with grief and death, and a war without clear villains, heroes, or meaning. To confront it as it truly was may be impossible, and any medium would color it in its own way.
I found that Valiant Hearts, with its artfully designed landscapes and fat caricatures running around on tiny legs, manages to convey the hell of this period in a strangely palatable way.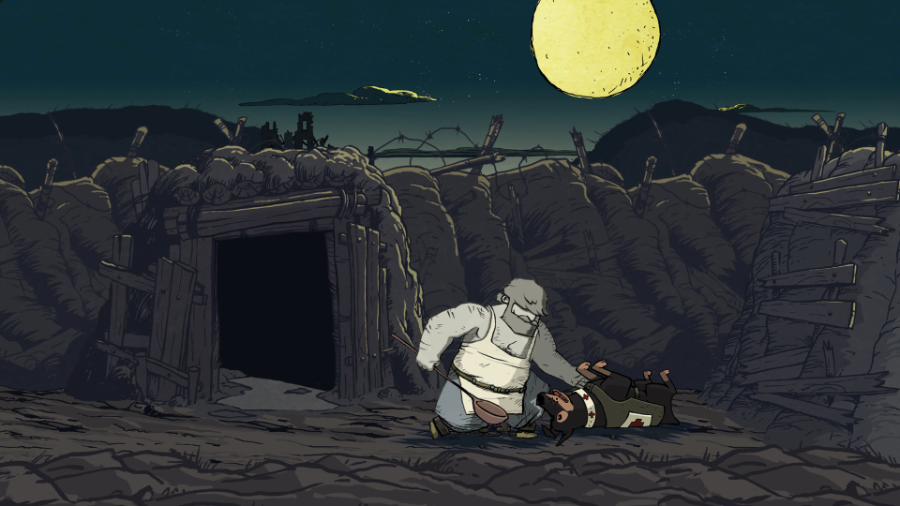 While certainly not perfect, Valiant Hearts conveys powerful emotional moments without grit or realistic graphics but with pure earnest design like the medium's most beloved classics Final Fantasy VI and Ocarina of Time. Valiant Hearts doesn't quite compare with these two titles, but it does accomplish an emotional interaction between game and player without glaring contrivance or cynically milking your heart. The best games can do this, and while more and more titles are grasping for our emotional cores, few of them are capable of doing it in such an immediate way. The story isn't cerebral, but it doesn't need to be, and in fact its simplicity is what makes it so powerful.
If video games are to succeed as a true artistic medium, it will have to be with games the style of Valiant Hearts, which combines engaging game play with touching story elements and an arresting visual style. Many games attempt this balance, and fail. Valiant Hearts triumphs.