Middle-earth: Shadow of Mordor Review
RECOMMENDATION:

Fans of open world games need to experience this. The sense of ownership of the world is something I haven't felt since Mass Effect.

I could write a perfectly standard review of Middle Earth: Shadow of Mordor. I could go point by point and explain how this is a third person action game with heavy emphasis on stealth and melee combat in the vein of Batman: Arkham Asylum/City. I could talk about the great graphics and the satisfying fighting mechanics, and how some of the stiff animation and problems with context-sensitive button prompts are the reason why it doesn't get five stars. I could do all of that and you would have a good idea of what Shadow of Mordor is, but you wouldn't understand what makes it new and special. So I have a different idea.
I was impressed with the way that Shadow of Mordor opens. The mandatory tutorial section is cleverly tied into the introduction of Talion, our typical angry warrior on a quest for revenge. It's refreshing to find a game that not only tries to do something unique with its intro, but allows the player to get to the action right away.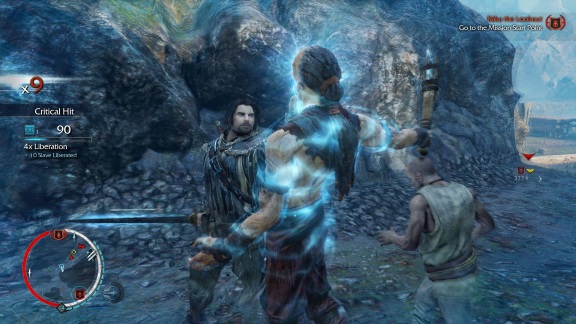 I was on my first mission when I first encountered the much talked about "Nemesis System". This is an incredibly impressive, randomly generated enemy hierarchy that patrols the open world of Mordor in real time. The dreaded uruk captains can show up anywhere, and in my first mission I encountered two of them. The first captain was easily dispatched in open combat. The second one, well…
Enter Zogdush Ghul Lover.
Zogdush was a level 11 uruk captain that wandered into the fray when I was on my first mission, surrounded by other grunts that I was barely holding my own against. The combat of Shadow of Mordor is the same rhythm-based style seen in the Batman games with a stronger focus on countering, but Talion's sword doesn't feel as effective as Batman's fists, at least in the beginning. So Zogdush killed me easily, and he leveled up as a result.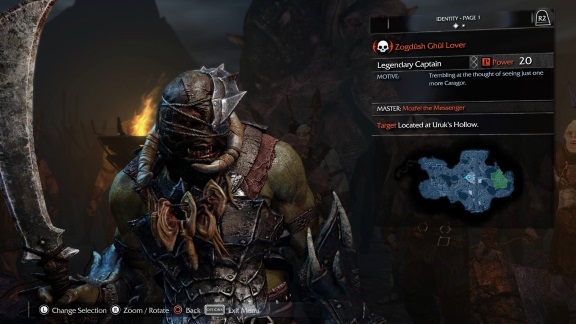 Naturally, I wanted revenge. I guess that's the reason it is such a widely used story trope.
I set Zogdush as my target. I wasn't going to advance the story until my blade was soaked in his blood. Tracking him down was more difficult than I thought it would be, so I got sidetracked by one of the secondary quests. It was while I was doing this quest that Zogdush got the drop on me. Once again I was dead, and once again he moved up the ranks.
Thus, my epic rivalry with Zogdush Ghul Lover began.
I lost track of our never-ending struggle. Sometimes I would kill Zogdush. In Shadow of Mordor the captains have a chance of coming back from "death"; only decapitating them ensures that they are wiped from the board forever. Other times he would kill me. Once in a while I would have to run when the odds weren't in my favor. I found this game to be much more challenging than the Arkham series, and the organic way that uruk captains can wander into your missions and mess up an otherwise well-orchestrated plan can be frustrating at times, but always exhilarating.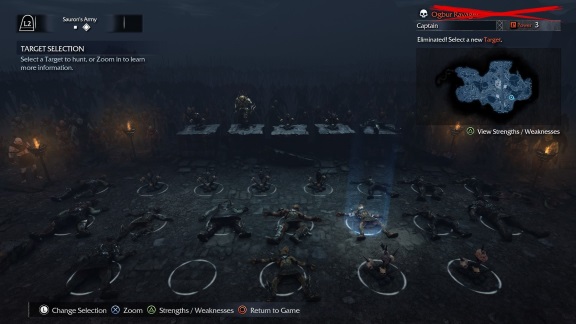 Throughout my quest, Zogdush was always dogging my every step. He remembered our encounters, and would taunt me mercilessly. After his first "death" he had a gnarly metal plate covering his left eye. As he leveled up he became immune to some of my attacks, but he had a weakness for explosions and fire. After I set him on fire in a couple of battles he came back with his face bandaged. It became a very personal war between the two of us, and at times it felt like he was trolling me to make my time in Mordor as difficult as possible.
I eventually had to take a break from my vendetta with Mr. Ghul Lover. There is plenty to do in Mordor, after all, and I really enjoyed how open-ended many of the missions are. While there are, of course, a few stealth missions that will end if you're spotted, most of the tasks give a lot of freedom to tackle them as you see fit. For example, I had an objective that required me to kill 30 uruks in a warchief's stronghold to bring him out. I had tried taking them all out in open combat with no luck. Then I remembered that the goal was only to kill them, but there wasn't a restriction on how to do so. I opted for stealth, taking out a few on my own before releasing a caged caragor (think wargs from the Lord of the Rings movies, but with less of a sunny disposition) to do the rest of my dirty work. I enjoyed getting to think outside the box and was happy with how often I was rewarded for it.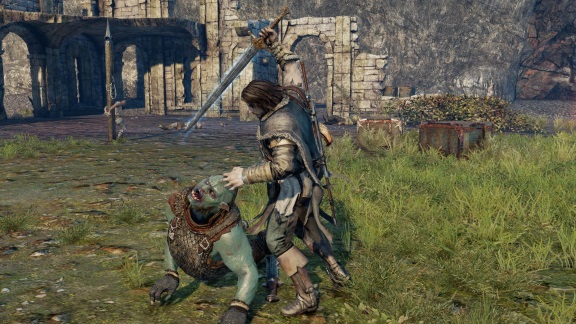 As I advanced through the story, learning new abilities and getting stronger, Zogdush was doing the same. Our elaborate game of cat-and-also-cat had allowed him to hit the max level of 20. He was now immune to ranged attacks, stealth finishers, and normal melee strikes. Yes, he was now nearly invincible, and he had also become the bodyguard of a warchief I needed to kill to progress. My nemesis was now directly in my way, and the only way to continue the storyline was through him.
Taking on the warchief and Zogdush wasn't an option. The two of them together were far too powerful. So I had to isolate my archenemy in the wild and hope to Gandolf that I could do what needed to be done. Zogdush liked to hang out in a stronghold that happened to have a lot of exploding barrels and caged caragors: his two only weaknesses. After getting him to chase me I managed to set the battle-scarred uruk on fire a couple times, which stunned him just long enough to release a caragor. Zogdush was dealthy afraid of the four-legged beasts, and it sent him running like a raven out of Mordor.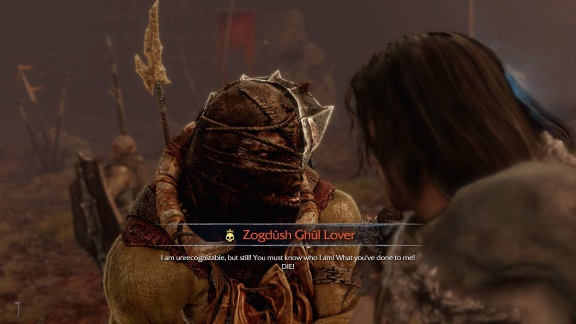 I couldn't let him get away. If I didn't bring him down now I'd never be able to kill off the warchief he protected. With his fear exploited many of Zogdush's immunities were now gone. In a foot chase that took me halfway across Mordor I managed to tackle Zogdush. After my dagger slid through his ribs a few times he was down. My nemesis was dead at last, and I would eventually take down the warchief he worked for and move into the final half of the game.
Zogdush was down for the count, it seemed. I didn't encounter him after that, which may be the double-edged sword to the Nemesis System. Thanks to that, I had a very personal story with Shadow of Mordor that no one else will have in exactly the same way. But with my arch rival gone the rest of the adventure seemed hollow. Batman needs his Joker, and my Talion needed his Zogdush.
Shadow of Mordor is a game that takes elements from a lot of other franchises and uses them to full effect, but manages to do something completely new and never seen before. It is this strength that makes this a must-play experience; even if it unfortunately copies some of the weaknesses of the games it cribs from as well. I will never forget the intense rivalry between Talion and Zogdush, and the story that I have told here is the reason this is on my list of the best games I've played this year.