Final Fantasy IX Review Rewind
RECOMMENDATION:

For those curious to see the amazing places a JRPG can go.

In today's daily ephemera of new releases and dazzling technologies and breakthroughs, it's easy to forget about the Golden Age of the PSONE -- or, as we knew it at the time, the PlayStation. This is especially true of the JRPG's of the system, which today still have no parallel. While many consider the SNES as the glory days of the JRPG, to me, that has always been just a prologue to what we saw on the PlayStation. It is true that many of us cut our teeth on Final Fantasy VI and Chrono Trigger, but the explosion of the genre catalyzed by Final Fantasy VII is a whole different matter. Not only were we treated to Square's trilogy of FF VII, VIII, and IX, but we also had Xenogears, Grandia, Wild Arms, Chrono Cross, Suikoden, among others. This was when the JRPG truly matured into an art form, and while we have had great games since, the depth and variety of them has never eclipsed what we saw on the PSONE.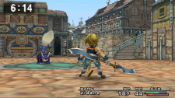 The shining jewel of these games, however, is not the crowd favorite of Final Fantasy VII -- a great game, to be sure -- but rather Final Fantasy IX, a culmination of the series and one of the finest examples of the genre. While IX harkens back to earlier games in the series, it also exemplifies the potential of the JRPG, with great characters, fun combat, a thrilling, timeless story, and a wonderfully realized world that is both whimsical and lived in. But what Final Fantasy IX has as its greatest feature isn't anything mechanical, or technological, but simply a heart and soul -- aspects generally lacking in today's JRPG's.
Hironobu Sakaguchi had been involved with Final Fantasy since the beginning, and IX was his swan song. While it brought back a lot of the series' tropes after the darker Final Fantasy VII and VIII, it also cemented Final Fantasy's legacy. While we may never see another Sakaguchi Final Fantasy, the last one he left us with is endlessly entertaining and filled with such wonder to last forever. And while it isn't flawless, to be sure, the glorious experiences to enjoy within it will hopefully never be forgotten.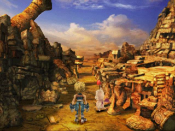 *
From the title screen of the game, the player knows he's in for something special. Instead of your typical video game music, we are instead treated to a melody composed of medieval flutes, courtesy of the legendary Final Fantasy composer, Nobuo Uematsu. While Uematsu would continue working with Square after IX, this game's soundtrack is perhaps his most unique, his most heartfelt, and his greatest. While he did push the 16 bit engines of the SNES top new emotional heights, it's this soundtrack, coupled with the game's story, characters, and environments, that just might be his total masterpiece.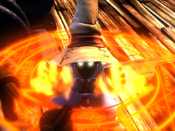 Like I noted earlier, a lot of the signatures of earlier Final Fantasy games make their reappearance in this one: black mages, chocobos, crystals, moogles, eidolons, etc. But here they are given a new depth and a fairy tale resonance. The world of Final Fantasy IX is one of its greatest strengths, a place of both incredible magic but also the mundane sufferings of everyday life. Here the player meets magical creatures, legendary places, and dastardly villains, but there's also the simple hearts of the NPC's, the subtle details of the environments, and the feeling of a world that has existed for quite some time.
The pinnacle of all this, of course, is VIVI, a young black mage whom we meet in the tender moments of the game's opening who hopes to catch a glimpse of a princess and an exciting play while he is in Alexandria, a fantastic kingdom which will lay at the center of most of what we will experience in IX. Together with the roguish Zidane, the clumsy knight Steiner, and the precocious but heavy-hearted princess Garnet (among other characters), VIVI will discover truths about himself, the world, and the wonders of life as he helps save the world from certain doom.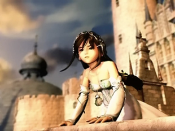 *
The combat system isn't terribly changed from previous Final Fantasy games, but returning in IX are the combat classes notable from the early games. There's a thief, a mage, warriors, healers, and a blue mage of course. How you combine these classes will tailor your experience with the combat in the game. While not quite a quick as Final Fantasy VII's system, and certainly not quite as annoying as Final Fantasy VIII's, Final Fantasy IX's combat exists as a lot of its other features do -- in moderation and culmination. But it's not an entirely simple system, as its rules allow for a lot of nuance and variation for strategies and challenges. There's no drawing magic here, like in Final Fantasy VIII, and the "limit break" type system here is hit or miss, depending on the character. There's also Zidane's various theft commands, which will grant you a good number of items if you bother with it, and Garnet's and Eiko's summons. The combat really depends on the enemy, as strategies that work on some foes, will not work on others, and vice versa.
The equipment system however is quite neat. While it's sort of typical, with five spots on characters where armors and weapons can be equipped, these items contain skills that characters can learn so that they eventually no longer need to equip these items to use them. These abilities, which range from magical spells and skills to buffs and debuffs, widely vary and also depend on the character on whether you can use them or not. Characters are granted a set number of ability points they can spend on the abilities they have equipped, and you can adjust these as the need arises outside of combat. While you might need to an auto-potion ability or a buff that helps you against demons in one fight, you might spend the ability points differently for another. It's a system with a lot of choices, and nuance, and really works quite well.
The basic structure of the game is exploration and travel, like most of the great JRPG's. The characters will travel across the world gaining powers and having experiences that shape both their personalities and their skills. As the player embarks with them, he or she will get to know the detailed and whimsical world the game takes place in. There are a lot of unique, exciting places to visit, and one of the game's strengths is the feeling that these places are real, as fantastic as they might be.
*
Almost fifteen years later, what's most amazing about Final Fantasy IX isn't the game itself, but sadly that nothing has been released in all this time that even remotely compares. While the technology of video games has certainly evolved since its release, storytelling in Japanese RPG's has not. While there are certainly isolated instances of great storytelling in modern JRPG's, the depth and variety of PSONE games in the genre -- exemplified in Final Fantasy IX -- the majority are retreads that don't even come close to the soulful tale told in this game.
But while pundits and critics complain about turn-based combat and Japanese archetypes (and neglecting to note the tropes in American games) what's really lost here is the ability of the medium of the JRPG to tell a compelling, unique story that can't be told in any other form. Spending forty or so hours with a cast of characters, and getting to know them so closely during their personal journeys, is something other media just can't do as well as a JRPG can. Fifteen years ago, JRPG's were the pinnacle of interactive storytelling, and nothing even came close. Now, they've been relegated into the background, irrelevant, fulfilling a nostalgic niche.
This reviewer, like many others out there, grew up on JRPG's, and some of the most compelling stories I have experienced in my life have been told through this formerly dazzling genre. Final Fantasy IX might be a once in a lifetime experience, but the fact is games like this don't have to be so rare, and a thing of the past.
And someday, perhaps, the JRPG will rise again.