Firewatch Review
RECOMMENDATION:

For people who enjoy story driven games that are light on gameplay, but heavy on emotion and character.

We're in a unique situation with video games right now. While there is a perceived waning interest in big "triple-A" releases (for a variety of reasons), the industry has reached a place where smaller and more personal tales can be told. These games take a multitude of forms, and as I mentioned in my review for Virginia, a new "day in the life" genre has popped up recently. Firewatch is certainly one of those games, and it is one that came along at just the right time for me.
As with most day in the life games (I'm determined to ditch the "walking simulator" moniker), the story is first and foremost on display, with game mechanics taking a backseat. Firewatch puts you in the hiking boots of Henry, a new fire lookout at the Shoshone National Forest. Before you assume control, the game allows you to craft Henry's backstory through some text prompts. The choices are difficult and a bit heart wrenching. Firewatch feels deeply personal in a way that took me by surprise.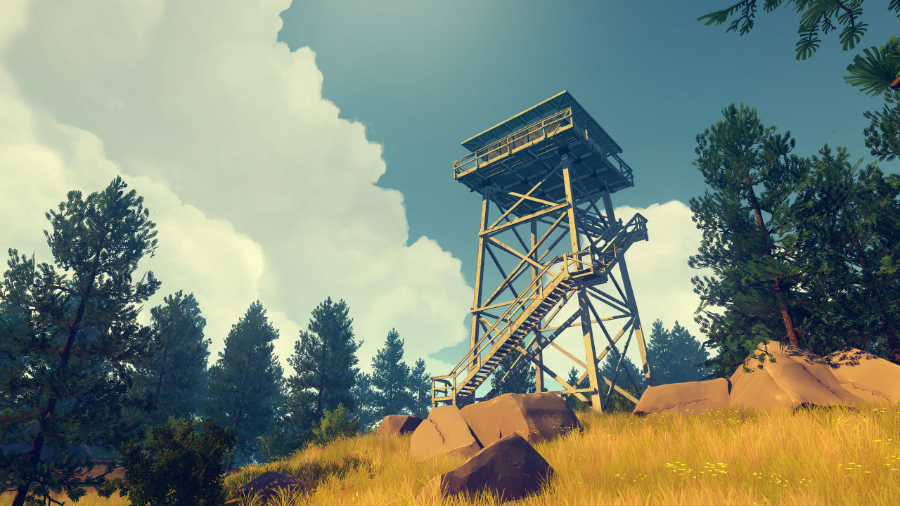 Henry is all alone in his watchtower, and the only human contact he has is over the radio with Delilah, his supervisor. This game lives or dies based on the performances of these two characters, and thankfully Henry and Delilah became some of the most relatable and fleshed out people I've seen in a video game. Their banter is quick, clever, and, at times, tense. As the player, you're allowed to choose just how much information Henry decides to impart, and this can have a big effect on what you get out of the experience. For my part, I was so taken with the chemistry between Henry and Delilah that I found myself an open book to her, and would get frustrated when a plot point would cut off a conversation, or I'd miss a response cue.
Depending on your preferences, Firewatch may disappoint in the gameplay department. Even if you're a big fan of these types of games I'll be the first to admit that there is not much in the way of challenge or exploration. While you do have some freedom to look around the forest, most of the time the story is guiding the action in such a way that you'll likely not want to stray too far from the path. The park is gated off in some areas until you get the right equipment, but this is more to keep the player from discovering certain plot points out of sequence.
That's not to say that there isn't any satisfaction in looking around. Firewatch is a gorgeous game, full of vibrant colors, excellent use of lighting and shadow, and breathtaking vistas. I was extra pleased to discover that developer Campo Santo rendered Henry with an actual body, instead of having him as a floating pair of hands. It just further allowed me to slip into Henry's shoes, which added weight to every action, dialogue choice, and clue I found.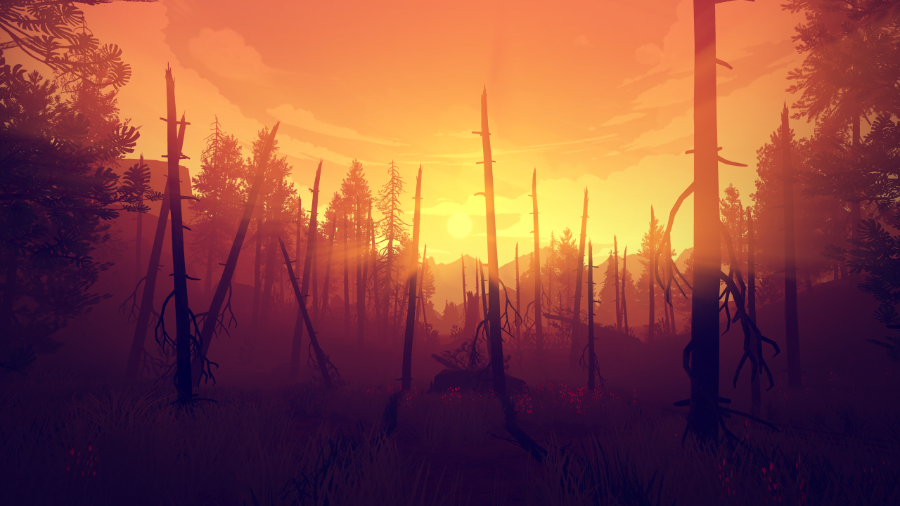 There is definitely a mystery going on up in the forest, and this is once again a situation where I don't want to go into very much detail, for fear of ruining the sense of discovery that Firewatch offers. I wish I could say that I was completely satisfied with the outcome of the game, but I was left a bit wanting. While the story threads are all tied up at the end, they are tied quite loosely, and it doesn't take much effort to unravel the entire thing. However, the themes of Firewatch hit me particularly hard, and the issues it tackles are something that I would like to see addressed more often in video games. I was also pleased to see older characters; Henry and Delilah are thirty-nine and forty-three, respectively. It gives them a different perspective from your usual protagonists, and it was a welcome change.
I finished Firewatch in two sittings, for a total of around four hours. That's not a long game by any means, but when I was finished I felt like I had just experienced something special. It's beautiful, funny, poignant, and at times, haunting. Yes, it's light on game mechanics, and the story falters a bit in places, but I am happy that I played this one.