Super Mario Galaxy 2 Review
RECOMMENDATION:

Recommended for Everyone

When Super Mario Galaxy released at the end of 2007, the world had never seen anything quite like it. Outerspace platforming provided for some unbelievably unique scenarios, as well as mind-bending challenges that took some time for players to wrap their heads around. Now, two-and-a-half years later, Nintendo has released a follow-up to the critically acclaimed platformer, which builds upon the original formula and brings it to the next level. Super Mario Galaxy 2 features new power-ups, new worlds, greater challenge, and much more to do.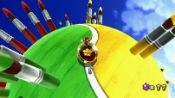 While Galaxy implemented a fairly deep and faceted story, Galaxy 2 completely avoids the endeavor, reverting back to the classic Mario story; Bowser steals Princess, Mario defeats Bowser and saves Princess. The omission of the story has allowed the team to focus squarely on gameplay, tightening up the loose bolts of Galaxy, while creating all new ways to utilize the unique world and mechanics.
There's not too much new to Galaxy 2 as most of the power-ups found in the original have returned and there are only a few true additions. Yoshi is undoubtedly the most noticeable upgrade from Galaxy, allowing players ride on and utilize the green dinosaur. While we have seen and used Yoshi in 3D before, this time around he is far more useful. A lack of vulnerability to water and some Yoshi-specific power-ups allow him to be much more effective at helping Mario accomplish certain tasks.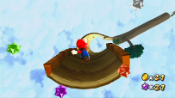 In addition to Yoshi, Mario has two new power-ups at his disposal, as well as a drill to pass straight through sandy parts of levels. Players will find that the Rock Suit is the least used and least interesting upgrade of Galaxy 2. Mario is morphed into a giant rock ball and is instantly and constantly propelled forward. Only a select few challenges use the ability making it mostly forgettable. The Cloud Suit on the other hand is used much more frequently and proves to be a fun new addition to the formula. Players have three clouds which they can spawn under them with a flick of the Wii Remote. This allows players to progress how they see fit through certain areas of the level, making the ability quite enjoyable.
Though Galaxy 2 adds a variety of new things, it does take away more than just the story from its predecessor. No longer will players be able to traverse the Comet Observatory to get from level to level. Instead, they will use a spaceship to move from world to world and level to level. Those who have played any of the 2D Mario games will be familiar with the new, simpler map. It's sad to see the 3D hub world go, but in the case of Galaxy 2, it would be largely unnecessary.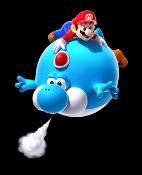 Given the differences that exist, there are far more similarities between the two titles. The challenges found in the game are structured very similarly, forcing players to move about the complex levels collecting both coins and star bits in an effort to reach the star at the end of the path. Unlike Super Mario 64 and Sunshine, Galaxy 2, like Galaxy, is extremely linear, dissuading exploration and enforcing raw platforming and challenge. Galaxy 2 moreso than Galaxy pushes the platforming aspects, forcing players to new limits.
One of my biggest gripes about Super Mario Galaxy was just how easy it was, especially coming off the heels of Super Mario Sunshine. Galaxy 2 resolves this complaint by kicking up the difficulty a notch, and placing a stronger focus on platforming, similar to the intentions of the waterpack-less sections of Sunshine.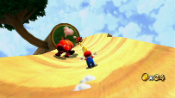 The game also integrates some entertaining 2D puzzles that take use of both gravity and gravitational forces. These segments are just a taste of the unique concepts the games explores. It's clear that Galaxy simply nailed down the formula, while Galaxy 2 ran with it, fully utilizing most of what it has to offer.
Comets are a great example of something that Galaxy 2 has managed to make much better than its predecessor. In the original, players would be tasked with completing many levels, each with a different comet type, in order to collect all of the stars in the game. This time around, players will first need to collect a Comet Coin, and later a Prankster Comet will appear over the galaxy. Each Prankster Comet will behave differently depending on the galaxy, providing a well-fit objective for each given comet challenge.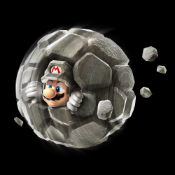 One new challenge type, aside from those found in Galaxy, is the Cosmic Clone challenge. Players will now be followed by a neverending stream of dark Marios, all of which mimic the moves made by the player exactly. Naturally, players can be harmed by these foes, forcing them to contemplate each and every move before making it. This particular challenge type made for a nice mix between precise platforming and puzzle solving to figure out how to avoid crossing your own tracks.
Galaxy 2 does have some unfortunate carry-over from its predecessor, though. Most notably, the motion control levels, which still feel gimmicky and out of place. Furthermore, for all of the unique things Galaxy 2 does, in a lot of ways it does feel like an extension of Galaxy, which can give off a "been here, done that" vibe. Regardless, the game is more frequently unique and interesting, incentivizing players to push on and see what else will be offered.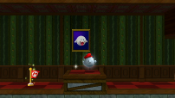 What's better, Galaxy 2 is an extremely long game, offering players the standard 120 stars to collect, as well as another 120 hidden green stars after the initial are found. Additionally, players can use Luigi and Mario interchangeably, however beating a level with Luigi will unlock a time trial ghost, giving players yet another goal to work towards after the bulk of the game is complete.
With all the phenomenal aspects of Galaxy 2 there is surely something that will appeal to anyone. Fans of the original Galaxy will not be anything less than completely satisfied and newcomers will find a new way to enjoy the beloved franchise.
Super Mario Galaxy 2 is a fantastic platformer that sets its sights firmly on solid gameplay and unique challenge. The game mines the formula set forth by its predecessor for nearly all it's worth, and offers up an unforgettable experience that undoubtedly surpasses its source material in every way.