Medal of Honor Review
RECOMMENDATION:

Fans of the Battlefield series may want to consider the game solely for the multiplayer mode.

It's been awhile since the Medal of Honor series has had any amount of relevance. Unfortunately for fans, even with the release of the latest in this series, it remains irrelevant. Medal of Honor is, for lack of a nicer term, a Call of Duty rip-off. It borrows the same style of quest, features similar controls, and even bares semblance to the multiplayer mode. You would expect that if EA was to borrow all of these elements it would at least do them better, but what we are presented with is a game that doesn't match up to that series at all. Without question, players would be better off checking out any of the past three games in the Call of Duty series instead.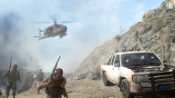 Back when Medal of Honor was first announced, there was some controversy over the plot and story. Being based in modern times around an ongoing war that continues to take the lives of thousands of American troops offended many. However, none of the surrounding conflict or controversy seems necessary once you play the final product. Perhaps it's my complete inability to have any amount of empathy for video game war stories, but nothing in particular about the game's setting or story stood out to me; either that or the developer, Danger Close, did an extremely poor job of representing the current conflict. For all I could tell, I was just shooting every bad guy that moved in arbitrary torn up cities and obscure sections of the desert.
Not only did they poorly represent the conflict, but the Tier 1 Operator hook is also inconsequential. All being a Tier 1 Operator has amounted to in terms of gameplay is that you are accompanied by a small number of friendly soldiers on your missions throughout the game. The meaningless story didn't bring any relevance to the use of these soldiers either.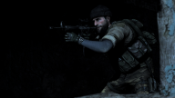 As previously stated, Medal of Honor channels the energy of the Call of Duty series, especially in the single player mode. Once players start moving around in the game, they'll feel right at home. All of the buttons and controls are identical, right down to the need to aim down the sights in order to get a good shot at enemy terrorists. Players will need to tactically progress down streets, while taking cues from teammates on what must be done in order to stay alive and complete the mission's objectives.
While much of the gameplay and control is very similar, it's noticeably slower moving than Call of Duty, with the enemies and locales being far less interesting. The difference definitely comes down to realism, as Medal of Honor skews closer to real life than the Call of Duty series does. Though this may sit with different people better or worse, for most it will be perceived as negative because it offers less interesting and dynamic gameplay. War isn't fun, so a more realistic representation of it isn't either.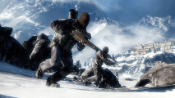 Worse off, the entire single player campaign is around four hours long, which is around half the length of comparable games. Between the less than stellar pacing of the missions and the short length of the quest, the single player mode of Medal of Honor is extremely underwhelming.
Multiplayer is quite literally a separate affair, as it was handled by DICE rather than the Danger Close team behind the single player campaign. This mode felt like a strong mix between Call of Duty's multiplayer mode and the multiplayer gameplay found in the Battlefield series.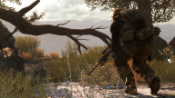 As with basically all online shooters, players level up as they participate in more matches. Each kill will net a different number of points depending on the player killed and the current circumstances of the match. Leveling up enables purchase of better weapons, providing an edge while playing future matches. Additionally, as players perform well during the match, they will earn in-game abilities like the mortar strike to assist their team and add to their own kill count and score.
The Battlefield influence comes from the three player classes (Rifleman, Special Ops, and Sniper), as well as the opposing force, two team gameplay. This creates the biggest departure from the apparent Call of Duty style, but like the single player mode, multiplayer also has a more realistic feel. Guns are stronger, enemies die quicker, and even aiming is more difficult because the weapons are more realistically represented.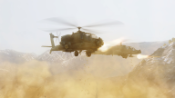 The massive team matches are far more fun than anything found in the single player mode, especially when working with the rest of your team to push back the enemy. However, things can get a little hairy if your team is distinctly worse than the opposition, as these kinds of matches are quite lengthy, and all efforts feel futile. Because there is no free-for-all mode, players are stuck dealing with this possible situation no matter the game setup.
Fans of both Battlefield and Call of Duty will likely enjoy Medal of Honor, due solely to the multiplayer mode. The game's single player mode is completely throwaway, but at least worthy of the few short hours it will take to complete. Overall, EA's effort is largely underwhelming and is extremely derivative. Unquestionably, all three of the most recent Call of Duty games best both the single and multiplayer offerings found here.