Awesome VG Adaptations: Professor Layton and the Eternal Diva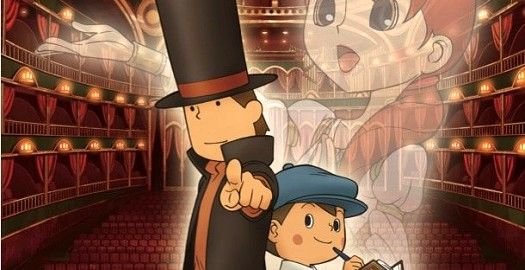 If you've missed any of this series, you can catch up:
Street Fighter II: The Animated Movie
We've come to what I believe to be the most perfect video game adaptation ever made (I'll tell you why in a moment). Professor Layton and the Eternal Diva is a full-length movie which was originally released in Japan in 2009. We didn't get it here in the West until 2011, but the wait was worth it. The reason why this is the perfect video game adaptation is because watching this movie feels like you're watching a really long cutscene from one of the games. And no wonder—the story was crafted by the creator of the series (Akirhio Hino), the music was done by the composer of the series (Tomohito Nishiura), and the voice actors from the games are all here. The characters all look and sound exactly as they do in the games. Those musical themes that fans have come to love—they're all here too.
The story goes like this: Layton is contacted by one of his old pupils who believes that her late friend has been reincarnated in the form of a young girl. Sounds intriguing, doesn't it? Without giving anything away, this leads Layton, Luke, and Emmy on a quest to discover the truth. The game masterfully incorporates puzzles throughout the adventure in the form of riddles. Some of them are quite simple, while others are more complicated, but they're all done very well. If you're not familiar with these characters, the movie does a good job of establishing them at the beginning. The Layton games are also known for those awesome twists at the end, and don't worry, that's here as well, and it's so good!
The characters here are so excellent. Layton is the perfect gentleman, and yet the man loves a good adventure. He can carefully ponder a puzzle, but he can also duke it out with the villain in an exciting sword-fight. Luke is as optimistic as ever, being young and a bit naive at times. Some might see him as annoying, but I think he's there to appeal to kids who might be watching this movie (to be honest, the story might to be too complicated for kids under 10, and I'm so glad the creators didn't dumb it down for them. The movie is great for all ages). A little later in the adventure, Emmy joins the group to help as well. The new face here is Janice Quatlane, an opera singer who was once a student under Layton. She basically is here to explain to the audience the backstory and help us understand certain intricacies as they happen.
The supporting cast is also great. There are plenty of goofy characters here that will make you laugh—I was especially amused by Inspector Grosky, who's chest hair is so large that it overtakes his shirt (I laughed every time he was on screen). A small group of characters will get stuck with Layton and his friends, and some of them might even be pivotal to the story (I don't want to give anything away). The animation is excellent here—again, it looks just like the games, which means fans can't really complain. There are also some exciting action moments, especially near the end of the movie. Some might think it gets a bit ridiculous, but remember, this is a movie based on a video game—it's not gonna be completely realistic.
I've kept the plot details to a minimum here, and that's on purpose. If you've never seen this movie before, you need to see it! Everything comes together here to give us the perfect video game-to-movie adaptation. If you've never played a Layton game, that's fine—you can still really enjoy this movie. I think they started to make a second movie, but something happened. Hopefully Level 5 will give us another one sometime, and here's hoping that it will live up to the high standards of the first movie.
Purchase Professor Layton and the Eternal Diva here