BaD #2 : Four in February
Blog a Day #2
Hola everyone, how are you?
Like with every February, we get Blog a Day but that's not the only thing we get as we also get something called Four in February. The premise is simple, basically you take 4 games that you have and try to finish them before February ends. It's basically to get you to finish games in your backlog or get you to play games that you've been wanting to play. Sounds simple, right? Well here are the games I will be playing for this...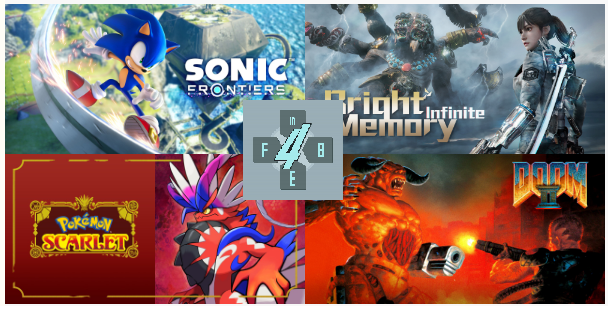 Sonic Frontiers released last year and I heard good things about it. Finally, a good 3D Sonic game. I saw my brother play a bit of it last year and it looked really fun. I think out of all the games on the list, this might take me the longest but we'll see.
Bright Memory Infinite is a game I got interested in last year. I had never heard of it but I saw footage of it and got interested in the game. What's strange is that they brought this over to the Switch and the current gen systems, but not on PS4 for some reason. I played it and was surprised at how fun it is, and the interesting thing about this game is that it was made by 1 person, which is really impressive. I think it got an update recently too, so I have a few new things to look forward to when I get back to the game.
Pokemon Scarlet released late last year and I still haven't finished up the story. Well all 3 of them. I got really busy doing online raids that I completely forgot about the story content. I am aiming to finish that up soon hopefully because that is already long overdue.
Doom 2 is a game I bought ages ago on the Switch. I actually bought Doom, Doom 2, Doom 64, and Doom 3 on the Switch when they were on sale for about less that $10, which was quite a bargain for 4 games. I haven't finished 2 but that will hopefully change.
Sometimes I do a Mystery 5th Game but that all depends on how fast I can finish these games. We'll see.
Well that's it for now. I guess wish me luck on these games. See ya and...