The World is Yoshi - Mario Mania #4
Mario's 16-bit debut serves as an introduction to Nintendo's most legendary console and fleeting farewell to 2-D Mario platforming. And Yoshi.

Ladies and gentlemen, welcome to the 90s. In this era we saw many things; we saw the true start of the (in)famous 16-bit console wars, the slow decline of arcades, the invention of CD-ROM media and the start of a tradition with mainline Mario titles. Thought it was nice the NES had three great Mario games? You are not going to see that again for a very long time. Make that nineteen years to be exact. Take a good long look over this fourth Mario Mania entry, because the 2-D Mario platforming ship is sailing and it feels like a bittersweet moment.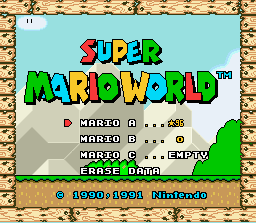 But I disgress. We have a new system with a new Mario launch title, and that system was called the Super Nintendo Entertainment System, or SNES for short (or Super Famicom if you lived in Japan).
Releasing in Japan in 1990 and a year later stateside, the SNES arrived at the 16-bit party somewhat belatedly, following NEC's PC-Engine in 1988 and Sega's Genesis in 1989. In the US, it was greeted by an economy in recession and some entrenched competition. The Super Nintendo met these challenges head on with even better graphics, a comfortable and aesthetically pleasing controller that would become standard for years to come, and eventually a massive library of great games (platformers, fighters, RPGs, you name it) that cemented fond memories in the hearts of a new generation of gamers.
Super Mario World is quite a unique specimen to me. It is the only mainline Mario title to have graced the SNES, a tradition that lasted until the Wii. It is the first to be solely directed by Miyamoto's right hand man, Takashi Tezuka, and one of the first mainline Mario titles have an in-game save feature, as well as a non-linear stage progression.