Pilotwings Review Rewind
RECOMMENDATION:

For anyone that enjoys a flight sim that is easy to pick up and play.

In the early '90s, a new video game console was only as strong as its launch titles. When we look back at a console's history and wonder what attracted us to it, often it's those first games that we think of and say, "that's why I fell in love with that system." Nintendo understood this concept when they released the Super Nintendo. Included among a shortlist of launch games was the flight simulation, Pilotwings. Beginning as an early tech demo in 1988 to show off the Mode 7 graphical capabilities of the 16-bit system, Pilotwings was developed into a full-fledged game that allowed us to take to the skies in a way never before possible on a home console.
Pilotwings consists of eight stages, or lessons, consisting of either flying or falling your way through a set of goals. Each lesson is led by a different instructor, helping you sharpen your skills and meet the minimum scoring requirements to get to the next certification level.

For a flight simulation, Pilotwings is a surprisingly fun game with simple controls. While simulations tend to alienate those who prefer more of an arcade-style, Pilotwings is far less intimidating than it seems. There is plenty of realism present throughout, though. One example is the Light Plane training in the biplane. Since it isn't a high-powered machine, you can't do barrel rolls or loop-the-loops. Wind resistance is simulated well anytime you bank left or right. If you suddenly pull up, the engine's power decreases; if you quickly plunge downward, you can sense the gravity pulling you toward the ground. Attention to these details makes the game realistic yet accessible to a wide range of players.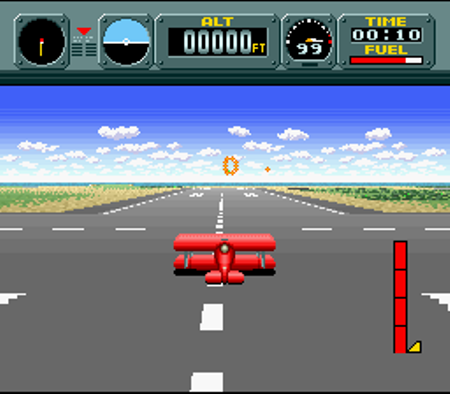 Pilotwings offers plenty of variety, considering it's a launch title. I first approached the game expecting that it would only provide lessons involving piloting a plane, but I was pleasantly surprised. Skydiving requires you to freefall while rotating through a set of rings and successfully land in the proper zone to win the most points possible. The rocket belt training allows you to fly around like James Bond and pass through rings or horizontal lines. My personal favorite is the hang gliding lessons where you glide your way to air currents which help keep you afloat before landing on the marked area. For an early Super NES game, there's plenty here to keep your attention.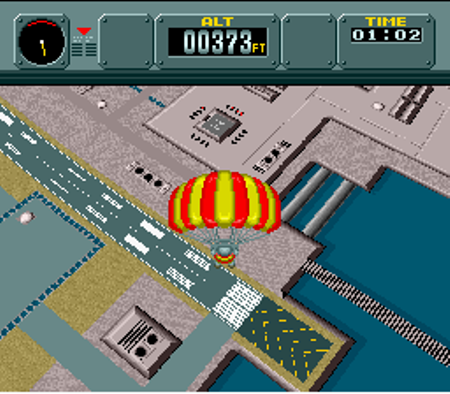 The difficulty of the game is somewhat twofold. Each task can be easier or more complex than others. For instance, piloting the plane is relatively easy, whereas it takes a little more thought and attention when trying to make a nice landing from a hang gliding session. But then the challenge of completing those tasks becomes steeper with each new set of lessons. In later lesson sets, you'll have multiple tasks to complete for a passing grade, such as getting your plane off the runway, flying through a longer series of rings, and then going in for a landing all in one swoop. In particular, the skydiving parts become tricky because the landing targets become smaller and are also surrounded by a wider area of water. Plunking down into the ocean will result in a poor score if any.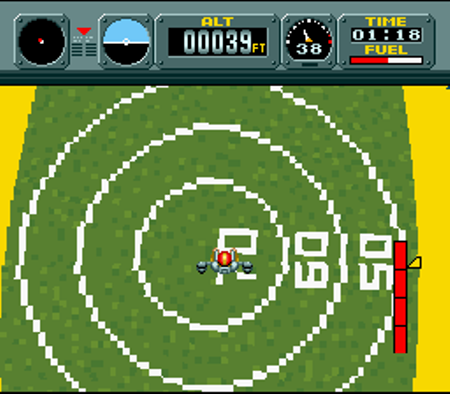 All of this training culminates with you receiving a special assignment to pilot an attack helicopter and rescue your trainers. By this time, you should be well accustomed to the controls and how they function. These final missions are great because they make the training sessions worth your while. While the rescue section is not particularly lengthy, it does help the game to feel complete. After the first rescue mission, the game restarts in Expert Mode. This continues your lessons with the same curricula but under various weather conditions and more demanding score requirements. The expert portion will take you quite a while to complete, but it's still time well spent.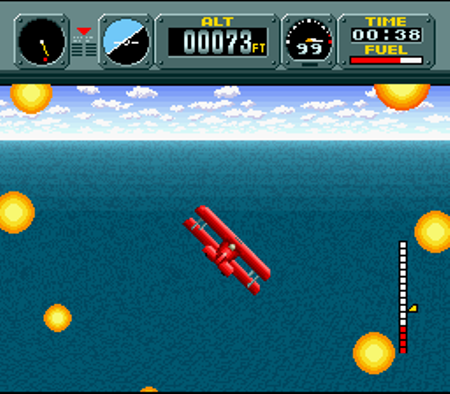 As mentioned earlier, Pilotwings was one of the premier games to show off the Super Nintendo's 3D-simulating scaling abilities. The skydiving and hang gliding lesson are my favorite to look at because the landscape from that point of view looks pretty realistic. It offers an experience previously only available on a home computer system. The calm, lounge-style music goes perfectly with the menu screens and in-game training sessions. Again, the hang gliding lessons won me over, particularly with their musical score; it's good stuff. There's also a surprising amount of ambient audio detail to be heard in each lesson, like the air rustling through your skydiving character's jumpsuit.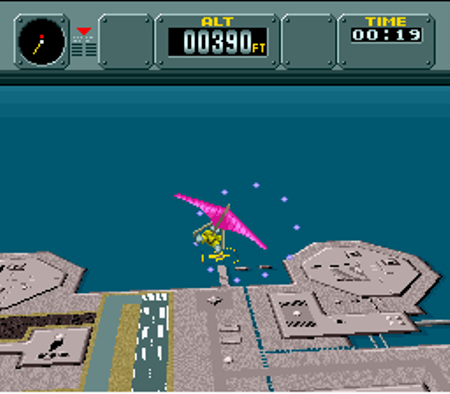 When you add it all up, Pilotwings comes together quite nicely. I appreciate the game because, far too often, simulation games like this can go wrong very quickly. They're either too dull, mentally involved, demanding with the controls, or all of the above. Somehow, Pilotwings successfully avoids all of these pitfalls. It's a well-crafted game that is worth playing if you haven't already.