Super R-Type Review Rewind
RECOMMENDATION:

Serious 2D shooter fans will revel in the glorious challenges that await them. Everyone else will just whip out the Game Genie sooner or later.

The early R-Type series was one of the biggest icons during the shoot 'em up genre's younger years. After the success of the original arcade game, Irem followed up with R-Type II in 1989. It featured slightly prettier graphics, more power-ups, and an upgraded wave cannon. Two years later in 1991, the game was remade as Super R-Type for the Super Nintendo-- one of the first games for the system.
This game has always had a personal significance to me because it was the first shoot 'em up I played on the that system, as well as my introduction to the R-Type series. The nostalgic fan in me says that Super R-Type is one of best 2D shooters ever. However, the more down-to-earth side of me paints a slightly more realistic picture.
One of the first things that you'll notice about Super R-Type is that it's a fairly difficult game...even on easy mode. You'll have to constantly watch your back with the enemy fire coming in from all sides; it can be a bit of a feat to dodge bullets when you're stuck between a rock and a hard place. Thankfully, the Force drone returns from the previous game to aid you. You can either have your Force fight alongside your ship, or you can attach it to the front or back of the R-9 to provide shielding from standard enemy bullets.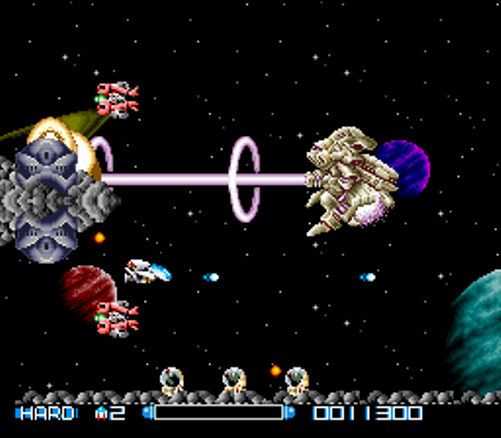 I like the the layer of strategy this adds to the game because there will be times when your enemies will specifically attack you from the back end of your ship. You might it find convenient to have your Force option guard your rear, rather than have it up front with you all the time. It's very challenging to put that strategy into action sometimes, especially when you're in a narrow spot and you can't get around your Force drone which will happen more times than a little bit.
Also returning from the previous game are the reflect, anti-air, and anti-ground lasers along with homing missiles and bit pods the flank the top and bottom of your ship. New to the series are the spread laser and shotgun bomb. Neither weapon is particularly spectacular, nor are any more or less helpful than the other weapons. They seem to just be there for the sake of variety.
Really, the most outstanding weapon in Super R-Type is the wave cannon that now performs in a manner worthy of its name. It has a two-level charging function that fires a powerful cross pattern blast, wiping out most enemies in its trajectory. It's fun to fully charge your beam cannon and watch the wave shot that comes as a result of that. It's really good for wiping out multiple weak enemies at once. Charging the cannon feels just right-- not so fast to where you're ridiculously overpowered, but not so slow that it becomes a useless feature.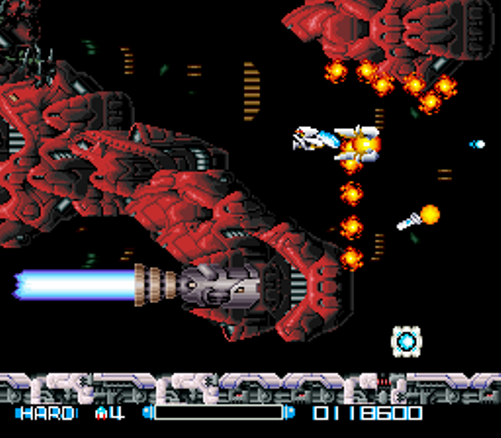 Unfortunately, the game is plagued by one major flaw-- it's completely devoid of a checkpoint system. Dying at any point in a level forces you to repeat it again, even if you managed to make it to boss. It's quite baffling because R-Type II had checkpoints to help you pick up where you left off. Yet, it's completely absent in Super R-Type. Without a checkpoint system, it artificially increases the difficulty by default and makes for a less enjoyable experience than it could have been. The upside is that the game allows infinite continues, which somewhat compensates for the draconian consequences of death. Even so, its no fun being forced to play through every bit of the same stage over and over again, lest you either are really good at the game or become frustrated enough to turn it off.
The color palette in Super R-Type is particularly easier on the eyes than it's arcade look-alike and is a welcome touch to the game. Other than that, the graphics are very faithful to the original version with detailed backgrounds of planets and bright stars gracing the cosmos. Later, when you reach the Bydo fortresses, you'll see everything from well armored battle ships, to bacteria ridden planets and bosses. The R-Type series has always been very effective at giving you a feeling that you are indeed fighting a techno-organic parasite, instead of just a bunch of flying space ships.
The only problem that hurts the visual presentation is the slowdown that occurs when the screen fills up with enemies and other moving objects. While it didn't completely ruin the experience for me, it is something that has become much more noticeable in recent years thanks to the ability for modern consoles to play arcade perfect ports of games without the hardware limitations of the Super NES.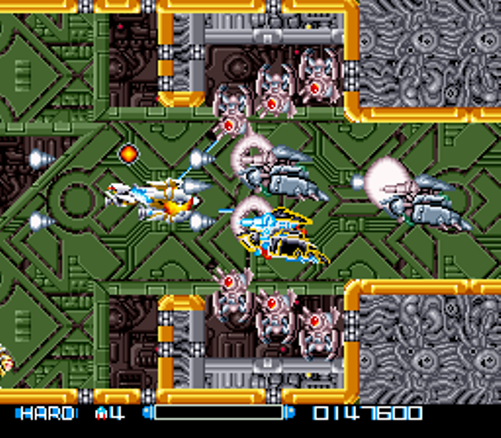 The music is a real high point in this game. What the SNES lacked in frame-rate prowess it made up for in it audio presentation. The music isn't nearly as high pitched and tinny as in R-Type II. It's now smoother and more pleasant on the ears to listen to. In fact, some of the tunes have been altogether changed, which proves to be a good thing. My personal favorite is the music for the 3rd stage. It has noticeably mellow feel, completely separate from the arcade version. The same can be said for the sound effects as well. It's not as loud anymore, and everything is arranged just right for the Super NES. A job well done in this area.
Super R-Type is a decent shooter overall, especially as a Super NES launch title. However, the lack of checkpoints creates an unnecessary barrier to finishing the more difficult stages, given the already sizable difficulty of the game. The inherent slowdown doesn't help much because you'll still likely get caught by a stray bullet or cunning enemy attacking from behind until you become more astute to the layout of current stage. Be that as it may, the updated gameplay mechanic for the wave cannon and fine-tuned audio presentation are good enough to make Super R-Type an entry worth playing as long as you have the patience to endure its less endearing qualities.