The DNA of Dishonored
Five games/series that reflect the heritage and influences of Dishonored

In a recent interview, Smith and Colontonio were asked if all the abilities Corvo would be given would break the game. Their response? "That's the point!" Given this, it could seem strange to compare Dishonored to the harshly difficult and demanding Souls games, but looking at the two a little more carefully, while it's never credited as a direct influence, it's clear the games have some common ground.
Dark Souls and Demons Souls both require the player to design and execute a plan. Charging into battle while swinging your sword around aimlessly may work in Dynasty Warriors, but trying that in the Souls games is a really quick way to get yourself killed. In order to succeed, a player must know their abilities, develop their character accordingly, and use their skills and the lay of the land to their advantage.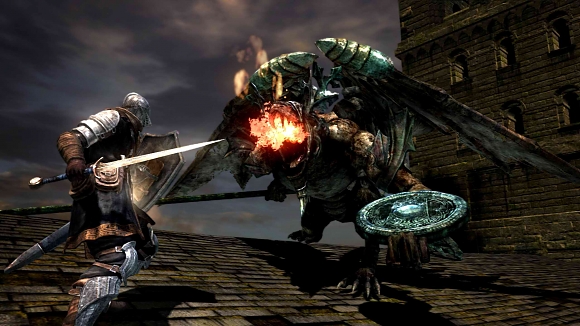 Corvo may be more durable than Thief's Garrett, but he's a far cry from the bullet sponge characters in Gears of War. Should a player not properly use the abilities he's given, they will no doubt meet a quick end. Sure, you could attempt to gain entry into a building by running face first into the pile of guards patrolling the entrance, hoping to overtake them on firepower and muscle alone, but looking around and studying your surroundings will pay off greater dividends. Why not blink (teleport) around the rooftops? What about possessing a fish and swimming through the sewers? How about using a swarm of rats to create a diversion? Focusing on this element of gameplay, it's easy to see how just as in Dark Souls, tactical planning and knowledge of the landscape gives you a distinct advantage.
There's also a certain feel the games hold in common, especially when it comes to environment. While it's true all the games on this list so far have dark, foreboding environments, Dark Souls takes this to a relentless level. Characters are surrounded by ruin, vermin, plague, and death at all times, generating an overwhelming feeling of hopelessness as a result. In order to keep this from completely swallowing up the player and making the experience too oppressing, the designers went through great lengths to create some truly beautiful and fantastic environments for the player to visit. To further emphasize this point, one of the limited 'tags' a player can write in the environment is the phrase "gorgeous view!"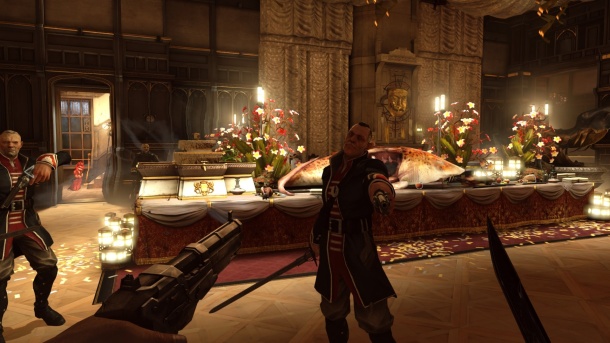 Likewise, while most of the gameplay we've seen from Dishonored so far has been of a mission in the Golden Cat, the design team has stated that the environment in the brothel was created to counterbalance the bleak ruin of the outside world, which has been described as desolate and unforgiving. Swarms of aggressive rats move around the streets, along with plague-infected "weepers," so named because the disease causes blood to hemorrhage from their eyes. Ruined homes dot the landscape, sometimes with bold red Xs painted on them to indicate the presence of plague. Walls of light, which reduce those who trespass their boundaries to ash, segregate quarantined sections of the cities, and corpses wrapped in linen line the streets awaiting pick up and disposal, so long as the rats don't nibble them to bones first.
As a final, quick parallel, Dark Souls puts high emphasis on RPG elements, despite being an action game. Dishonored does not rely quite as heavily on the numbers game as Dark Souls, but there will be in-game mystical equipment called bone charms. These don't change the game quite the same way armor and shields do in your typical RPG, but they can be used to enhance player abilities.