Guild Wars 2 First Impressions
An MMORPG nomad might've found a home.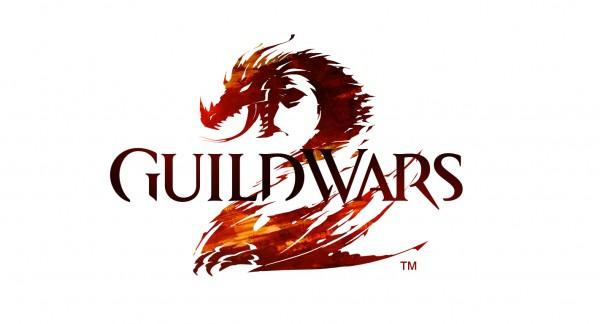 The last MMORPG to which I dedicated myself was Final Fantasy XI, which I played for about four years before I finally quit. Although my excitement for the game would eventually fade, my desire to be part of a persistent digital world continued. I attempted to scratch the itch by trying almost every other major option available: World of Warcraft, Aion, Final Fantasy XIV, Star Wars: The Old Republic, TERA, Lord of the Rings Online, and even the bite-sized iOS game Order and Chaos. I found limited success with FFXIV mostly because my wife plays, and TERA got my attention for its stylish combat. But ultimately, the search continues, and I've decided to give Guild Wars 2 a shot.
The reason why I'm sharing my MMORPG pedigree is to punctuate how much I've enjoyed Guild Wars 2 since I began my journey into the world of Tyria last week. The ArenaNet developed game launched on August 28 and sold two million copies in its first few weeks. Here are my first impressions.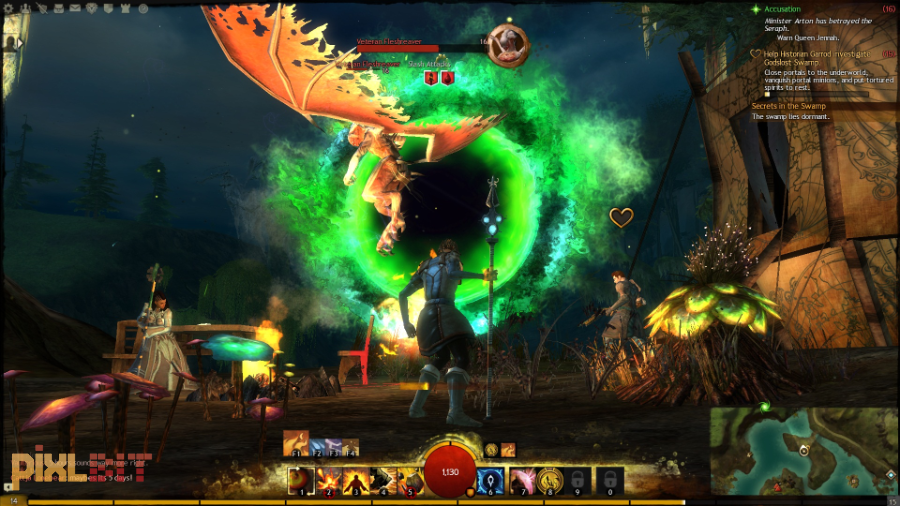 If you played the original Guild Wars, the first thing you'll notice about the sequel is how different it is. Where the original instanced everything but player hubs such as towns and outposts, Guild Wars 2 is a far more persistent experience (for the uninitiated, an "instance" is players or groups experiencing the same content simultaneously but separately; for example, you and another player could be standing at the same location but wouldn't see each other because the game is running multiple instances of the area). Tyria was already a beautiful world, but now it lives and breathes with player interaction.
Although there are eight classes to choose from (mostly standard fare with a few exceptions), the game largely eschews restricting any class from any single role. For example, there is no dedicated healer class because every class can heal, so the responsibility of each role is shared, and players are encouraged to become self-sufficient.
The tangible result of these design choices is a game based on cooperation rather than competition, which allows everyone the equal opportunity to have fun. Coming from FFXI, a game with enormous class disparity, it is refreshing to see groups recruit based on the number of spots available instead of limiting participation to one class or another.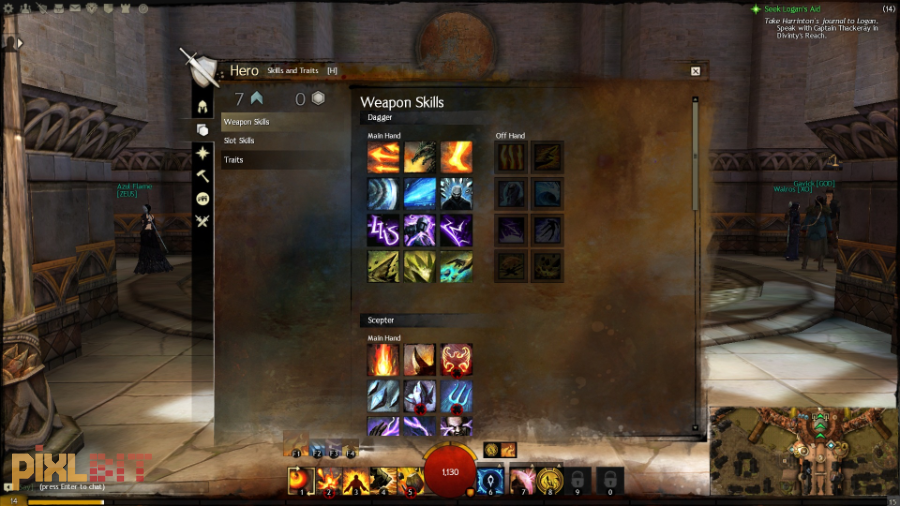 Refreshingly, Guild Wars 2 provides you with a large number of skills early on. Skills change depending on which type of weapon you use, so you can begin to customize your play style from the beginning. Leveling up and completing special challenges rewards you with additional skill points, which you can use to further customize your character by following skill trees.
The game offers both a well scripted story and a unique approach to questing. Although technically still a grind, questing rarely feels repetitive because the quests give you several objectives at the same time, plus the freedom to complete them in any combination and order. It is a welcome departure from the genre standard of "collect X number of items" or "kill Y number of enemies."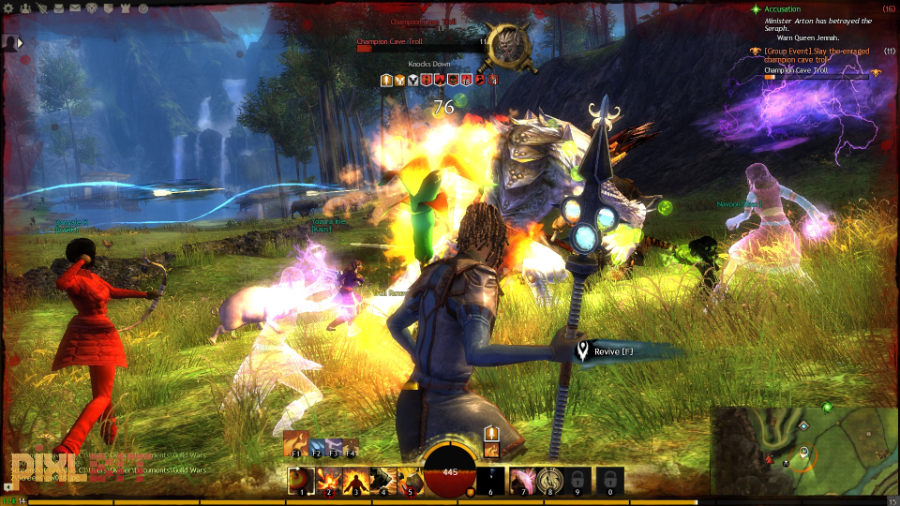 Additionally, dynamic quests occur spontaneously without being activated by a player. You may be walking peacefully from point A to point B, then suddenly a monster will attack a nearby camp and players will begin gathering to defeat it. You can join the kill without even being invited to a party. Everyone who participates receives experience proportionate to their contribution, and everyone receives separate loot.
Level scaling occurs automatically whenever you enter a lower-level area, so you're never overpowered, and the challenge is always consistent wherever you are. It allows you to continue enjoying lower-level content even if you're no longer the level for which it is targeted. But it also means you're never king of the hill either, and you'll always be vulnerable to enemy aggression. For locations you've already visited, however, you can avoid or reduce the risk by warping to waypoints via the map menu.
Guild Wars 2 almost constantly rewards you. Perhaps one of the most addictive activities you can get involved with is map completion. By thoroughly exploring each map, you discover points of interest which contribute to your total map completion percentage. If you hit 100%, you unlock a reward. You could easily spend hours doing nothing but exploring.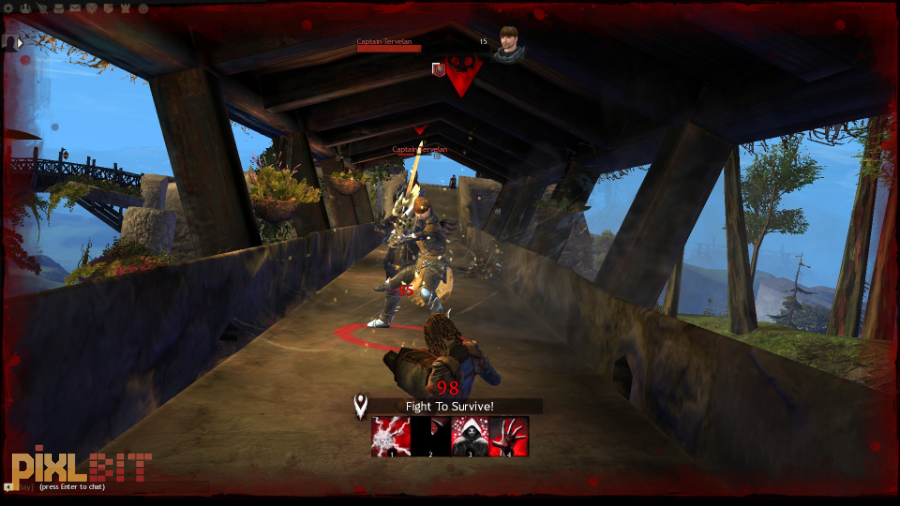 With only a week under my belt, I have yet to dig into the crafting system, instanced dungeons, or PVP content—and obviously I can't speak to the end-game scene yet. But I'm encouraged based on my experience so far.
Time only knows whether I stick with Guild Wars 2 long-term, but for now I am impressed with its focus on accessibility and fun. Plus, it's a single purchase with no monthly fees or excessive microtransactions. Between the quality and the value it offers, consider the MMORPG bar raised.