PixlTalk Episode 26, Side A: Launching at Midnight
Nick, Chessa, and Jason Ross convene to discuss the recently released Nintendo handheld, the 3DS.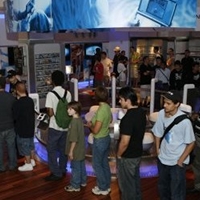 As you all know the 3DS is now available worldwide and after Sunday's launch at midnight, Nick, Chessa, and Jason Ross have come together to discuss the new system and the process of procuring it.
After discussing the midnight launch, discussion turns to discussion of the launch software, on board software, and the construction of the system itself.
Did you grab a 3DS? Tell us what you think about the games and the new system in the comment thread below!
On Monday, the group of three will conclude discussion with an in depth talk of how well the launch software stacks up against past handheld launches and if the latest gimmick (3D) is enough to set the system apart and make it feel like a massive improvement over the already phenomenal DSi.
Edited by Nick DiMola
Music by Andy McKee