Super Meat Boy Canned on WiiWare, Retail Release Unlikely
The recently released multiplatform title will no longer be making its way to the platform it was first announced for.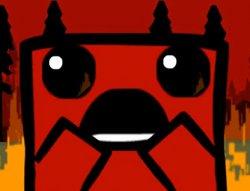 Yesterday, it was announced by Team Meat that they will be cancelling the WiiWare release of Super Meat Boy. By the end of development of the game, they were already concerned that the title wouldn't be able to be compressed down to the strict 40MB size restriction of the system.
After cutting out as much as possible, the team came close to meeting the mark, but weren't happy with the resulting product. Instead of completely giving up hope, the team approached Nintendo pushing for a higher cap on WiiWare to accommodate the product, but while not adversarial, the company would not budge on the size restriction of the platform.
Currently, Team Meat is pursuing a retail release of the title, but after talking with three top publishers, the response has been less than stellar. "There's no money in third-party retail," Edmund McMillen of Team Meat was told, in reference to publishing on Wii. Regardless of the negative response, the team is still asking around in hopes to secure a publisher for the game.
According to McMillen, "[they] will do a game on a Nintendo platform," but what that is remains to be seen.