Nintendo Weekly Update Moving to Thursday
With the release of the eShop on the 3DS, Nintendo is switching things up.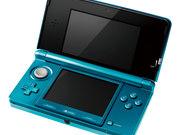 Nintendo announced today that their weekly release updates to the Virtual Console, WiiWare, and DSiWare services will no longer be done on Mondays, but instead on Thursdays. The update will now include 3DS Virtual Console games, 3D classics, and original downloadable titles for the Nintendo 3DS. According to Nintendo, this coming Thursday, June 16, will be the first update that includes this new eShop content.