Nintendo to Hold Another 3DS Press Event Friday
Seems Nintendo has more announcements regarding its little 3D handheld gaming machine.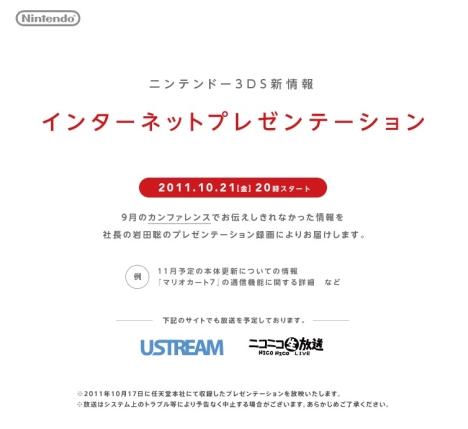 Right before this year's Tokyo Game Show, Nintendo held a Japanese press event to comment on the status of the 3DS and announce a bevy of new titles including the juggernaut that is Monster Hunter 4. Considering that it's only been a little more than a month it comes as a surprise that Nintendo has announced that they will be holding another press event this Friday called, "Nintendo 3DS New Information Internet Presentation."
The event is being held Friday, October 21 at 8:00pm in Japan which translates to 7:00am EST and 4:00am PST for us here in the states.
It's expected that Nintendo will outline the 3DS's November firmware update as well as the upcoming Mario Kart 7's online functionality. The event will be broadcast in its entirety via Ustream with links being posted on Nintendo's Japanese site on Friday.
You can be sure that PixlBit will be covering the event, so stay tuned for more details.