Journey Collector's Edtion Coming August 28
The collection of thatgamecompany games will also include some extra content.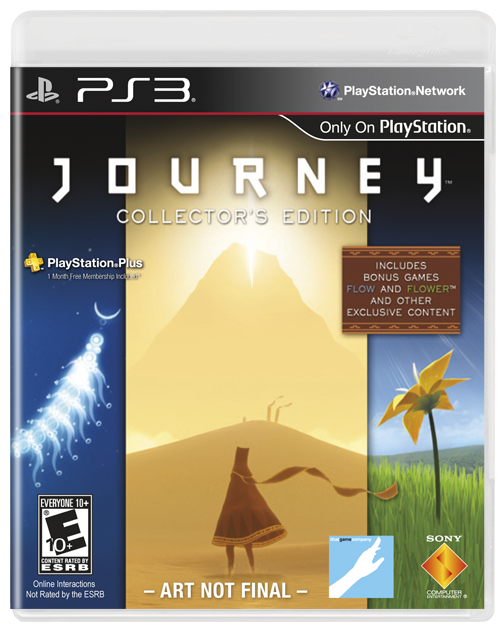 Further details on last week's announced Journey Collector's Edition have been revealed. It seems that we won't have to wait long for the compilation of flOw, Flower and Journey as it will hit store shelves in August as previously speculated, specifically August 28, 2012. The first disc-based release for thatgamecompany will be released in conjunction with Sony's Santa Monica Studio, will retail for $29.99 and will come packed with some interesting extra features.
A 30-minute documentary on the creation of Journey will be on the disc, as well as concept art and screenshot galleries. Soundtracks for all three games will also be included. Dynamic themes and wallpapers for the PlayStation 3 along with previously released avatars, plus eight new ones from Journey, will come with the collection.
Creator Commentary will be available for all three titles as well, from the designers, artists, engineers and composers who worked on all three games.
Most notably, the collection will come with three multiplayer mini games entitled Gravediggers, Duke War!!, and Nostril Shot. The team created all three minigames in 24 hours as part of their 24-hour Game Jam tradition and marks the first time the public will get to play them. Game trailers and developer diary videos will be included and, as was the case for the Ico and Shadow of the Colosus Collection, the box art will be reversible.
It seems like thatgamecompany is leaving its former employer with one final hurrah, as there is plenty of content here for fans of the developers to get excited over. It's also shaping up to be the definitive edition of the three games for those who haven't experienced them already. The tentative box art states that the collection will also include one free month of PlayStation Plus as an added bonus. Check out the trailer for Journey Collector's Edition below.
Are you excited for Journey Collector's Edition? Are you going to pick up a copy? Let us know in the comments below!