Two BioShock Infinite Collector's Editions Announced
Remember that cheaply made Big Daddy figure? Ken Levine is gonna do right by you this time.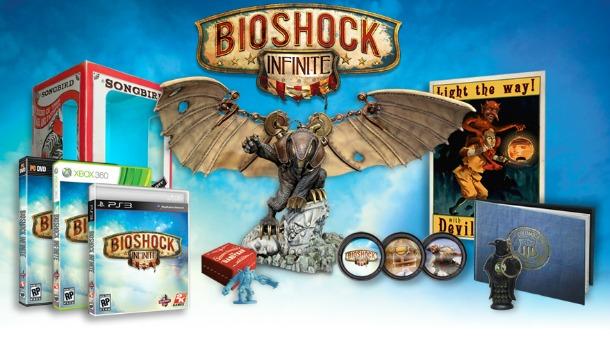 There are some rabid game collectors out there, and Ken Levine and his team over at Irrational Games are banking on that fact with two impressive special editions of BioShock Infinite. The Premium Edition comes with a staggering amount of swag, while the pricier Ultimate Songbird Edition includes a large and very detailed statue. If your inner Gollum is starting to mutter "precious" read on for all the juicy collector details.
The Premium Edition of BioShock Infinite includes tons of "feelies", which is old gamer speak for physical goodies inside the box. There's a 3 inch keychain that recreates the Murder of Crows Vigor bottle that was sold for a limited time through the Irrational Games store. Also included is a 5x7 lithograph by Jorge Lacera that depicts some of the propaganda art seen in the floating city of Columbia. For those of you interested in playing the upcoming BioShock Infinite board game, the 25mm resin-cast Handyman miniature will be of particular interest. Irrational has you arthounds covered with a mini art book. Plenty of digital goods are in the box as well, including the soundtrack, in-game perks, and dashboard items for your chosen format.
The Ultimate Songbird Edition comes with all of that, but features a hefty, 9 inch statue of the intimidating Songbird from the game. The statue was designed by Robb Waters, the concept artist responsible for such memorable Irrational characters like the Little Sisters, Sander Cohen, and the System Shock cover. The Songbird comes in its own box (actually, all of the feelies have their own packaging) to give collectors the opportunity to decide if they want to break the seal on the impressive statue. Some readers may remember the flaws found in the Big Daddy figure found in the collector's edition of the first BioShock, and it seems like the folks at Irrational really want to make up for that fragile and often broken item.
BioShock Infinite is still on track for its February 2013 release, despite the recent departure of a number of high profile team members, including the lead AI programmer and lead combat designer. This has caused for some concern amongst fans, but the announcement of these two special editions should help restore some faith in the game. The Ultimate Songbird Edition will retail for 149.99 and the Premium Edition will go for 79.99, and are available for preorder now in North America. Europe and Australia can begin preorders on October 22.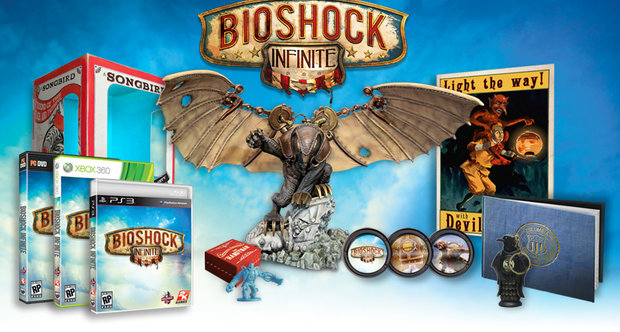 #Bioshock infinite
#Collector's editions