Flying Fairy: Bravely Default Finally Flying West?
A mysterious tweet sets the internet aflame with anticipation.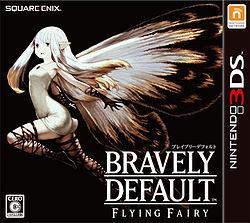 Nintendo fans are no strangers to having localized versions of enticing Japanese fare dangled in front of them, with no real word of when, or even if the title will make its way over seas. The now infamous "Operation Rainfall" trio took quite some time and a heavy fan based push before even an announcement of localization was made - never mind an actual release date.
But two of those titles, Xenoblade and The Last Story, have found their way into our homes and the third, Pandora's Tower, is set to arrive sometime this summer. As satisfying as those victories may have been for fans, there seems to always be a title out there that alludes localization. The latest fascination comes courtesy of Square Enix in the form of the oddly titled Flying Fairy: Bravely Default; an RPG that was released on the Nintendo 3DS in Japan on October 11th of last year.
Boasting a unique and beautiful graphical styling, (which should come as no surprise since the game was developed by Silicon Studio, the team behind one of PixlBit's 2010 games of the year, 3D Dot Game Heroes) JRPG fans have been clamoring for this one to find a home on this side of the Pacific since before it was even released in Japan.
While Square Enix has been seemingly receptive to the idea of bringing this one west, no official announcements have been made or even teased - up until yesterday that is.
On March 1st, the game's long dormant official Twitter account, gave followers a tease in both Japanese, and more importantly, in English too. The tweet is embedded below:
?????Twitter????????????????????????????I accessed Twitter after a long absence. A voice of the foreign one arrives properly!?????????????

— ??????????? (@BDFF_OFFICIAL) March 1, 2013
A quick look at the Twitter account's history will show that this is one of, if not the first tweet that has also seen an English translation. The content of the tweet - which was translated using a digital service of some sort - seems to hint that an English localization may be in the works.
While nothing official has been announced, many have taken this ambiguous statement as a reason to celebrate. Keep in mind that this could be nothing, but we at PixlBit have raised our hopes at least a little bit, that this game will finally make its way into our greedy little hands.
Now if only the 3DS version of Dragon Quest VII would get over here….
Let us know what your thoughts are on this little nugget of information! Sound off in the comments section below and let your voice be heard!