Super Mario 3D World Hands On Preview
Quite possibly the most FUN game at NYCC.
I feel like Super Mario: 3D World has looked better each time I've seen it. After getting to try it, this remains true. 3D World plays it safe by remaining very similar to the 3DS outing, but many refinements to the level design and gameplay are apparent. Mario and the crew have individual specialties, like Peach's floating ability and Toad's extra speed. There are also extra moves that are at their disposal. If you twist the analog stick in a circle, you do a spin move which is not only cool to watch, but it's effective against enemies.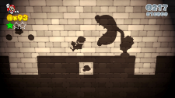 Co-op made the biggest impression on me, much to my surprise. Each of the three levels that I got to try was in four player co-op, which I initially dreaded due to the overly frantic nature of New Super Mario Bros. U. However I still found myself having an intense amount of fun. There is a heightened sense of competition. At the end of each level, players are rated on performance, and the winner gains a crown that is worn until someone takes over the number one spot. This creates both teamwork and competition that adds to the fun of each level. Going for collectibles probably won't be done best in this mode, but it's still fun enough. I actually am looking forward to playing co-op with my friends upon its release.
I played three different sections of the demo. The first was a basic level where we, ran, jumped and stomped our way to the goal. The second was different, where we all got on the back of a water creature, as it takes you down a waterfall full of jumps and speed boosts. All four players get control of it at the same time, so coordinating manuvers is key to success. The last level was a boss, where we had to utilize platforms and the catsuit to successfully defeat the enemy. Each was a great amount of fun, and I found myself smiling pretty much my entire time playing.
Super Mario 3D World is continuing to impress me, and I'm sure it will be a strong asset to the Wii U library when it releases on November 22nd.