Intelligent Qube Review Rewind
RECOMMENDATION:

An excellent choice if you're looking for a unique puzzle game that isn't a Tetris clone.

The original PlayStation console opened new doors of innovation in game development. Its hardware capabilities gave designers greater freedom to present fresh experiences from well-established genres. And in some cases, it would attract outsiders that previously had no background in game development at all. Such was the case with Masahiko Sato- known for his brilliant TV commercials produced in Japan (and a bevy of other talents). Though not a game designer by trade, he created Intelligent Qube- a new type of block puzzle game to challenge curious minds.
You play as Elliot- an everyman stuck on a grid with giant cubes lumbering toward him. To survive, he'll have to find some way to make those overgrown blocks disappear and maybe even use a few to his advantage. But he needs help navigating the puzzles. That's where you come in.
The goal is relatively simple- clear the grid by capturing the regular cubes and avoid grabbing the black forbidden cubes. Capturing a forbidden cube destroys a row of the grid, reducing the space you have to clear the puzzle before getting crushed. And lastly, the green advantage cubes allow you to capture multiple regular cubes in a 3x3 or 3x2 radius (marked in green), depending on the advantage cube's position on the grid.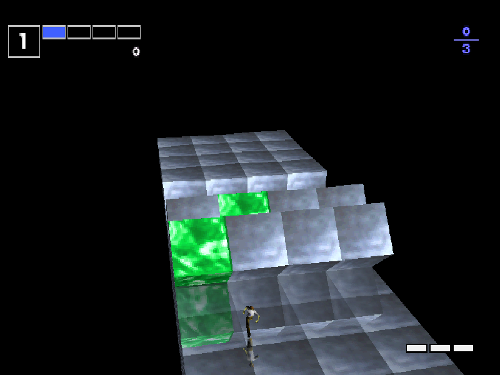 Playing the game is easy enough in the preliminary rounds when you mostly have only the regular cubes to deal with. But as you progress further, things get a bit more tricky. While the advantage cubes are great for efficiently capturing the standard blocks, the forbidden cubes are often close to the advantage ones. This, in turn, requires careful planning since detonating an advantage marker on a forbidden cube or two (or three) can quickly spell disaster for poor Elliot.
The grid becomes more expansive as you progress to later stages, which means there's more ground to cover and less room for errors without jeopardizing your chances of advancing to the next wave. If too many regular or advantage cubes fall off the edge, the pieces of the playing field will fall away. On the upside, each puzzle you complete without errors rewards you with an extra row added to the playing field.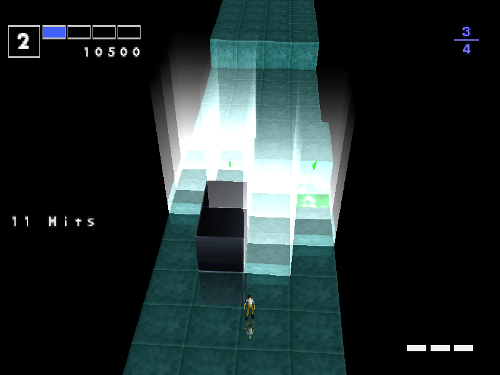 As challenges increase with each new wave, surviving the latest puzzle makes the sense of accomplishment all the more palpable. The uncomplicated nature of the game rules and controls allowed me to focus on solving the puzzle instead of fighting with unnecessary design elements. If I made a wrong move or captured a forbidden cube, it legitimately felt like it was my fault rather than some trickery of the game.
While Intelligent Qube doesn't impress with its no-frills visual presentation, the musical score makes up for it. The game features a fully orchestral soundtrack composed by Takayuki Hattori- a three-time Japan Academy Prize winner for his work in Japanese TV dramas and film. Hattori's expertise in his craft can be seen in how he weaves a common motif into three of the four main themes in the game.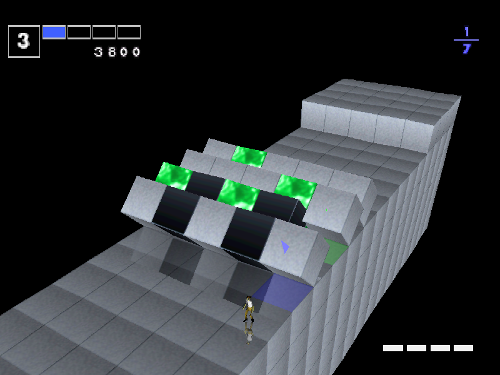 Oddly enough, the fourth main composition is missing the thematic identity that would have connected it to the first three. The soundtrack is primarily bombastic, tempered with a hint of whimsy and mystery, not unlike a John Williams score. It's an uncommon choice for a puzzle game of this era but works well to create that feeling as if you're doing something both intellectual and thrilling at the same time.
There's also something to be said for the sound effects that accent the action on-screen. Of particular note is how the playing field reacts when a forbidden cube is captured, or you get crushed by a wave of cubes. An ominous tone chimes while chunks of the playing field crumble away into the bottomless void. It's a subtle yet effective way to tell the player, "let's not do that again".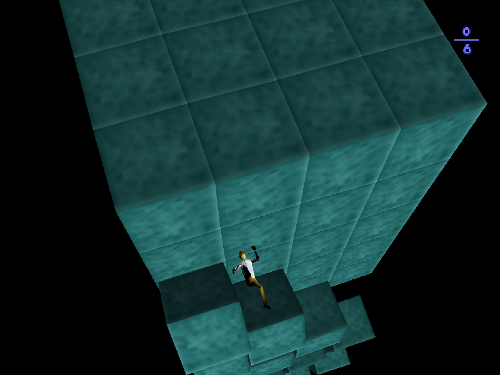 According to this game, my I.Q. is 282. I don't know if that's good or bad, but it's a higher number than 100, so I'm satisfied. What I like best is that, rather than being another Tetris clone, Intelligent Qube was indeed an original concept and an unforgettable experience if you were fortunate enough to have played it back then. If you're looking for a unique puzzle game that will test your smarts while being surprisingly entertaining, then this is the game for you.